Boutique hotel planned in downtown Whitefish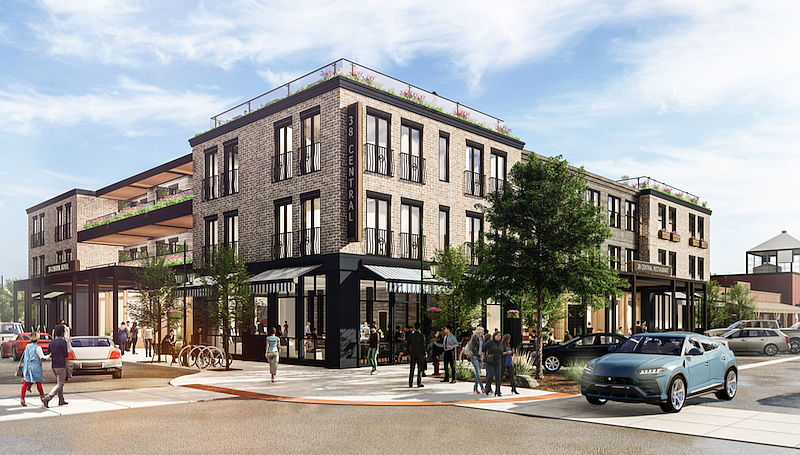 An architectural rendering shows a proposed boutique hotel on Central Avenue in downtown Whitefish. (Courtesy of Averill Hospitality)
by
BRET ANNE SERBIN
Daily Inter Lake
|
August 13, 2021 10:26 AM
Averill Hospitality on Friday announced plans to build a boutique hotel on the corner of Central Avenue and First Street in Whitefish, on the vacant lot next to the Craggy Range restaurant.
The 38 Central Hotel would include 40 rooms, a basement parking structure, first-floor dining and retail space, and a rooftop deck serving food and drinks.
The hotel is proposed to be constructed in 2022 and open in 2023.
The property has changed hands multiple times over the years. It's currently owned by Sean Averill's company, Downtown Lots LLC.
Adding a boutique hotel to the downtown area was an element of the Whitefish downtown master plan adopted in 2006.
In 2007, International Capital Partners announced plans for a boutique hotel with 40 to 60 rooms at the same location next to Craggy Range, but those plans never materialized.
Averill Hospitality — owners of the Lodge at Whitefish Lake and the Firebrand Hotel — proposed building a hotel at the corner of Third Street and Central Avenue in 2013. That property is home to a city-owned parking lot, and the hotel was never built.
Now the hotel operators are seeking city approval for a similar project farther north on Whitefish's main street. The Whitefish Planning Board will review the project at its Sept. 16 meeting.
CONCERNS ABOUT parking came up during earlier conversations about putting a hotel at 38 Central Ave. The current plan includes 42 on-site parking spaces and an underground parking structure with hydraulic stackers.
"Modern innovation will be a hallmark of this project as we balance community needs, our local economy and livability for working families and guests of our mountain town," Brian Averill said in a news release.
To that end, Averill Hospitality intends to help provide workforce housing in Whitefish with a $500,000 donation to the Whitefish Housing Authority. That money will go toward a project that would create up to 26 downtown workforce-housing spaces.
In addition to the initial donation, Averill Hospitality would collect an optional 1% philanthropic gift from hotel guests on lodging and food revenues, which also would be donated to the Whitefish workforce housing projects for a period of five years.
The company implemented a similar program at the Lodge at Whitefish Lake, where funds from lodge guests are donated to the Whitefish Lake Institute, a nonprofit that works to protect Whitefish Lake and surrounding water resources.
"One of our company's fundamental goals is to be a steward and support our community in a meaningful way," Brian Averill said.
Reporter Bret Anne Serbin may be reached at 406-758-4459 or bserbin@dailyinterlake.com.
---