Kalispell council to develop Parkline Trail design standards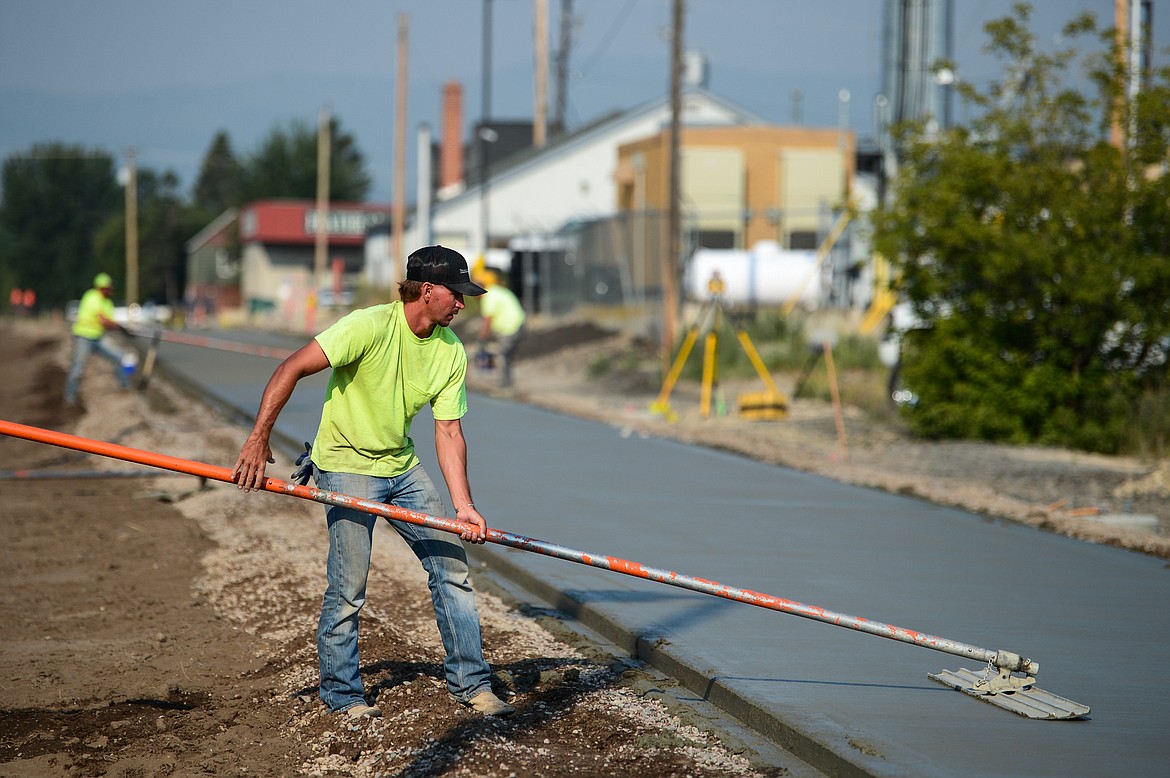 Crews float concrete after it's poured and leveled during construction of the Parkline Trail in Kalispell in this July 23, 2021, file photo. (Casey Kreider/Daily Inter Lake)
by
BRET ANNE SERBIN
Daily Inter Lake
|
August 23, 2021 12:00 AM
As the Parkline Trail continues to take shape through downtown Kalispell, the City Council is expected to discuss design standards for the trail at a work session on Monday.
The design standards are the next step in the long-running process of completing the trail. Construction got started this summer, after a series of negotiations with the BNSF Railway Co., downtown businesses that depend on rail service, and local economic development authorities.
It was necessary to create the Glacier Rail Park and relocate the businesses that used the downtown train tracks to the new industrial park before construction could begin.
Contractor Sandry Construction is laying the cement for the Parkline Trail project. In late July, Project Manager Mitch Hill said crews were ahead of schedule.
The trail is anticipated to be finished and usable by walkers, runners and cyclists in spring 2022.
The trail runs for 1.6 miles east-to-west across downtown Kalispell. It starts on the west side of the city at the U.S. 93 bypass and traverses the downtown area, terminating at the Glacier Rail Park in the northeast corner.
As the trail gradually comes to life, questions remain about the appearance of the linear park and the amenities that could be included there.
Economic development has played a part in the thrust behind building a trail since the idea first emerged about a decade ago. The trail is seen as a space ripe for redevelopment opportunities. There are hopes that the train tracks will give way to new businesses, housing and other creative additions to the downtown landscape.
Those expectations are starting to be realized with a few nearby developments.
Last year, Sunrift Beer Co. opened a new restaurant in an old building that borders the trail on the west side of Main Street.
Additionally, developer Mick Ruis has proposed turning the defunct grain silos along the trail route into a massive mixed-use development. Ruis plans to add 230 apartments to the silos, plus a rooftop bar and restaurant, a hotel, retail space and above-ground parking.
In light of the fledgling push to develop the area surrounding the Parkline Trail, the council will consider implementing design standards to ensure an agreed-upon appearance to the corridor.
Earlier in the year, the city developed a similar set of design standards for the Main Street Historic District of the city. Those guidelines set out requirements for physical features such as signage, building materials and paint colors.
During discussions, the council sought to find a balance between safeguarding the appearance of the downtown and giving independence to property owners in that area.
The council will consider the proposed standards during the work session, but there won't be a formal vote to adopt them.
Reporter Bret Anne Serbin may be reached at 406-758-4459 or bserbin@dailyinterlake.com.
Recent Headlines
---