Whitefish man spreads word of Rocky Mountain Elk Foundation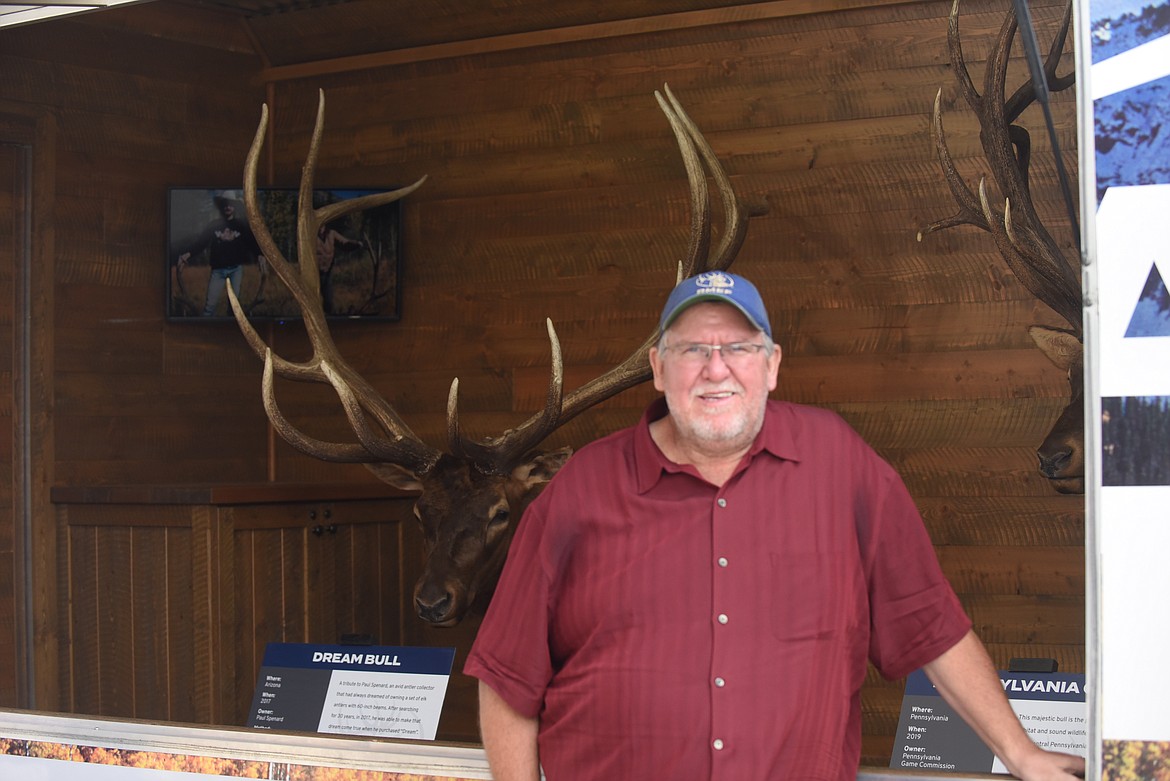 Dave Meehan, of Whitefish, poses beside a bull elk mount in the trailer he pulls as part of the Rocky Mountain Elk Foundation's Great Elk Tour, at the Sportsman and Ski Haus store in Kalispell on Saturday, Aug. 21, 2021. Meehan is the tour manager and an avid elk hunter. (Scott Shindledecker/Daily Inter Lake)
by
SCOTT SHINDLEDECKER
Hagadone News Network
|
August 26, 2021 12:00 AM
Whitefish's Dave Meehan has a job that many people tell him they'd like to have. Meehan drives a truck and trailer for the Rocky Mountain Elk Foundation's Great Elk Tour.
Last weekend, Meehan and Jared Wold, the foundation's regional director for western Montana, were parked outside the Sportsman and Ski Haus store in Kalispell with some of the largest elk antlers in the world. It was part of the store's elk season kickoff and also featured elk calling seminars.
"I kind of got lucky in getting this job," Meehan said. "I was a local chapter chair when Jared became a regional director and then I took over."
While many may want Meehan's job and may think they could do it, he possesses some skills that make him a perfect fit.
Meehan came to the Flathead Valley in 1997 from Troy, Pennsylvania, and worked as a cabinet maker for a local wood shop. His woodworking skills have been valuable as the manager of the Great Elk Tour.
"This trailer is the third one I've built," Meehan said. "We buy the shell, then I design it for what we're doing."
A number of large bull elk mounts are inside the trailer. They feature three bulls with antlers that were found by shed hunters, and another monster bull bagged by a hunter in Pennsylvania.
The tour's theme is "Great Elk Need Great Habitat," and Meehan spends a lot of time talking about that, as well as many other subjects.
"I love it," he said. "I get to go all over the country, talk to like-minded people about elk, hunting, politics, various things."
Meehan said he's been to all 50 states due in part to his work. His wife, Angie, recently retired and has been able to travel with him.
He spends a great deal of time away from home, though.
"We go to about 20 shows every year, and I spend about 229 nights in a hotel," Meehan said.
The Great Elk Tour also serves as a fundraiser for the Rocky Mountain Elk Foundation's Flathead Valley chapter. Meehan and Wold sign up new members and renew memberships for others.
Meehan has two shows left this year. He'll be at the Jackson Hole Elk Fest on Oct. 2 and at the foundation's Hunter and Outdoor Christmas Expo in Las Vegas from Dec. 1 to Dec. 11. It will be part of the foundation's Calcutta Cowboy Revival Show and the Junior World Finals in the Wrangler Rodeo Arena.
MEEHAN WILL have to sandwich those trips around some serious hunting adventures in the Treasure State.
After more than three decades of applying, Meehan drew some of the most coveted tags in the country — one for bighorn sheep and another for elk in the Missouri River Breaks region.
"I never stopped applying for 31 years, and to have two come through in the same year is really something," Meehan said.
His Missouri River Breaks elk tag is for either sex, but Meehan will be seeking a world-class bull.
"I'm not picky though," he said. "If I get a cow, I'll be happy because I like eating them, but hopefully it's a wall hanger. We hunt deer and antelope over there and we see these giant bulls, so it's pretty exciting to get the chance."
The odds are seemingly in Meehan's favor — he's bagged 14 bull elk in Montana. One was a big bull with antlers that scored 348 on the Boone and Crockett scale.
"It was taken locally, only about an hour from here," Meehan said.
Meehan's perseverance in applying for tags has paid off, too. He got one for moose and bagged a big bull in 2008.
Meehan's trip to the Missouri River Breaks will be halfway across the state, but his bighorn sheep hunt will occur much closer to home in neighboring Sanders County. The season runs from Sept. 15 to Nov. 28 for sheep. There are fewer than 10 tags for the district. The elk season in the Breaks region runs from late October through late November.
Reporter Scott Shindledecker may be reached at 406-758-4441 or sshindledecker@dailyinterlake.com.
Recent Headlines
---