MSU nursing school gets $101 million donation from Texas billionaires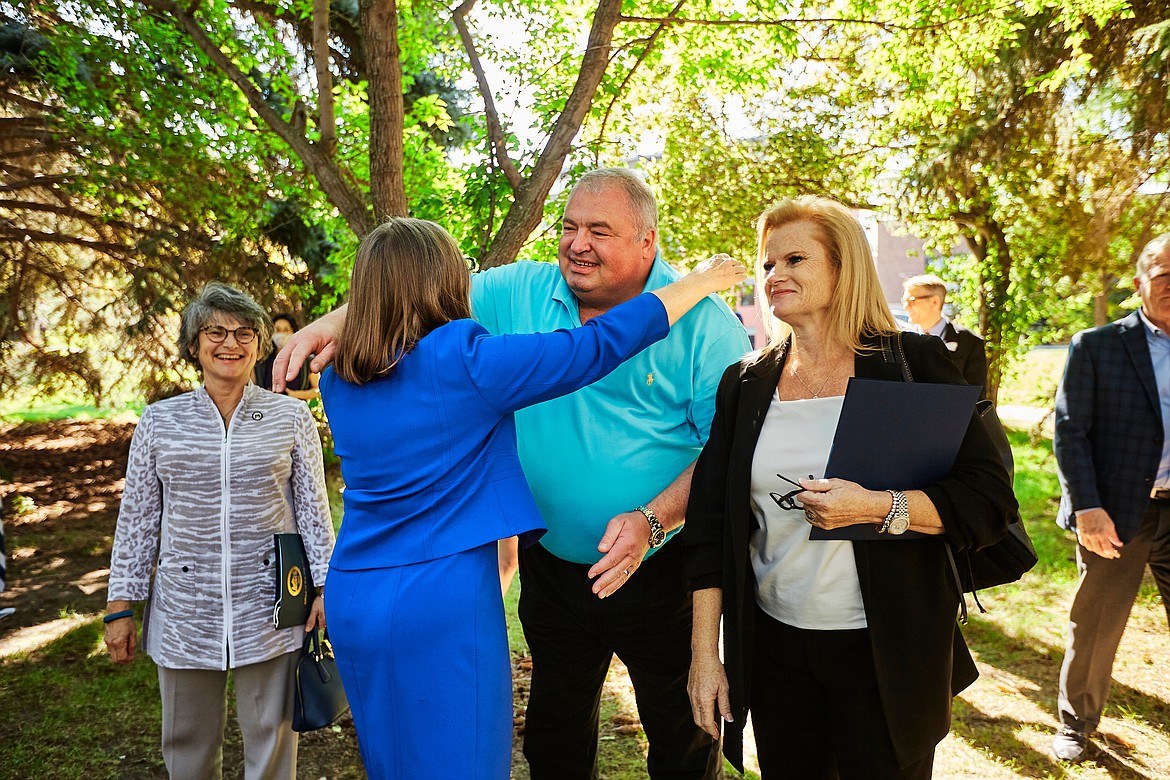 Mark Jones leans in to hug Sarah Shannon, the dean of Montana State University's College of Nursing, in Bozeman on Monday, Aug. 30, 2021, flanked by MSU President Waded Cruzado at left and Jones' wife Robyn at right. The Joneses donated $101 million to the nursing school to fund new buildings and faculty positions, and a new midwifery program. (Montana State University)
by
CHAD SOKOL
Daily Inter Lake
|
August 30, 2021 12:00 PM
Montana State University's College of Nursing has received an unprecedented $101 million donation from Robyn and Mark Jones, the founders of a Texas-based insurance company who recently bought up huge swaths of forestland in Flathead County.
During a news conference in Bozeman on Monday, ecstatic university officials said the donation will fund five new endowed professorships in the College of Nursing, the state's first certified nurse midwifery program, and the construction of new classrooms and laboratories at each of the college's campuses in Kalispell, Bozeman, Billings, Missoula and Great Falls.
MSU President Waded Cruzado said the donation also will enable the nursing school to graduate more students and head off a projected shortage of nurses in the state.
"In our time, lack of access to affordable care challenges our nation, especially pioneer states like Montana," she said. "Heeding the call, and thanks to the outstanding generosity of our two donors today, we mark a new chapter that will transform our College of Nursing."
The donation from the Joneses, Cruzado said, is "the largest philanthropic gift in the history of the state of Montana, and the largest gift to a college of nursing, ever." (UCLA's School of Nursing previously received a gift of $100 million.)
MSU said the new faculty positions will be the first endowed professorships in the College of Nursing's 80-year history and will "position MSU to attract top-tier talent during a nationwide nursing faculty shortage."
The university said the new buildings "will be equipped with modern classrooms and state-of-the-art simulation laboratories where students can hone their critical thinking and practice their skills."
The College of Nursing currently produces 256 registered nurses, 15 family nurse practitioners and eight psychiatric nurse practitioners each year. Thanks to the Joneses' donation, school officials plan to boost those numbers to 400 registered nurses, 30 family nurse practitioners and 20 psychiatric nurse practitioners per year by 2030.
Additionally, the new midwifery program is expected to produce eight certified nurse midwives each year by 2030. MSU said the program "will prepare doctoral-level nurses and significantly increase the number of specialized maternal health-care providers who are able and willing to serve rural and remote Montana communities."
College of Nursing Dean Sarah Shannon said the college "is dedicated to its core to serving Montana, and yet we have reached our limit on the number of nurses we can prepare, due primarily to space constraints. No more."
THE JONESES grew up in Lethbridge, Alberta, and married shortly after high school. One of Mark's first jobs was driving a truck for Robyn's father's fertilizer business.
Later, while she stayed home to raise their six kids, Mark attended the University of Alberta and then Harvard Business School before climbing the corporate ladder and juggling a busy travel schedule with Bain & Company, a massive consulting firm headquartered in Boston.
Robyn founded Goosehead Insurance in 2003 and persuaded Mark to join the venture the following year. He quit as a senior partner and director of Bain & Company, giving up a generous salary to help get the fledgling insurance business off the ground.
Now Goosehead, which sells auto, home and life insurance, is publicly traded on the NASDAQ; the company's market capitalization was about $5.19 billion on Monday. Mark is the company's president and chairman, while Robyn is vice chairwoman. Forbes estimates the couple's net worth is about $2.9 billion.
The Joneses' primary residence is in Westlake, Texas, but recently they purchased two large tracts of land in Flathead County, a place they visited often to ski as children.
In addition to a 260-acre property on Big Mountain where they are building a home, the couple purchased nearly 126,000 acres of forestland southwest of Kalispell from Georgia-based Southern Pine Plantations that's popular among hunters and other recreationists.
Mark Jones has said the family plans to continue allowing public access to the land, with some restrictions, and does not intend to develop it for commercial use.
"ALTHOUGH WE don't live in Montana full time, it was very much a part of our backstory. Growing up, we spent a lot of time here as kids," he said during Monday's news conference.
Since acquiring property in Northwest Montana, "we've had the opportunity to get to know a lot of Montanans, and it's an extraordinary group of people," he said. "They're sincere, they're down to earth, they're hardworking, they have high integrity. They're the kind of people that make you want to invest in them."
The couple in March donated $600,000 to Big Mountain Fire and Rescue so the department could purchase a new ladder truck.
Robyn Jones said the couple offered to donate to MSU's nursing school after learning that 80% of its graduates go on to work as nurses in Montana, and that "investment in the nursing program could address the critical challenges the state faces, particularly in the areas of mental health, the aging population, substance abuse and prenatal care."
"We became convinced that our investment in expanding the capacity and capabilities of MSU's nursing school could have a real impact on the people that live in the state that we consider home, and we feel privileged to be able to make this investment," she said. "We are very passionate about education — it changed our lives. We are very passionate about investing our dollars where they can have the biggest impact on improving the quality of life for our neighbors, and we are honored to do so."
Asked why they didn't donate to their own alma maters, Mark Jones responded half-jokingly: "I get hit up by Harvard all the time. Believe me, they don't need the money."
Assistant editor Chad Sokol may be reached at 406-758-4439 or csokol@dailyinterlake.com.
Recent Headlines
---