Building Western Montana's herd — Applications being accepted for association's heifer program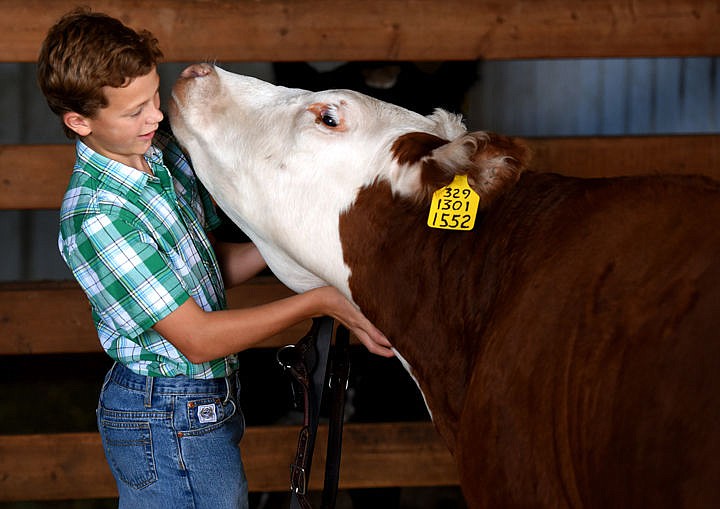 In this Aug. 12, 2016 file photo, Garrett Jewett of West Valley visits his heifer Abeline, which was awarded through the Western Montana Stockmen's Association scholarship program. Applications are now being accepted by Dec. 14. (Daily Inter Lake file photo)
by
HILARY MATHESON
Daily Inter Lake
|
December 1, 2021 11:00 AM
The Western Montana Stockmen's Association is seeking to build herds for 4-H and FFA youths by awarding heifers to lucky youths in Flathead, Lake, Lincoln, Mineral, Missoula and Sanders counties.
Applications are being accepted for the association's heifer scholarship program, and submissions must be postmarked by Dec. 14.
The program is open to 4-H and FFA members ages 10 to 16 in the six counties. Youths should include their contact information; background; goals and objectives for raising a heifer; description of facilities and grazing area that will be used; agriculture interests; why they would like to receive a heifer and two reference letters from an extension agent, 4-H leader or FFA adviser. Previous applicants who were not awarded a heifer are invited to re-apply.
Previous experience with raising livestock is not necessary as youths will receive guidance from a mentor they identify in their application. The mentor needs to be an adult other than a family member who is knowledgeable enough to help them raise the heifer through yearly production cycles.
"We see kids that never had a cow before. They might have had chickens, or something like that, but it's a new learning experience," said Cody Sherman, a director of the Western Montana Stockmen's Association and a feedlot owner in Ronan.
Over approximately four years, 45 heifers have been awarded to 4-H and FFA members through the scholarship program, according to Sherman.
"It's growing very quickly. We started out with one heifer," he said.
This year, up to 23 yearlings may be awarded to help youths. Sherman said the value of a heifer this year is around $950.
"We're starting kids out and keeping kids in agriculture," he said.
The stockmen's association will be a co-owner of the heifers for the first year, Sherman said, and recipients will receive a visit by members to ensure the heifers are being properly cared for. After a year, ownership is signed over to recipients.
"[Raising a heifer] may cost them $1,000 bucks to run for a year before the heifer is going to give them a return," Sherman said.
Recipients are required to maintain records related to raising the heifer, submitting them to the association in June 2022 and January 2023.
As part of the learning experience of raising a heifer, recipients will also gain showmanship skills. As a component of the program, recipients are required to exhibit their heifer at a county fair. A "breeding beef futurity," will be held consisting of WMSA first-year heifers.
Heifers will be awarded at the end of January and the beginning of February.
Applications may be returned to: Western Montana Stockmen's Association, 35101 Willow Tree, St. Ignatius, MT 59865. For more information, contact a local county extension agent, 4-H or FFA adviser or visit www.facebook.com/WMSA2016/.
Reporter Hilary Matheson may be reached at 406-758-4431 or by email at hmatheson@dailyinterlake.com.
Recent Headlines
---