Cayuse Prairie program aims to create peaceful classrooms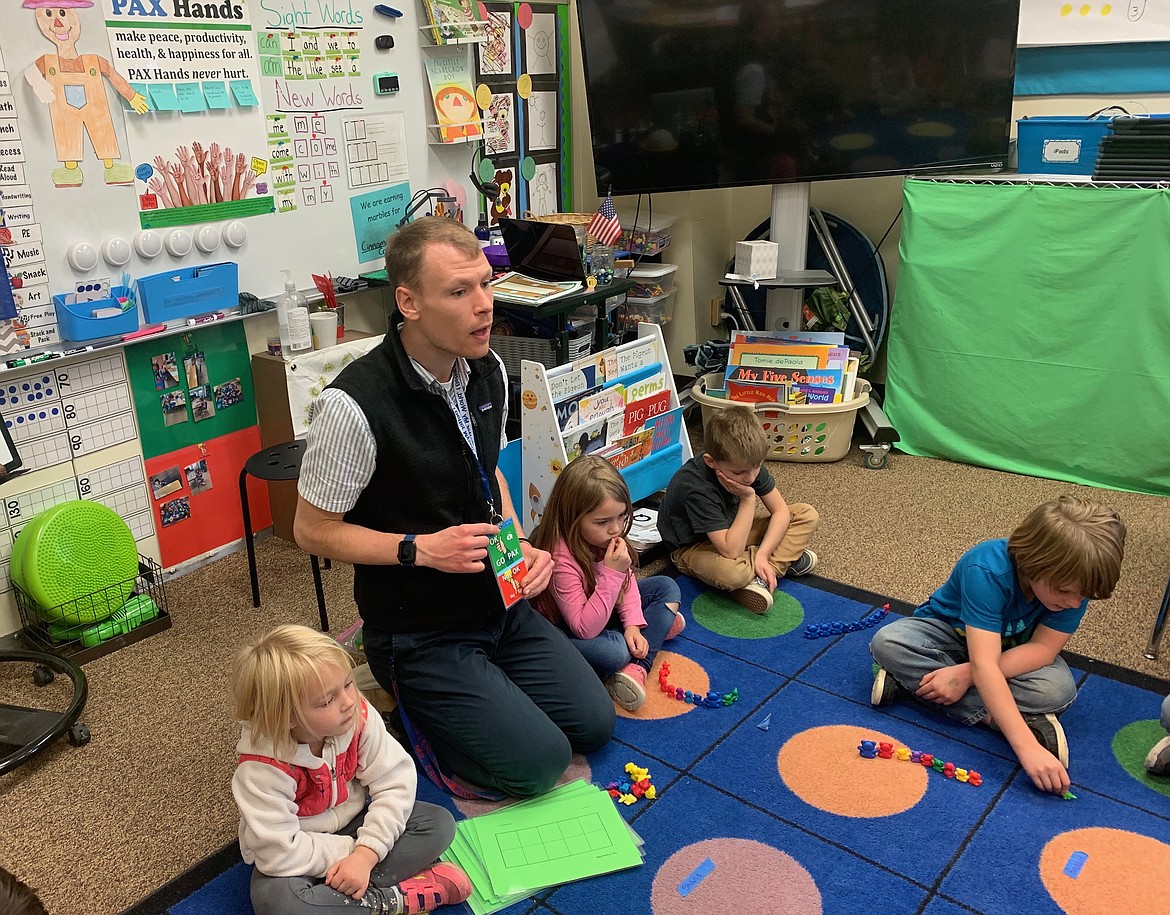 Kindergarten teacher Derrick Criner refocuses students using the PAX Good Behavior Game program. (Hilary Matheson/Daily Inter Lake)
by
HILARY MATHESON
Daily Inter Lake
|
December 1, 2021 12:00 AM
Down a hallway to Cayuse Prairie School teacher Charles Wiest's classroom, a series of handwritten notes called "Tootles" hang from the walls.
Jotted down on two of the notes are specific times a student showed persistence, or great participation in class.
"Tootles rather than tattles," Cayuse Prairie Principal Amy Piazzola said with a smile.
Tootles are just one component of the PAX Good Behavior Game, which encompasses a set of strategies teachers can use in the classroom in efforts to reduce disruption while teaching and reinforcing positive behaviors linked to self-management, self-control and self-regulation.
Cayuse Prairie has been implementing PAX since the 2019-20 school year and uses it at all grade levels starting in kindergarten.
On a Wednesday morning inside Wiest's seventh-grade classroom, he transitions from teaching a lesson to a writing assignment. For working so quietly, he rewards the class with the opportunity to choose a PAX game to play in the last few minutes of class. When the room got a bit chatty, he picked up a harmonica.
"All right," Wiest said, blowing into a harmonica, the distinct sound grabbing their attention to be "PAX" quiet.
"Through their working today they have that immediate feedback," he said, such as the harmonica, a specific word or hand signal.
Students choose a game where they have to wake up "sleeping" classmates lying on the floor by getting them to laugh.
Other than the games being a fun way for students to let loose for a bit, it's intentional.
"When we talk about a game, we're talking about what behaviors we're supposed to see. So that's really the point. We talk about the positive behaviors and then the things that aren't OK, we call them 'spleems.' It might be if someone's talking, or if they're getting up out of their seat," Wiest said.
When he notices a "spleem," he says the word out loud. The idea is for all students to check their behavior rather than reinforcing negative behavior by bringing attention to one individual, Piazzola said. Wiest said this sets PAX apart from other programs. Prizes focus on experiences, such as sitting in the teacher's chair, or playing basketball in the principal's office, rather than objects like toys or stickers.
"A game is a way to kind of put it all together," Piazzola said. "It gets kids to practice the routines that you've already set in place. It gets them to continue to model and do expected behaviors while you're doing academics."
"The bonus at the end is to earn a 'Granny's wacky prize,' feels good. It gets those chemicals going to the brain that say, 'Hey school is fun, school is good,' and that's what we want for our kids," she said.
Wacky words like "tootle or spleem," are not just used to garner the attention of young students, but give teachers a universal language to use with students, according to Wiest and Piazzola.
"It's the same language used throughout the school so the students know if they go to a different classroom, if they go to a different teacher, we're all using the same verbiage to get their attention and they know the routines throughout the whole school," he said.
ONE IMPORTANT word is "pax," which is Latin for "peace." Through the program, children may learn that peace is attainable, at least on a small scale.
"I think it really is important, especially with the issues we've experienced in our valley in the last year of how many suicides, and you know, those kids at some point had some unrest and couldn't find peace with themselves, and so, I think by bringing PAX, which is peace, productivity, health and happiness is achieveable.
With the slogan, "I better the world, and I better myself," the larger goal is for students to extend peaceful and positive behavior to their classmates and community.
"It gets you to think of the bigger picture. It's just not me that I'm worried about, but my actions affect your peace maybe, or your happiness. So it's just really looking at the larger community and realizing that we're all in this together and we have to work toward this and this is why we do PAX because it's good for students and good for our community," Piazzola said.
In 2019, Cayuse Prairie was among 100 Montana public schools to receive grant funding through the state Department of Public Health and Human Services for teacher training in efforts to expand the PAX Behavior Game program around the state.
A University of Montana evaluation report showed in 2019-20 among grades K-5, Montana students experienced a decrease in problem areas such as concentration, attention and academic competence, social skills, peer relationships and internalizing behaviors. Research showed an increase in prosocial behavior. Disruptive behaviors, however, remained unchanged, with kindergarten as an exception.
"PAX fits in with all the stuff that behaviorally and academically the state wants us to do," Piazzola said. "Although it is a program. These are all practices that good teachers do anyway."
Reporter Hilary Matheson may be reached at 406-758-4431 or by email at hmatheson@dailyinterlake.com.
Recent Headlines
---