Craft Brewers Cup back for 10th year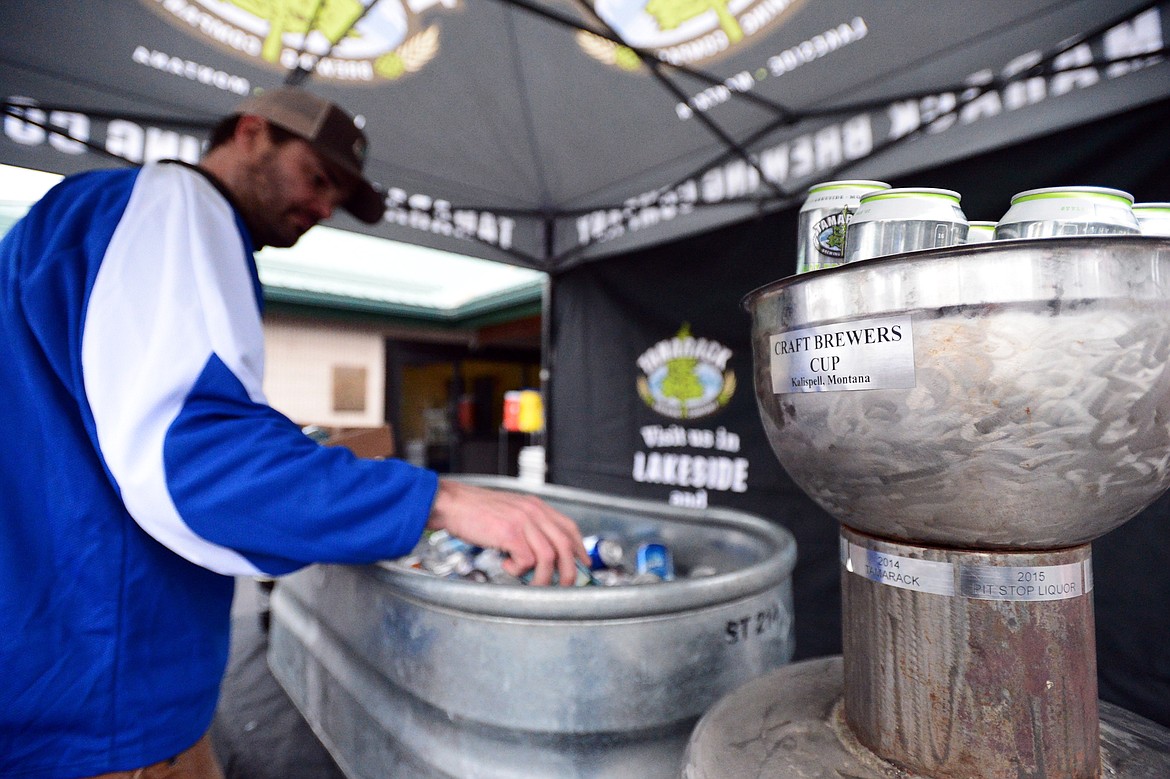 Keith Ridgway, coach of the Fun Beverage team and an organizer of the Craft Brewers Cup, puts a selection of beer on ice next to the championship trophy during a break in play against Village Brewery at the Woodland Park Ice Center on Friday. Fun Beverage beat Village Brewery, 5-4. The Craft Brewers Cup is the largest fundraiser of the year for the Flathead Valley Hockey Association. The tournament continues Saturday with games starting at 7 a.m. along with a brewfest from noon to 8 p.m. Seven local breweries will be in attendance Saturday with nearly 20 beers on tap. (Casey Kreider/Daily ...
by
KATIE BROWN
Daily Inter Lake
|
December 2, 2021 10:57 PM
Ten teams of hockey players from across Montana will lace up their skates for the 10th annual Craft Brewers Cup this weekend, a brewfest and hockey tournament that benefits local youth hockey.
After a one-year hiatus due to the Covid-19 pandemic, things get going at Woodland Park with games starting at 4 p.m. Friday.
Though it's the 10th anniversary, there's nothing specifically planned to celebrate the milestone.
"We're just having it, which is nice," event organizer Keith Ridgway said.
The brewfest portion of the weekend runs from noon to 6 p.m. on Saturday. Twelve breweries, up from eight in 2019, will be in attendance. If you are 21 or older, a $25 fee provides you with a bottomless beer cup for the weekend.
"We got silicone cups this year instead of the metal ones, just because they'd be warmer to hold, but now it's going to be so warm," Ridgway said.
Temperatures are predicted to be lower on Saturday, but still above average (a high of 40 degrees in Kalispell), and the warmer weather could affect ice quality at Woodland's outdoor rink during the day. The nighttime temperature may drop as low as 23 degrees.
The marquee game of the weekend is Saturday night at 7:15 p.m., when Tamarack Brewing takes on Jah Builders to determine who takes home the Brewers Cup trophy. Hall of Fame hockey player Lanny McDonald will star (again) for Tamarack.
This is a departure from previous years, when there were more teams in the upper-level A division than in the B and C divisions. Canadian teams are notably absent this year, mainly due to border closures, and many of those teams would be in the upper division. Since Tamarack and Jah Builders are the only A teams this year, it was decided they would have one scheduled game to determine the championship. Ridgway will be suiting up on the Jah Builders team.
"We (both) can dominate if we want to, but we're just going to go have fun out there," he said.
All teams will get to play four games.
Saturday's games start at 9:15 a.m and run through the last one at 8:30 p.m. Sunday's schedule has four games that go from 9 a.m­–2 p.m.
"I'm a hockey player, so it's just a real fun tournament to be a part of," Ridgway said. "It's just a good, fun weekend."
Recent Headlines
---