Seasoned QBs in one place, new faces at the other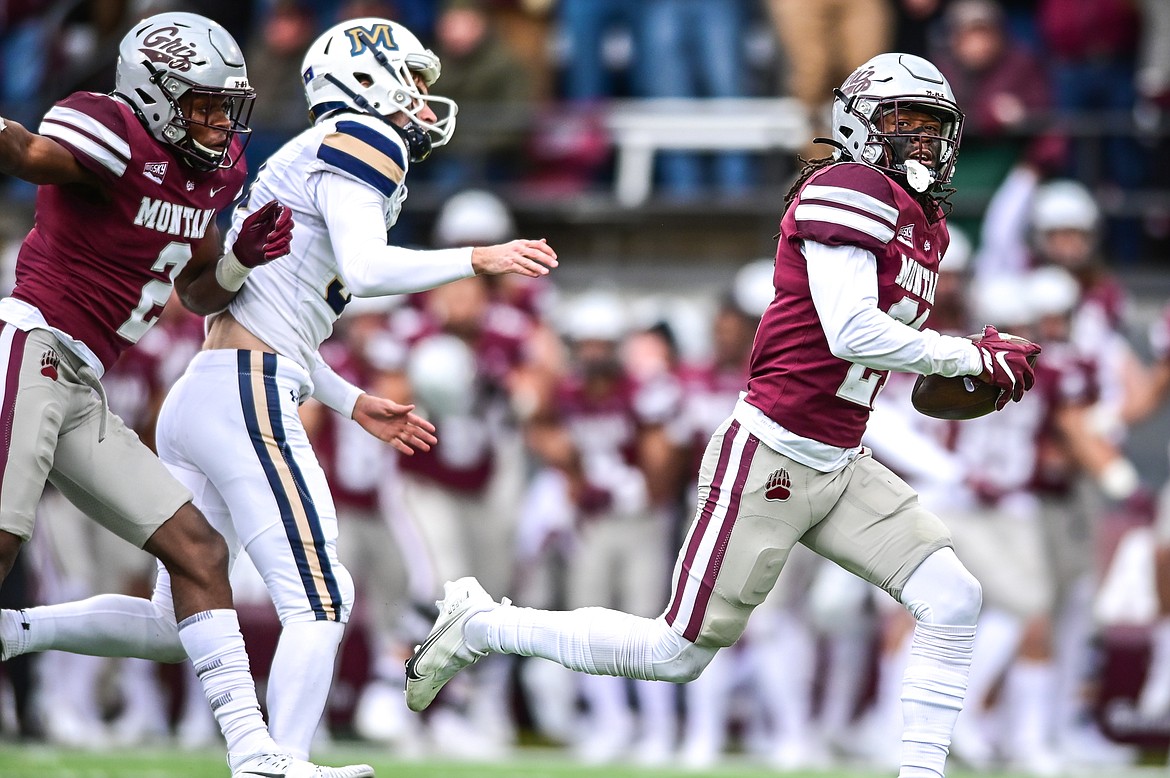 Montana cornerback Justin Ford (21) returns a fumble 56-yards for a touchdown after a fake field goal attempt by Montana State during the 120th Brawl of the Wild at Washington-Grizzly Stadium on Saturday, Nov. 20. (Casey Kreider/Daily Inter Lake)
by
FRITZ NEIGHBOR
Daily Inter Lake
|
December 2, 2021 10:36 PM
Friday could be the Grizzlies' time to shine, though the Bobcats seem intent on stealing headlines.
The rematch of an Oct. 2 game is set for 7 p.m. between Montana and visiting Eastern Washington, with the winner getting a spot in the Football Championship Subdivision quarterfinals.
The 9-2 Griz spent a good part of the season with questions at quarterback, given the injury issues of starter Cam Humphrey. In fact it was against EWU that Humphrey suffered an ankle injury that required surgery.
Then there's the Montana State Bobcats, who had Matthew McKay enter the NCAA Transfer Portal 48 hours before their home playoff game against Tennessee-Martin. The 9-2 Cats play at 2 p.m. Saturday, and will do so without the junior that started all 11 games.
Griz vs. EWU
"It's always interesting playing the same team twice," Montana coach Bobby Hauck said Monday. "It's unique in college football; it doesn't happen very often."
Eastern (10-2) won the first meeting 34-28 in Cheney, rallying from a 21-10 deficit and then surviving a Malik Flowers kickoff return and a Kris Brown Hail Mary that reached the hands of a Griz receiver.
While Montana had a first-round bye the Eagles pushed past Northern Iowa 19-9 in the first round of the playoffs, in a game notable for defense. Eastern is high-powered behind quarterback Eric Barriere, but had trouble scoring; Talolu Limu-Jones had just two catches for 16 yards, compared to 11 for 231 in his first matchup with the Griz.
Limu-Jones' bulletin-board material about the Griz being undeserving of a top-8 seed has been well-publicized. Less so has been the Eagles' defense of late.
"The first time we played it was a good game," Hauck said. "They got us, and Barriere's still a great player and will be hard to stop. Their defense has played well recently; they're blitzing a little bit more it seems like to me."
Added into the mix from the first time around: Montana's Gavin Robertson, an excellent safety who didn't play in October.
"Having him back, having his leadership, that accountability," Griz corner Omar Hicks-Onu began. "It's just going to dictate the game a whole lot better. I feel like he gives us a great opportunity to win."
The Grizzlies, running back notwithstanding, seem much healthier this time around. History seems to favor UM as well.
In 2004 the Griz went to Sam Houston and lost, 41-29, in a non-league game that wasn't that close; in the FCS quarterfinals the Bearkats had to come to Washington-Grizzly Stadium — and were swamped 34-13 by UM.
In 2008, same thing: The Griz lost decisively at Weber State during the regular season, then thumped the Wildcats 24-10 at Washington-Grizzly Stadium in the quarters.
The pattern was the same in 2019, except it was Montana that won the first game against Weber (at home) 35-16 before losing in Ogden 17-10 in the quarterfinals.
Also in 1982 and 1988, the Griz were rewarded for their Big Sky Conference co-championships with first-round trips to league foe Idaho. They lost both times, and the second time gave life to a bidding process that brought a lot of playoff games to Missoula.
UT-Martin at MSU
The Skyhawks already have one road playoff win (32-31 at Missouri State), and did it
without starting quarterback Keon Howard, who wasn't on this week's two-deep.
Now that McKay has left, the Bobcats have three quarterbacks with a combined 16 passes this season, completing eight. Also, there's that guy who was all-Big Sky in 2018.
Freshman Tommy Mellott of Butte made a splash three weeks ago with three rushing touchdowns against Idaho; he is 2-for-4 passing in eight games. Tucker Rovig, the 2019 starter sidelined by injuries this year — opening the door for McKay — has thrown five passes in five games.
Rovig, who now appears healthy, was a sophomore when he threw for 1,969 yards and 15 touchdowns against five interceptions. That's not far off McKay's totals (2,021 yards, 16 TDs, 3 picks). The difference being that Rovig guided the Cats into the FCS semifinals that year.
McKay's departure is likely the result of a benching, though for whom we don't know — MSU hadn't released any game notes as of Thursday. The junior's play had tapered off after a solid showing through the first half of MSU's 9-2 season.
Troy Andersen, of course, started at QB in 2018 and was all-league so UT-Martin (10-2) could see more two-way Troy. But the Skyhawks will really need to handle a power running attack led by Isaiah Ifanse; they likewise have a 1,000-yard rusher in Peyton Logan.
Recent Headlines
---