Wednesday was Kalispell's warmest December day on record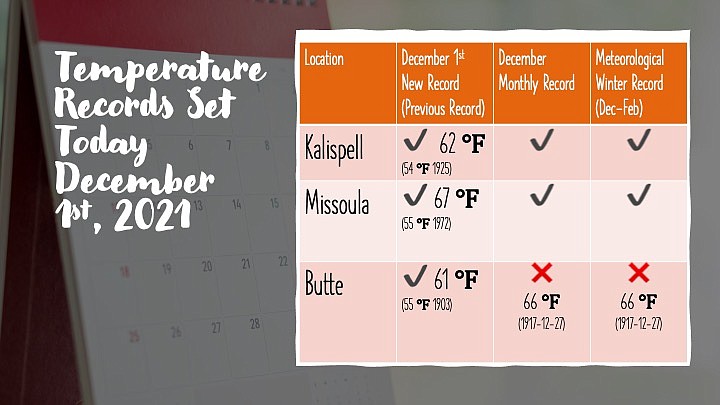 National Weather Service graphic
by
MATT BALDWIN
Daily Inter Lake
|
December 2, 2021 2:00 PM
Kalispell set another record high temperature Thursday while most residents were still asleep.
According to data from a weather station at Glacier Park International Airport, Kalispell broke the daily high at 3:45 a.m., as overnight temperatures climbed to 59. The previous record was 57, set in 1941.
Temperatures actually cooled a bit during daylight hours, dipping into the mid 40s around noon before rebounding back to the low 50s.
The normal high temperature for Dec. 2 in Kalispell is 34.
On Wednesday, Kalispell climbed to 62, breaking the old record for that date of 54 set in 1925. It was the warmest day in December on record, and a record high for the so-called meteorological winter between December and February.
A RETURN to more normal December weather is expected by the weekend, according to the National Weather Service in Missoula.
Friday night and Saturday, a trough from Alaska will move across
British Columbia and into the northern Rockies.
"This brings the potential for some more impactful winter weather than we`ve seen so far this season," the Weather Service stated in its forecast discussion Thursday.
Gusty and unstable conditions are possible across Northwest Montana, include snow squalls.
Early next week another trough drops out of Alaska and reinforces
the previous shot of cool air, the Weather Service said.
"These two troughs digging in will carve out a longer term troughing pattern for the region," the Weather Service said. "This will bring some more snow to the mountains and potentially to the valleys as well."
The Swan and Mission mountains could pick up as much as a foot of snow, while the valleys could see up to 2 inches.
Expect high temperatures in the 30s and lows in the 20s for the Flathead Valley.
Recent Headlines
---