Humphrey, Griz light up Eagles to win 57-41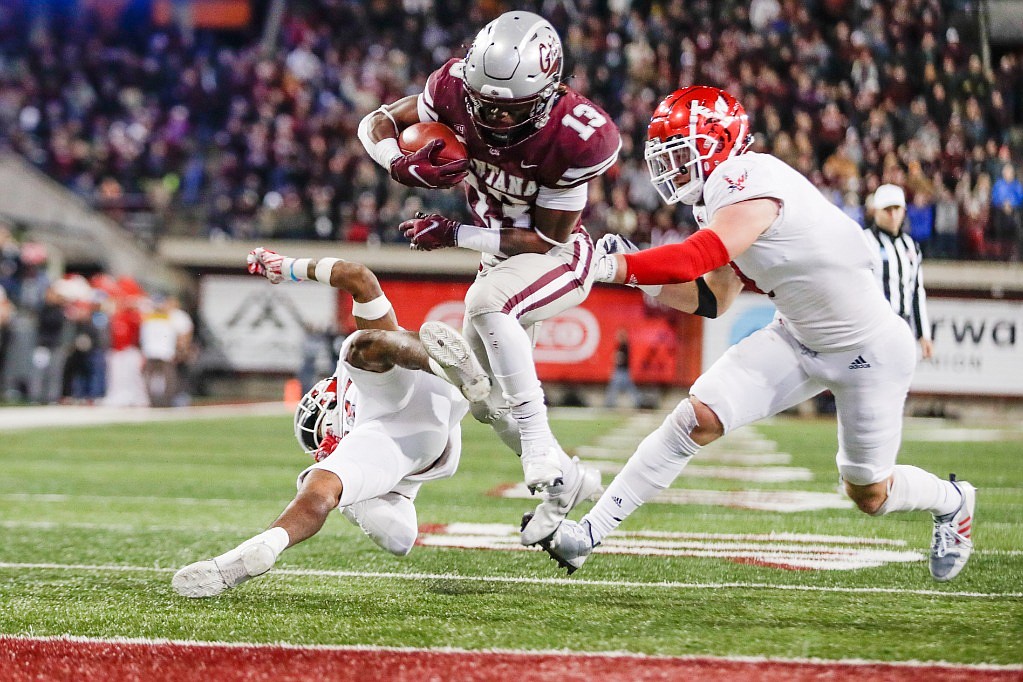 Montana Grizzlies running back Xavier Harris (13) scores a touchdown. Montana beat the Eastern Washington Eagles 57-41 in the second round of the NCAA FCS Playoff in Washington - Grizzly Stadium on Friday, December 3, 2021. (Photo by Kennedy Delap/UM Athletics)
by
FRITZ NEIGHBOR
Daily Inter Lake
|
December 4, 2021 12:26 AM
MISSOULA — The special teams ruled, the defense turned nasty and the rematch became a mismatch.
Cam Humphrey threw for three touchdowns and the Montana defense tightened up in the third quarter of the Grizzlies' 57-41 win over Eastern Washington Friday in a second-round FCS playoff game.
Humphrey had pretty pedestrian passing numbers — 11 of 23, 160 yards — compared to Eastern's pass-happy — as in 80 throws — Eric Barriere. But he came up with some big tosses and Sammy Akem tied Marc Mariani's school record for TD catches at Washington-Grizzly Stadium.
The Grizzlies' win was just as much a product of special teams and opportunistic D, including another pick-6 by UM cornerback Justin Ford.
"Great team effort, offense, defense, kicking," said Griz coach Bobby Hauck, whose club will find out its quarterfinal opponent Saturday. "Just terrific. And any time if you're going to try to throw the ball 80 times and we're going to rush the ball 200, you are never going to beat us. You're never, never, ever going to have a chance to beat us in that particular game."
The game probably turned when Ryan Tirrell blocked an Eagles punt in the second quarter.
Levi Janacaro recovered the ball at Eastern's 17, and three plays later Junior Bergen scored from 5 yards out to cut what had been a 21-10 deficit to 21-20 at the 8:37 mark. The score stayed there until intermission, and then the Griz poured on the coals the second half.
"They got off to a good start," Hauck said of the Eagles, who beat his squad 34-28 during a regular-season meeting in Cheney, Wash. "We busted a couple coverages. Bad by us, letting them score like that. But after that, they kind of struggled.
"Our guys just righted the ship, and after halftime that was fun to watch."
Eureka's Garrett Graves started the third quarter with a 27-yard return of a pooched kick; a 21-yard run by Xavier Harris set up a 45-yard field goal by Kevin Macias and Montana had the lead for good, 23-21.
A pattern was set: Griz linebacker Marcus Welnel's sack of Barriere guaranteed a short field on Montana's next possession, and it got shorter when Bergen returned the ensuing line drive punt 37 yards to the EWU 8.
Harris ran off right tackle untouched for the TD on the next play, and it was 30-21.
"It was just good coverage," Welnel, who had two sacks, said. "Everyone else had good pressure. It was a cool moment. I feel like the momentum really started swinging our way."
Eastern answered with a touchdown, resurrected by a roughing-the-punter flag and capped by Barriere's 4-yard dart to the loquacious Tolulu Limu-Jones, his first of two on the night.
It was on the ensuing Montana drive that the crowd of 24,065 became its most delirious: Graves took the kickoff 33 yards to the 40; two plays later Humphrey found Akem on a deep cross. The senior went 44 yards to make it 37-28.
"We had a critical roughing the punter penalty and a roughing the passer that aided them on that drive and helped them down there," Hauck said. "We shouldn't have gotten those penalties, but then there's no lack of confidence by anyone. I thought our offense played with a very tough mindset in this game tonight."
It was a marathon. Barriere threw for 530 yards and five touchdowns in his final game. Eastern ran 108 plays. Limu-Jones had 14 catches for 215 yards, and didn't back down from his Sunday criticism of the Griz landing a seed despite their regular-season loss to EWU.
"I said some things that I stand by," Limu-Jones said. "I don't take back anything I said. I let my game do the talking today. I felt like after I scored I never saw so many middle fingers pointed at me."
Barriere also had two costly turnovers, including a bizarre lateral under heavy pressure with his team down 37-28. Patrick O'Connell supplied heavy pressure and Barriere just tossed it. Jace Lewis recovered 19 yards down field at Eastern's 24.
Humphrey then found Caleb Grossman with a 5-yard touchdown pass and it was 44-28, with 2:18 left in the third quarter.
It became 50-28 when Humphrey dropped another dime on Akem, for a 30-yard touchdown, with 8:17 left. It was Akem's 29th career TD.
After Limu-Jones caught a 35-yard touchdown pass, Ford delivered the final nail, cutting in front off a pass thrown up for grabs and taking it 55 yards for the score. Ford's third defensive TD of the season tied a Big Sky record and made it 57-35 with 2:08 left.
Malik Flowers had 75 of Montana's 208 rushing yards on a first-quarter fly sweep. Akem had five catches for 104 yards, his first time hitting the century mark this fall.
The Grizzlies backed up their seeding.
"They kind of got called out," Hauck said. "And it wasn't close."
QUICK KICKS: Eastern is 6-12 at Wa-Griz. Montana State has the next-most wins, with 5. … This was UM's first home playoff game since a 73-28 win over SE Louisiana in 2019, in which Samori Toure had an FCS-record 303 receiving yards for the Griz. Toure, who transferred from the Griz to Nebraska in the spring, attended Friday's game. …. Legendary Griz QB Dave Dickenson raised the No. 37 flag before the game. …
---