Poker pro shares her love of wilderness by giving to local nonprofits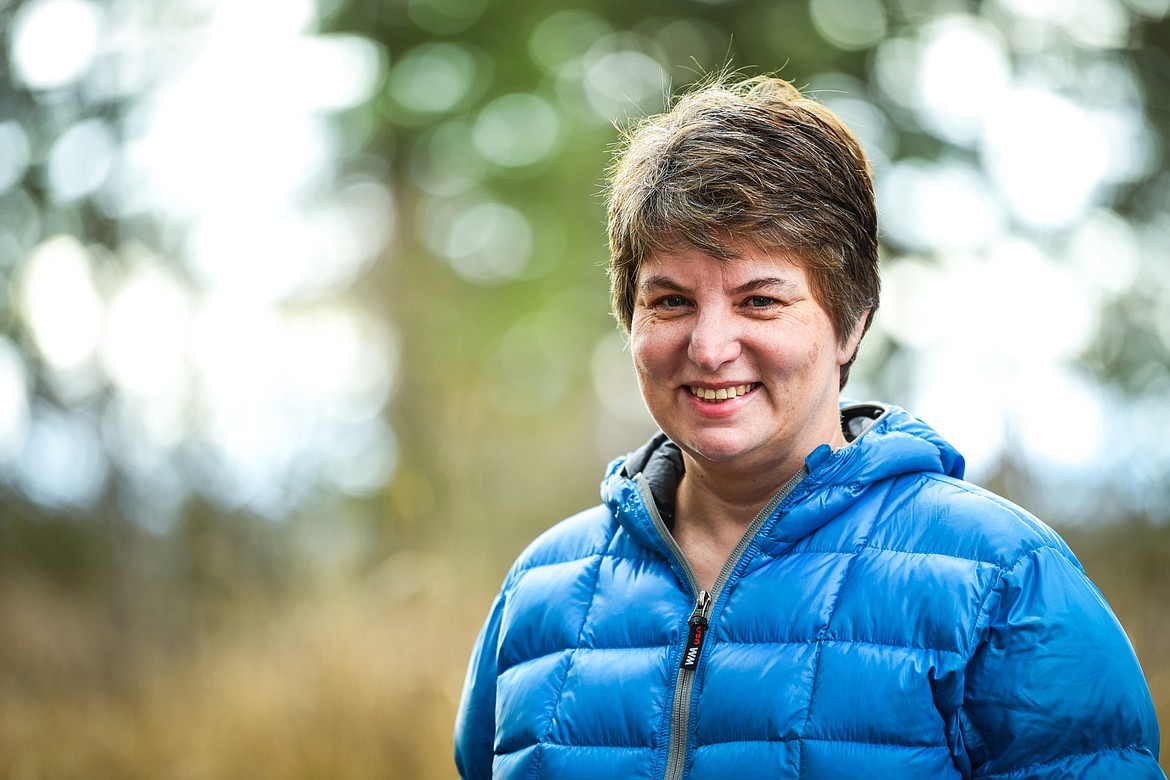 Victoria Livschitz outside her residence in Whitefish on Thursday, Dec. 2. (Casey Kreider/Daily Inter Lake)
|
December 6, 2021 12:00 AM
In some ways, Victoria Livschitz is a study in contradictions.
On the one hand she's a dedicated outdoor recreationist, having backpacked and hiked across North America and around the world.
On the other hand, she's a champion poker player, and has spent hours at poker tables.
Born in a small town near the shores of the Baltic Sea in Lithuania, Livschitz grew up fishing, picking berries and foraging for mushrooms with her parents. She, her husband and their 2 year-old daughter immigrated to America in 1991 as political refugees just as the Iron Curtain was opening up, finding a family in Cleveland, Ohio, to sponsor them. After obtaining degrees in mathematics and computer science, Livschitz, a champion chess player at age 17 in Lithuania, and her husband opened a professional chess academy.
In 2003 Livschiftz relocated to California's Silicon Valley and immersed herself in the tech industry. Up until 2017, she describes her life as "all tech, all entrepreneur, all career" — until she rediscovered the mountains.
"I found myself by finding the mountains again. It was groundbreaking for me and I was determined they would be part of my life from then on," Livschitz said. "The more wired we are electronically, the more we desire to go away and have meaningful experiences in the wilderness."
She has since hiked and backpacked at least 1,000 miles in the Sierra Nevadas, Pacific Crest, Grand Canyon, Gates of the Arctic and, most recently, Glacier National Park and the Bob Marshall Wilderness. Internationally, she's climbed Mount Kilimanjaro and trekked in Peru and Bolivia.
LIVSCHITZ MOVED to the Flathead Valley in October 2020 to establish headquarters for her new recreation startup, RightOnTrek, an online source where outdoor recreationists of all skill levels can order curated plans along with fresh, locally made packaged food for their backpacking adventures.
"When California was in flames I evacuated my family and began driving through the Northwest," Livschitz said. "When I came to the Flathead Valley, it checked every box. I was stunned by the incredible, abundant natural resources here and their accessibility."
Livschitz was equally impressed with the skilled high-tech and traditional workforce here.
"I was amazed at how business-friendly this valley is and how many talented people from all facets of life live here," she said.
Livschitz's heart may be in the mountains, but her head is in the game — poker to be specific. About the same time she discovered her love for the great outdoors, she also found a love for poker, a hobby that began during game night with friends.
"It is common for chess players to become poker players," Livschitz said.
When Covid closed poker rooms around the West last year, Livschitz began watching poker games on YouTube and studying game theory. Her mathematical background also proved valuable.
"It's really about being good at math, being familiar with the theory of probability and game theory," she said. "It's a lot of calculations. You have to study a lot to get good at it."
This fall she decided she needed a vacation, took 10 days off and headed to Las Vegas for the World Series of Poker to compete in much higher stakes games.
"To my delight I did well," she said. She played in 12 tournaments, cashed in on six and won one.
THANKS TO her success at the table, Livschitz recently was able to donate the $30,000 she won in Las Vegas to two local nonprofit organizations — the Glacier Institute and the Flathead Valley Ski Education Foundation.
"I've always believed in the social responsibility of companies and individuals," Livschitz said. "I care a great deal about the positive impact nature has on us and the importance of making the great outdoors accessible to everyone, while also educating people on the needs and means to protect the fragile environment from human impact."
The Glacier Institute, the official education partner of Glacier National Park and the Flathead National Forest, received half of the $30,000 and will use it to bolster its youth education program, as well as its Restoration Big Creek capital campaign.
"It's a special thing when a nonprofit organization can partner with a for-profit organization that has conservation and education in mind,'' said Anthony Nelson, Glacier Institute's executive director. "It's clear Victoria is extremely passionate about the outdoors and breaking down barriers to get outdoors. That's one of the main focuses of the Glacier Institute as well. So, our missions align in a lot of ways."
Last year RightOnTrek also teamed up with the Glacier Institute by donating gear and food for a youth summer camp, along with funds for restoring the facility.
THE FLATHEAD Valley Ski Education Foundation will use its $15,000 donation to further its mission of promoting athletic, academic and personal excellence to local youth through educational and competitive programs in skiing.
"A portion will go toward scholarships to help young skiers chase their dreams," Livschitz said.
"We are a nonprofit and rely heavily on donations and sponsors to help offset program fees for our participants," said Hilary Lindh, FVSEF program director and head coach. "We are really excited about this sponsorship and think it's a great fit for our families."
In the short-term, Livschitz hopes to build on RightOnTrek's success this past year in the Flathead Valley.
It's her long-term goal and big dream, she says, to open wilderness adventures to far more people because she feels people need opportunities to recreate and have access to outdoor recreation. She believes RightOnTrek serves that purpose by removing barriers to accessibility and providing people and families a simple, one-stop shop to plan and gear up for multi-day backpacking and camping adventures around the Northwest.
Livschitz pointed out the parallels between her two deep interests — outdoor recreation and poker.
"They do seem polar, but what they have in common is mindfulness," she said. "For both, you must be focused and present. You must have good problem-solving skills, be self-reliant and deliberate.
"One is visceral and the other is analytical. But both are a model for consistently making good decisions under unpredictable circumstances to succeed in the game of life."
​​Community editor Carol Marino may be reached at 406-758-4440 or community@dailyinterlake.com.
Recent Headlines
---