Touchdown Tommy makes his mark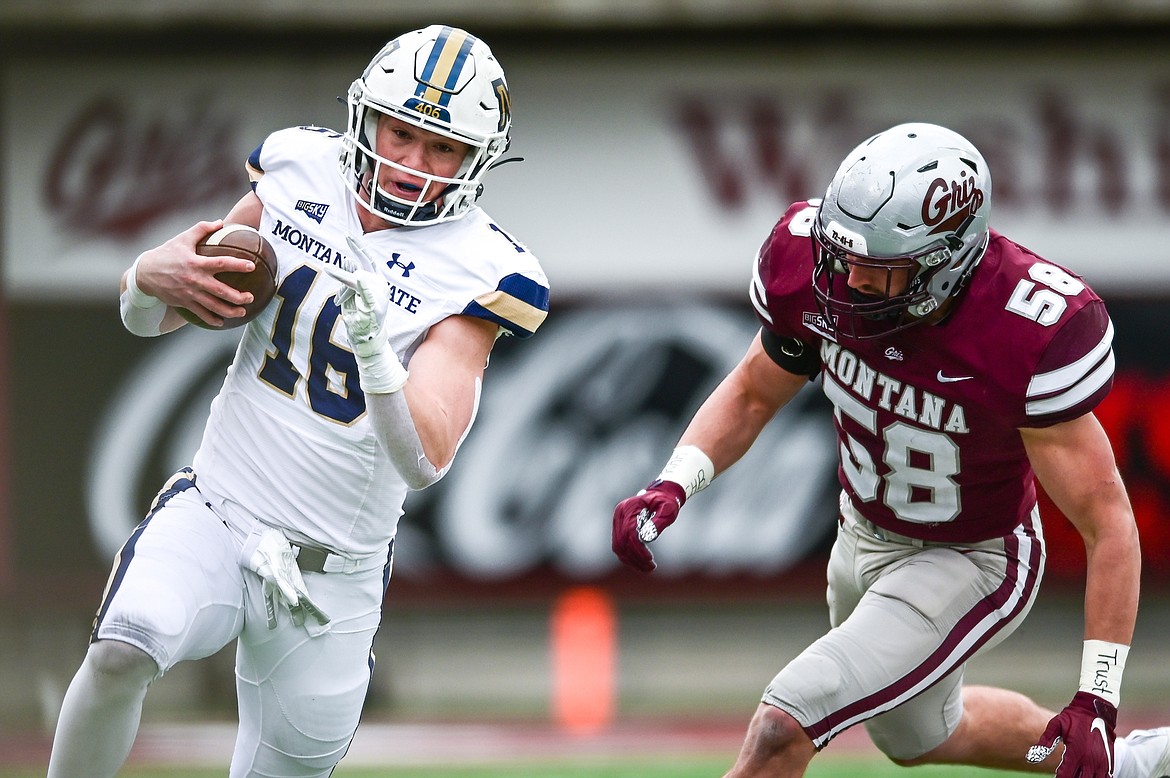 Montana State quarterback Tommy Mellott (16) tries to get past Montana linebacker Patrick O'Connell (58) during the 120th Brawl of the Wild at Washington-Grizzly Stadium on Saturday, Nov. 20. (Casey Kreider/Daily Inter Lake)
by
FRITZ NEIGHBOR
Daily Inter Lake
|
December 15, 2021 6:00 PM
Touchdown Tommy Mellott is close to being a household name, even if people at the World Wide Leader don't quite have the pronunciation down.
Montana State's freshman quarterback had a second breakout performance in his second start, playing error-free football and sparking the Cats past Sam Houston 42-19 Saturday in an FCS quarterfinal aired on ESPN.
Since Matt McKay's benching/departure after the Cat-Griz loss, Mellott has completed 14 of 31 passes for 216 yards and two touchdowns, run for 256 yards and four scores and on Saturday he also caught a TD pass.
It was on MSU's first drive that Mellott lined up tight and a yard back on the right side of the formation. He once again proved the axiom that tight ends are always open, running freely to the end zone, then having enough room to come back for the pass from Willie Patterson and curl back into the paint.
It was 7-0; soon enough he'd dropped a perfect, 31-yard corner route throw on Patterson for a 14-0 lead; then it was 21-0 after his 1-yard scoring run.
His 2-yard TD run made it 28-0 midway through the second quarter.
The Bearkats, who'd never lost a home playoff game, took the FCS title at the end of the truncated spring season and had won 21 straight overall, never really threatened.
"We didn't feel it was a shock-the-world effort that we would need," MSU coach Brent Vigen, whose club hosts South Dakota State at noon Saturday in the semifinals, said. "But that's a good team we beat out there."
Mellott was referred to as "Mullet" a couple times during the ESPN+ telecast, and then as MELL-it on SportsCenter later (it's Meh-LOTT). Not that he probably cares. He's not a quote machine, often deflecting credit, though Bill Foley of Buttesports.com notes that in 2019 Mellott was asked by two Butte schools to speak at sixth-grade graduation.
Let others talk about him, then.
"Offensively, they were who we thought they were going to be, except they threw the ball better than we thought," Bearkats coach KC Keeler said. "We thought, 'Hey, we'll play cover zero and take our corners against their receivers and an inexperienced quarterback.'
"He became a full-grown-ass man against us this weekend. He really threw the ball well."
Fresher legs
Keeler noted that his team appeared to be low on batteries on the run-up to the quarterfinals.
"We lost to a really good football team, and they made more plays than us," he said of the Bobcats. "But for the first time on Wednesday, I could see us start to peter out. We didn't finish practice. It was noticeable because of how well we practiced, for a long period of time. We just weren't quite there."
Which is to say the Kats had a good run.
"I think Nov. 2019 was the last time I had to get up in front of a group and talk about a loss," Keeler said. "Twenty-won straight wins in one calendar year. Two training camps. One national championship. It's mind boggling."
Montana State is the lone semifinalist that didn't play any games this spring, but the Bobcats did have some trials, namely when Jeff Choate bolted for an assistant's job at Texas.
The Cats were coming off a semifinal appearance in 2019; now they're back again and if Vigen was worried about a tough transition, his players quickly soothed that.
"It was apparent from when I got to Bozeman in February, that this group was ready to take the next step," Vigen said.
Injury report
Montana State, which didn't have corner Eric Zambrano for Sam Houston, lost defensive tackle Chase Benson and safety Ty Okada to injury in Texas.
Vigens said Zambrano returned to practice on Monday, but was less positive about Benson and Okada.
"I think we're in wait-and-see mode with everybody you saw in that game that was probably banged up," he said.
Still with it
James Madison didn't seem to be petering out against the Grizzlies Friday night, getting an 82-yard scoring pass in the first quarter, a 50-yard TD run in the second and beating Montana 28-6.
"Twenty-first or 22nd game, I'm not sure," Dukes coach Curt Cignetti said. "Montana's a good football team, and I'm sure we had a lot of great performances."
"Giving up the big play has not been our Achilles heel this year," Griz coach Bobby Hauck said. "We gave up three big plays this game, and that was really probably the difference."
Montana notably lost first top receiver Samuel Akem, then starting quarterback Cam Humphrey to first-half injuries. It was surprising that Robbie Patterson, who mainly had been part of a run package previously, played the entire second half.
"Well first we wanted to get first downs," Hauck began. "We ended up talking it over at halftime and ended up deciding Robbie gave us the best chance to get points and get the win."
Patterson's first series was a 3-and-out, before he led a drive to a Kevin Macias field goal. His next three series ended punt, interception, interception, though right tackle Dylan Cook gave a positive review.
"Not a lot of reps on the season but he came in and led two drives," Cook said. "Couldn't finish them out."
James Madison will play at North Dakota State Friday night.
For his part Cignetti said the 82-yard pass to Devin Ravenel changed Montana's blitz-heavy, man-on-man defense.
"I don't know if we saw man coverage… they did not play man coverage after that," he said.
Boom-schini non grata
On Monday Brian Buschini was named the FCS Punter of the Year by the Augusta Sports Council, which also selects the Ray Guy Award winner for the FBS. The same day he entered the NCAA transfer portal, and announced later on Twitter he'd received an offer from Nebraska.
On Tuesday the Omaha Herald reported that Buschini was indeed going to transfer to the Huskers, while HEROsports.com named him first-team All-America for the FCS as well to its Freshman All-America squad.
Meanwhile the Montana Grizzlies lauded eight of their HEROsports.com honors in a Tuesday release. The ninth, Buschini, was not mentioned.
Recent Headlines
---