Glacier High goes into soft lockdown following unsubstantiated threat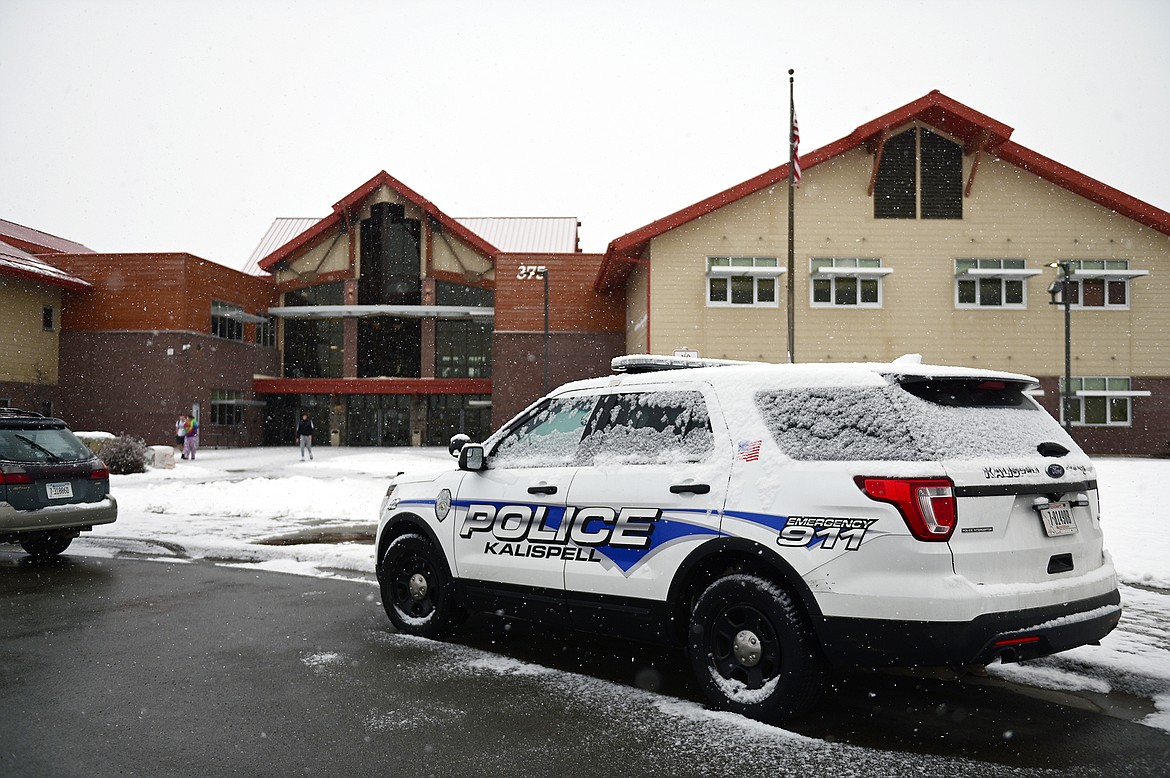 A Kalispell Police Department vehicle outside Glacier High School on Thursday, Dec. 16. (Casey Kreider/Daily Inter Lake)
by
MATT BALDWIN
Daily Inter Lake
|
December 16, 2021 8:00 AM
Glacier High School implemented a soft lockdown Thursday morning and many parents pulled their children from the Kalispell school following an unsubstantiated threat posted to social media.
According to an email from Kalispell Public Schools Superintendent Micah Hill, officials at Glacier High School were made aware of a threat of school violence posted on the social media site TikTok that referenced "GHS." The post did not specifically mention Glacier High School or Kalispell.
"Out of an abundance of caution, our school administrators, in cooperation with the Kalispell Police Department, started investigating the threat and placed the school in a soft lockdown - entrances were locked, students were able to move freely between classes, and all visitors to the school were met at the door," Hill stated.
Upon further investigation, the district determined the threat was not credible, Hill continued. He said the posted could be traced to a nationwide TikTok challenge and that schools across the country with the abbreviation GHS were responding in a similar fashion, including Granger High School in Utah.
The TikTok challenge encourages students to make false threats of violence as a way to get out of school.
A screenshot of the purported post was provided to the Inter Lake by a parent of a Glacier High School student. The post stated: "Attention everyone who go to GHS ya'll might take this as a joke but Im being serious. I am so tired of this school and all the teachers who don't care and I am so tired of all the bullying [I'm] so tired of everything on December 17 I will shoot up the school this is your only warning please don't go."
Hill said these types of alarming social media posts and cyber threats "are unfortunately becoming more common."
He said TikTok challenges are often "very unsafe and create a sense of anxiety or panic."
"They are so disruptive. You don't know what is real and what is not," Hill told the Inter Lake.
Regardless, he said the district will continue to address all reports as credible, "we will respond appropriately, we will follow our established safety plans, and follow protocols," he added.
The soft lockdown at Glacier will continue on Friday, Glacier High School Principal Brad Holloway said in an email to parents.
A soft lockdown at Glacier High means students enter and exit the building through the south commons doors and eliminates all "unnecessary" hall passes.
Parents were asked to call the main office if they wanted to excuse their child from the school on Thursday.
"We are fully supportive of your decision," Holloway said.
He said all school events will continuing as planned. Glacier High School is set to host boys basketball games against Bozeman on Friday. The district's winter break begins Dec. 22.
Holloway praised students for bringing the threatening post to school administration's attention.
"We are proud of our students for stepping up and sharing the information, taking it seriously and looking out for our school community," Holloway said.
This story will be updated as more information becomes available.
---