Wolfpack attacks the rim to edge Raptors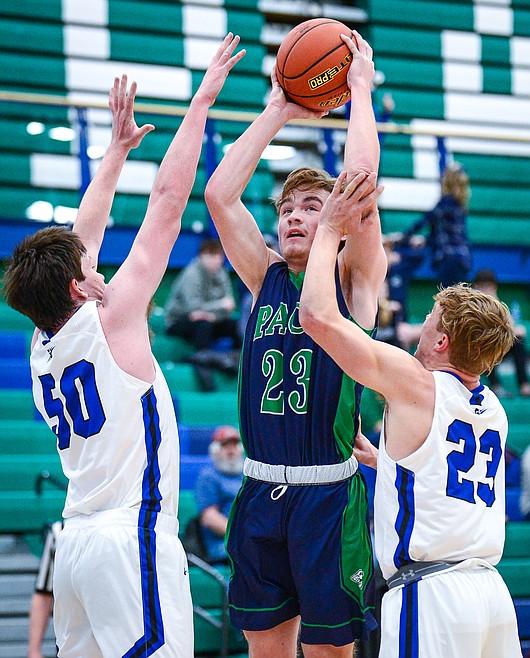 Glacier's Will Salonen (23) looks to shoot over Gallatin's Rylan Schlepp (50) and Noah Pickard (23) at Glacier High School on Saturday, Dec. 18. (Casey Kreider/Daily Inter Lake)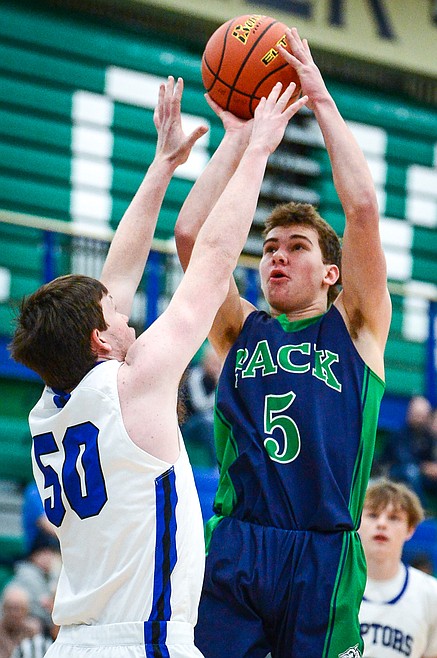 Glacier's Ty Olsen (5) looks to shoot over Gallatin's Rylan Schlepp (50) in the first half at Glacier High School on Saturday, Dec. 18. (Casey Kreider/Daily Inter Lake)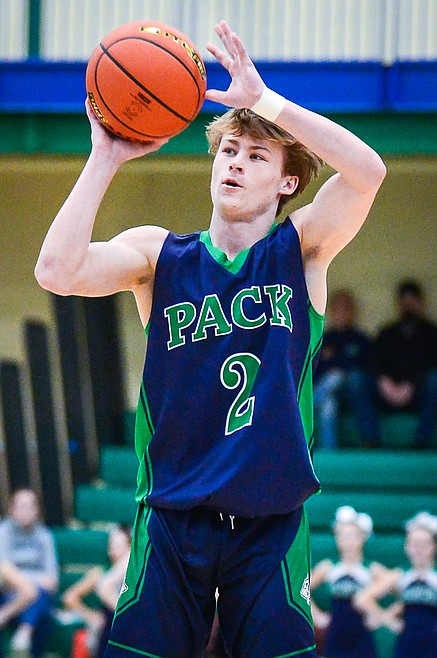 Glacier's Connor Sullivan (2) spots up for a three-pointer against Gallatin at Glacier High School on Saturday, Dec. 18. (Casey Kreider/Daily Inter Lake)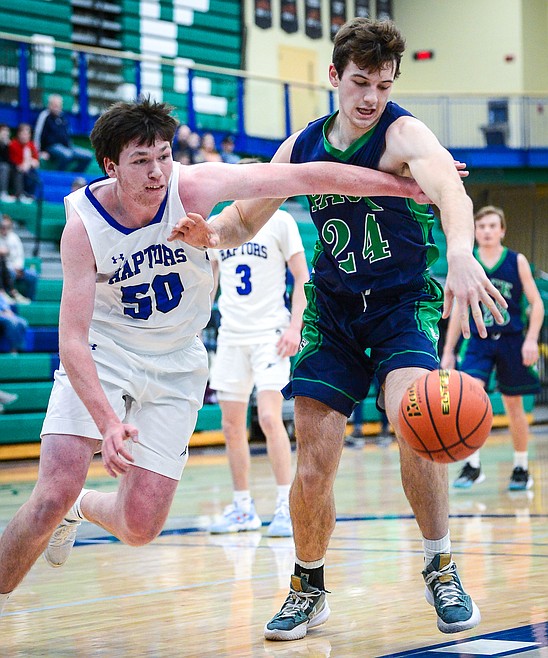 Glacier's Noah Dowler (24) controls a rebound in front of Gallatin's Rylan Schlepp (50) at Glacier High School on Saturday, Dec. 18. (Casey Kreider/Daily Inter Lake)
Previous
Next
by
FRITZ NEIGHBOR
Daily Inter Lake
|
December 18, 2021 10:05 PM
The Glacier Wolfpack likes to go inside-out, but when the outside shots won't go then what is a wing to do?
In the second half of a 56-55 squeaker over Gallatin Saturday morning, Will Salonen and the rest of the Pack started attacking the rim.
Connor Sullivan scored 20 points on his birthday, and his four-point play — on his fifth three of the game — brought Glacier (1-3) to 49-46 with 5:19 left in the game.
It was Salonen, who scored six fourth-quarter points, that converted an old-fashioned play to knot the game at 51-all at the 3:16 mark.
"I've only hit a couple outside shots in our first four games," said Salonan, a senior who finished with 10 points. "Coach and I even talked last night: I was wondering, 'What do you want me to do?' And he said, especially from that three position, put it on the floor. Get to the rim, try to draw fouls.
"That was my mindset coming into today, and it went much better."
It was still a cold first half for Glacier, which trailed 29-18 when Eli Hunter converted a steal into two Raptor free throws late in the second quarter.
Down 31-21 at halftime, the gap was 44-33 after Hunter hit a three at 2:12 of the third quarter.
Glacier by then was using a trapping 1-3-1 zone to create some turnovers, and really started its rally with a 3-point play, then a put-back from Nolan Hyde before the period ended.
Salonen's drive a minute into the fourth signaled that the Raptors would not be able to coast in.
"I told him I wanted him to attack the rim, and he took it to heart," Glacier coach Mark Harkins said. "I thought he did a great job.
"It kind of got contagious. The guys got involved and got more aggressive as the game went on."
After his four-point play Sullivan was fouled on his next three as well, and hit two free throws. Salonen followed with his hoop-and-harm, and then Sullivan drove, was fouled and hit one free throw with 3:08 remaining. Glacier had its first lead, 52-51, since being up 9-8.
Tyler Nansel hit a three to get the Raptors their last lead, with 2:20 left. After three empty possessions Glacier called time out, then hit 6-foot-7 junior Noah Dowler for two, and Glacier led for good, 55-54, with 1:25 left.
"Keeps us that one bucket ahead," Salonen said. "We need him to be a big part. Not only defense, but offense."
Glacier couldn't coast either: The hosts missed three of four free throws in the final :34 seconds. Gallatin's Garrett Dahlke missed a game-tying free throw with 13.8 seconds left, then Dowler missed two, and eventually Nansel tried a contested corner three at the buzzer.
It was no good. An official combining a 3-point signal with a game-ending whistle caused confusion — the Raptors thought there'd been a foul call — but it was over.
Hunter scored 18 points for Gallatin (2-2), and Rylan Schlepp — who was headed to Glacier before his family moved to Bozeman freshman year — added 10.
Ty Olsen added 11 points for the Raptors, who won a one-possession game after dropping two of them the opening weekend.
"I didn't think we played very well in the first half. I thought we were tentative," Harkins said. "I challenged them at halftime, and they responded really well."
Gallatin 12 19 13 11 - 55
Glacier 12 9 17 18 - 56
GALLATIN — Quinn Clark 2 0-0 4, Tyler Nansel 3 1-2 8, Rylan Schlepp 5 0-2 10, Eli Hunter 7 3-3 18, Garrett Dahlke 3 1-2 7, Zad Rodarte 1 0-0 2, Noah Pickard 2 0-0 6, Logan Springer 0 0-0 0. Totals 23 5-9 55.
GLACIER — Will Salonen 3 4-7 10, Kyson Wagner 1 2-4 4, Noah Dowler 2 0-2 4, Connor Sullivan 6 3-4 20, Ty Olsen 5 0-0 11, John Pyron 0 2-3 2, Tyler McDonald 0 0-0 0, Nolan Hyde 2 1-1 5, Xavier Stout 0-0 0-0 0, Jake Turner 0 0-0 0. Totals 19 12-21 56.
3-point goals — Gallatin 4 (Pickard 2, Nansel, Hunter), Glacier 6 (Sullivan 5, Olsen). Fouls — Gallatin 17, Glacier 12. Fouled out — none.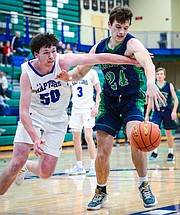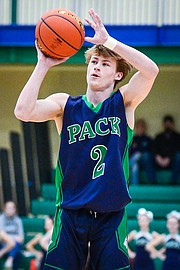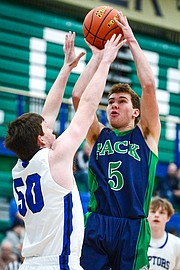 Recent Headlines
---