Popular meat shop expanding in Columbia Falls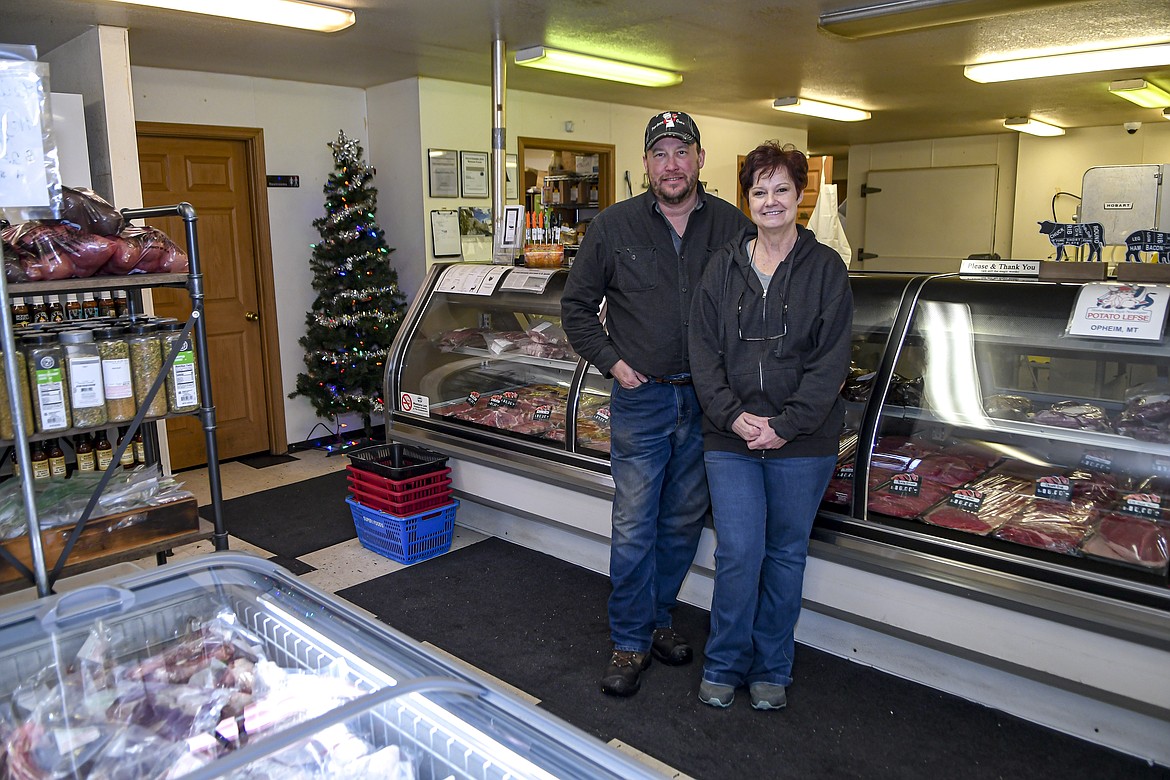 Joel and Julie Greene, the new owners of Perfect Cuts (JP Edge/The Hungry Horse News).
by
BRET ANNE SERBIN
Daily Inter Lake
|
December 19, 2021 12:00 AM
Perfect Cuts is beefing up its operation in Columbia Falls.
Julie and Joel Greene, who became owners of the meat shop in November 2020, are working on expanding into a new space behind the current building.
The Greenes are locals with a long-running connection to the small business they've inherited. Joel grew up in Columbia Falls and started working with Perfect Cuts' former owners, the Hansons, as a teenager.
In fact, Danny Hanson mentored Joel before the birth of Perfect Cuts, when his family ran Glacier Grocery across the street from the meat shop.
When it came time for the Hansons to sell the business, the Greenes were a natural fit to take up the mantle.
Danny Hanson started introducing Joel to the tricks of the trade in the summer of 2020. By November, the Greenes were ready to take the reins themselves.
But the wild game season quickly overwhelmed the small business.
Although Perfect Cuts isn't a meat processor, they prepare tons of wild game in the fall and winter. Based on that demand alone, the Greenes saw they could use more space.
"We need that expansion just for wild game," Julie explained.
The addition, which is expected to be done by the end of December, will give Perfect Cuts another cooler, a walk-in freezer and a "huge storage room," according to Julie.
"The expansion is definitely going to help us," she reiterated.
A visit to the meat shop quickly reveals the reason for that need.
The small neighborhood shop is a meat-eater's paradise, full of coolers overflowing with every cut of meat imaginable.
There's jerky, fish, sausage and burgers cut from a variety of animals such as chicken, turkey, elk and buffalo.
Perfect Cuts carries traditional meats from local purveyors, plus more exotic options like rouladen, a German meat roll stuffed with pickles.
These days, marinated tri-tip is the shop's most popular order, although marinated chicken is close behind. "We can't keep it in," Julie said.
Smoked ribs, made fresh every Thursday, can always be counted on to draw a crowd.
And their house rub, blended from 36 herbs, is also a top seller. The Greenes ship the rub, made from the Hansons' original recipe, all across the country.
Julie said 95% of Perfect Cuts' products are prepared onsite by Joel and his team.
"We have an awesome crew," Julie said.
She's hoping it will grow with the new space. Many of Perfect Cuts' employees stayed on when the new owners took over last fall, and the Greenes hired a few more helpers, too. Once the expansion is complete, they plan to do more hiring.
It's been a busy year, but Julie said she and her husband are hungry to keep building the 26-year-old local business.
"It's been awesome," she said.
Perfect Cuts is located at 1030 Third Ave. E., Columbia Falls. Hours are 9 a.m. to 6 p.m., Monday through Friday, and 9 a.m. to 3 p.m. on Saturday.
Reporter Bret Anne Serbin may be reached at 406-758-4459 or bserbin@dailyinterlake.com.
---