Fay Lee Pemble, 94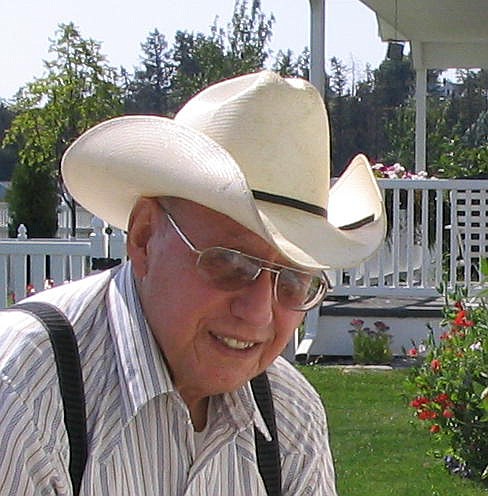 |
December 26, 2021 12:00 AM
Fay Lee Pemble was born June 6, 1927, in Kalispell, the third of four children to Charles and Verna (Johnston) Pemble. He passed Dec. 19, 2021.
He started school in September 1933 at Deer Park. Fay joined 4-H and exhibited at the fair, including a heifer that a neighbor paid $1 for and gave to him. He also showed her as a cow when he joined FFA at Flathead County High School. He served as FFA treasurer from 1943 to 1945. In FFA he had Ag Shop, which he excelled at, learning blacksmithing, welding, mechanics and carpentry.
Four days past his 16th birthday, he joined Glacier National Park Service and was stationed at Belly River. He couldn't boil water, so taught himself to cook, including baking bread, one loaf at a time.
After graduating in 1945, he was a smoke chaser at the head of Lake McDonald. Using canned salmon, he trapped and moved one grizzly and 23 black and brown bears.
He spent the next two years at Waterton Lake and learned how to run a boat, so as not to have to walk out 10 to 12 miles. He became the St. Mary dispatcher for three years. Then in 1950, he left the Park Service and married Dorothy "Dot" Vorell.
He took over the family farm in Deer Park and continued to farm for over 50 years. He also worked simultaneously for 24 years at the Anaconda Aluminum Company plant.
Fay and several neighbors started and built the Bad Rock Fire station. He was the first to drive the new fire truck from the dealer. It was equipped with only the siren, much to the glee of neighborhood kids.
When he neared retirement from the plant, he built a hay truck with the steering wheel on top of the cab, so winter feeding of cattle could be a one-man job. He and the truck were featured in the Montana Farm Show magazine.
He was preceded in death by Dorothy in December 1995, and later married Audrey Cline Boe. They moved to Kalispell after Fay sold the farm. He grew sweet peas and tomatoes there. He and Audrey took several great trips and cruises and delivered Meals on Wheels prior to her death in November 2014.
Fay moved to Buffalo Terrace and used his farming skills to grow some mean amaryllis each Christmas. This summer, after being hospitalized, he moved to Immanuel Skilled Care Center where he remained until his death.
He is survived by son David (Billie), daughter Dorann (Mike) Mullins, grandsons David (Julie) and Steven (Jessica), granddaughters Becky (Jake) and Laurie (Trevor), 10 great-grandchildren and several nieces and nephews.
If you wish, donations can be made to Intermountain Children's Home, 500 S. Lamborn St. Helena MT 59601, a food pantry, or charity of your choice.
A memorial celebration will be held in the summer of 2022.
Recent Headlines
---