Pandemic reshaped state's economy, but more change anticipated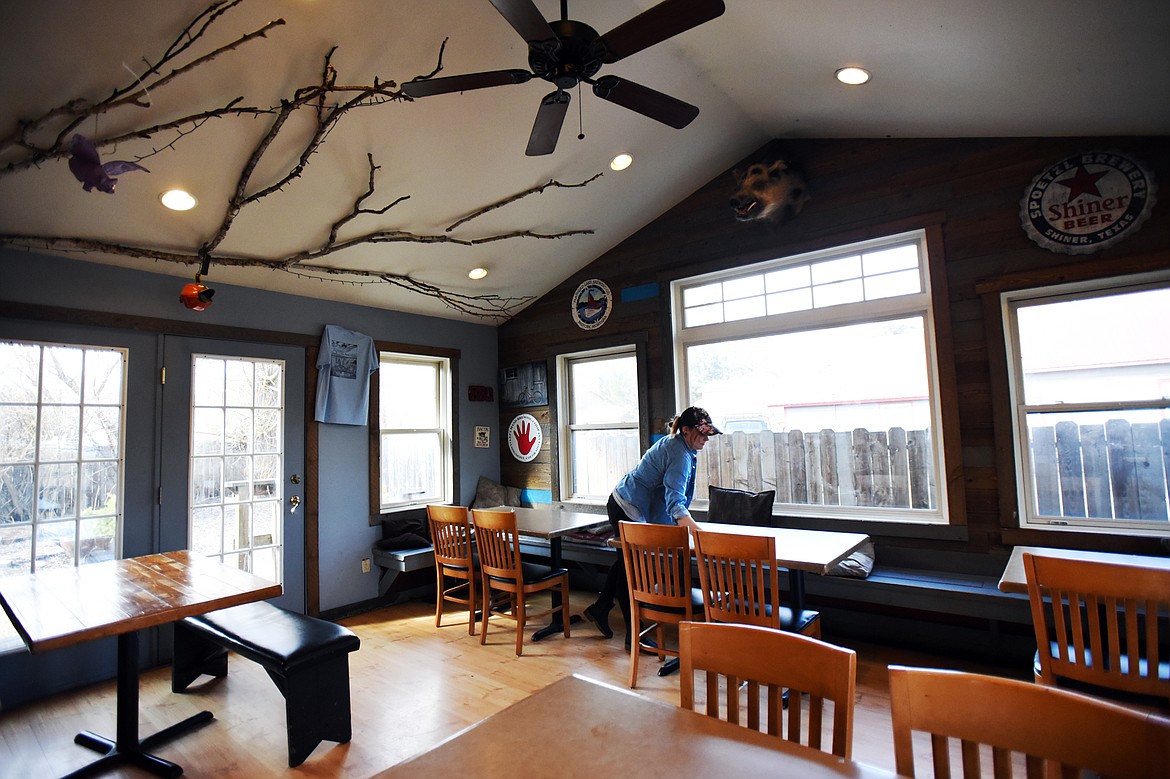 Candace Lost-Bear wipes down tables in the empty dining room at Piggyback BBQ in Whitefish on Thursday, March 19. The abrupt closure of restaurants, bars and related businesses has affected the employment of scores of Flathead Valley workers. (Casey Kreider/Daily Inter Lake)
by
BRET ANNE SERBIN
Daily Inter Lake
|
February 4, 2021 12:00 AM
During the University of Montana's first online Economic Outlook Seminar, change was present in every conversation and in the very format of the meeting itself.
Hosted by UM's Bureau of Business and Economic Research, the virtual event featured presentations from industry experts about the many ways the COVID-19 pandemic reshaped the Montana economy in 2020.
There was no sugarcoating the dismal situation in numerous sectors during the two-day conference, but the presenters nonetheless shined a light on some of the overlooked bright spots that emerged over the last year and reasons to be hopeful in the early days of 2021.
Patrick Barkey, director of the Bureau, called the later portion of last year "a period of surprises."
What came as no surprise to anyone in the Flathead Valley was the heavy impact of the pandemic on tourism-related businesses.
Jeremy Sage, the interim director of the Institute for Tourism and Recreation Research at UM, said the tourism industry lost more than $500 billion dollars nationwide in 2020.
Meanwhile, in Montana, the number of nonresident visitors last year dropped by about 10% from the year before.
Consumer spending, as a whole, went down about 7% in 2020, and hotels and restaurants, in particular, took a 46% nosedive from the previous year.
But Sage insisted Northwest Montana has been spared some of the worst of the recent decline in tourism.
Overall, he said, Montana was lucky to be primarily visited by out-of-staters who travel by car instead of plane. Those visitors overwhelmingly flocked to Montana's two national parks, and Sage said all indicators suggest outdoor attractions will grow in visitor popularity thanks to the recent appreciation for socially distanced activities.
THE HEALTH-CARE industry, another of the Flathead's most important sectors, had bigger challenges.
"When health care stumbles, the rest of the economy stumbles," Barkey pointed out.
That statement is reflected by the data in measurements such as employment.
As a result of temporary changes like the widespread cancelation of elective surgeries, employment in Flathead County's health-care sector was among the most drastically reduced medical workforces of any Montana county. In April, when the steepest declines were evident, Flathead County was nearly neck-and-neck with Gallatin County in the count of health-care jobs lost.
The consequences of this trend were far-reaching. Barkey noted the statewide reduction in health-care jobs resulted in more women than men filing for unemployment benefits throughout 2020.
OTHER LOCAL industries seemed to be more of a mixed bag.
Real estate, for instance, has skyrocketed, particularly since the spring of 2020. That's good news for Realtors and construction workers, but it also will likely exacerbate the existing lack of affordable housing.
"It's a booming seller's market," said Brandon Bridge, The Bureau's director of forecasting. With that, Bridge warned, "we're seeing affordability continue to get worse."
That's especially true in Flathead County, where the percentage of renters who are considered "cost-burdened" by housing payments was the second-highest of any Montana county.
In Flathead County, 25% of renters dedicate more than 30% of their monthly income to paying rent. Only Ravalli County, at 32%, was higher.
Nationwide, approximately 41% of renters fall into that designation.
Housing prices will no doubt continue to be affected by trends in two of Montana's newest and oldest industries, respectively: technology and wood products.
Both of these sectors had generally favorable outcomes amid the pandemic.
"In 2021, Montana's high-tech industry is holding steady," reported Christina Henderson, executive director of the Montana High-Tech Business Alliance.
THE STATE'S tech industry — mostly concentrated in the Flathead, Missoula and Bozeman areas — continues to grow nine times faster than the state's overall economy, Henderson said. Technology in Montana is only expected to expand, especially as digital innovations have become more widespread and companies in large metro areas have turned to remote work.
But Henderson also highlighted obstacles that could hinder that growth. In particular, she stressed the need for greater broadband internet access in the state's remote areas. And she said, "every year, in our annual survey, tech companies say access to skilled workforce is the number one barrier to growth."
The barriers to growth in Montana's lumber industry appear a little less clear-cut.
The demand for wood products suddenly surged last year after perennially declining interest. Todd Morgan with the Bureau's Forest Industry Research Program attributed this uptick to a handful of factors: an unprecedented interest in do-it-yourself projects, new home construction and a lack of Canadian imports.
But Morgan warned these recent trends are only temporary. Neither DIY projects, nor home construction, are expected to return to last year's heights anytime in the future.
Morgan and his colleagues made it clear throughout the seminar that the status of Montana industries is far from settled. According to some of the state's most expert forecasters, more change is surely afoot.
Reporter Bret Anne Serbin may be reached at 758-4459 or bserbin@dailyinterlake.com.
Recent Headlines
---