Murray brings peaceful warrior spirit to latest album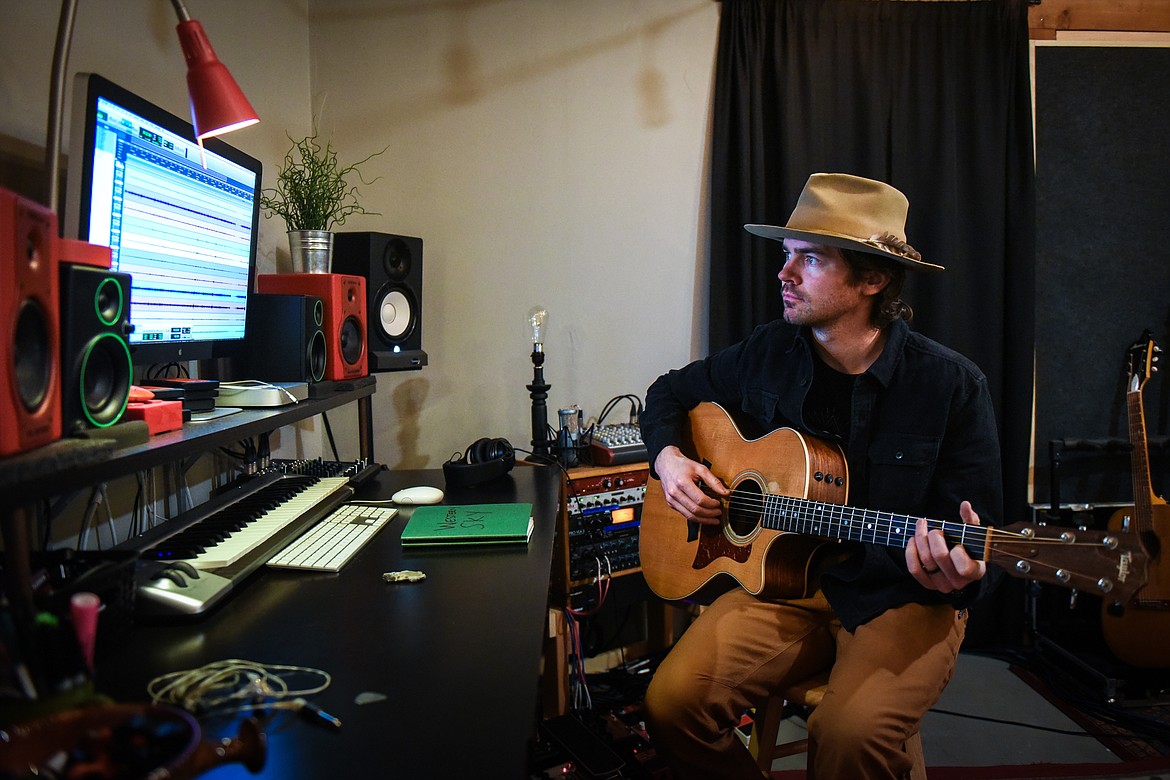 Mike Murray strums a guitar in his recording studio in Kalispell on Wednesday, Feb. 3. (Casey Kreider/Daily Inter Lake)
by
CAROL MARINO
Daily Inter Lake
|
February 8, 2021 12:00 AM
Much has changed since well-known Flathead Valley musician and Kalispell native Mike Murray and his wife Jessica started their family a few years ago, but what remains constant is Murray's soulful dedication to his craft.
These days Murray carves out time in his recording studio when his 4-month-old is napping and his 6-year-old is in kindergarten. Having just independently released his sixth solo album on Feb. 2 — his 36th birthday — Murray finds, now more than ever, how essential it is for him to write lyrics expressing both his dismay at today's discord and the continuing quest for justice that drives our democracy.
"These songs are relevant for the times," Murray said of his new album, "We Are Like Warriors." "I felt compelled to address these issues. In the past I may have shied away from potentially divisive topics, but now it's more important than ever to talk about them."
In these 12 longer tracks Murray writes with clear intention. His compositions express the many themes he wrestles with as well as his compassion for humanity.
"With all my writing, I work for the most concise, distilled expression of whatever inspires me," Murray said, "to be deeply honest and deeply human, but also to step outside myself and not miss a chance to relate to others."
In her review of "We Are Like Warriors," Missoula-based musician Amelia Thornton, founder of Artwork Strings Studio, member of the Glacier Symphony and former workshop manager of the Crown of the Continent Guitar Festival, writes, "As an artist, Murray is truly the whole package; as adept at captivating audiences in live performance as he is at self-recording, mixing, and mastering in his home studio … it seems he has struck gold …"
AS MURRAY has honed his music over time — most of us are familiar with, and fond of, his signature anthem, "Bury Me in Montana," one of the songs that earned him a first place in the 2015 Northwest Artist Syndicate's Singer/Songwriter showdown — he's realized even amid all the gigging, concerts, festivals and national tours he's thrived on, that he is probably most comfortable working solo.
His 2018 solo album "Difficult Days" was nominated for consideration that year in the category Best Rock album by the Grammy Awards.
"One thing I've noticed about my musicality over the years is that I've gravitated to a wide stylistic range," Murray said. "Writing and composing solo gives me more freedom and flexibility, allowing my work to ebb and flow from rock to blues to folk and Americana. There can be a pressure as a musician to commit to a certain genre, which I could never do. I think at one time I thought of that as a weakness. Now I think it's my strength."
Acknowledging he's introverted, for him the creative process is more introspective; for Murray, solitude and a deep love for the natural landscape are its foundation.
BEFORE HE began building a successful music career, Murray spent eight years traveling the world. After graduating from Flathead High School in 2003, he went down a path of global volunteer work — in Australia working with youth in music programs; in Papua New Guinea producing music shows promoting a medical supply ship; in South Africa with orphanages; and in southeast Asia doing anti-trafficking work.
"It was an amazing time in my life. When I used to look back I wondered if that was the right way for me to spend those years, when my friends had moved on to college," he said. "Now I see it provided a strong look at humanity from a global perspective. I'd seen poverty and war-torn devastation. It gave me a more empathetic world view."
Ultimately drawn back to his native Montana, he and his wife, whom he met in Australia, came home to the Flathead in 2011 and, after a short stint in Nashville, decided there's no place like home.
Since then, Murray's been one of the busiest, sought-after musicians in and around the Flathead. He's regularly joined by bass player Chris Krager — The Mike Murray Duo. He also puts together bands on occasion. In 2019 his band was invited to perform on the main stage at the highly reviewed Under the Big Sky Festival in Whitefish.
"It was a blast. We had the whole band. My wife sang with us. It was an honor to be included."
With his new album, "We Are Like Warriors," Murray's message is one of hope for the pursuit of equality and justice in our country and in the world. Several tracks were laid down in sequential order, which he thought long and hard about; first to speak to the divisive rhetoric and disharmony in our country, then to the belief we can still challenge and disagree with one another, but do so with empathy.
"America is an idea, one of freedom, democracy and equality," Murray said. "It is a messy work in progress. That's the beauty of democracy. The tone for America at the inauguration was one of hope and healing. That resonates with me. When I wonder what my daughters' world will be like, I hope it will be guided by love, and I know we must leave this world better than it was."
In the album's final track Murray writes about the concept of the arc of the universe and how it does bend toward justice, but just takes a long time.
And he echoes that belief in his closing lyrics: "I still believe in hope and love and peace, and the long and drawn out arc of history."
Mike Murray's sixth solo album "We Are Like Warriors" is available on Spotify and all other major streaming platforms, as well digitally on his website, mikemurraytunes.com
Plans are to release the CD sometime this spring and for a CD release party event in the summer.
Community and Entertainment Editor Carol Marino may be reached at 758-4440 or community@dailyinterlake.com.
Recent Headlines
---