Whitefish council members condemn bills limiting local control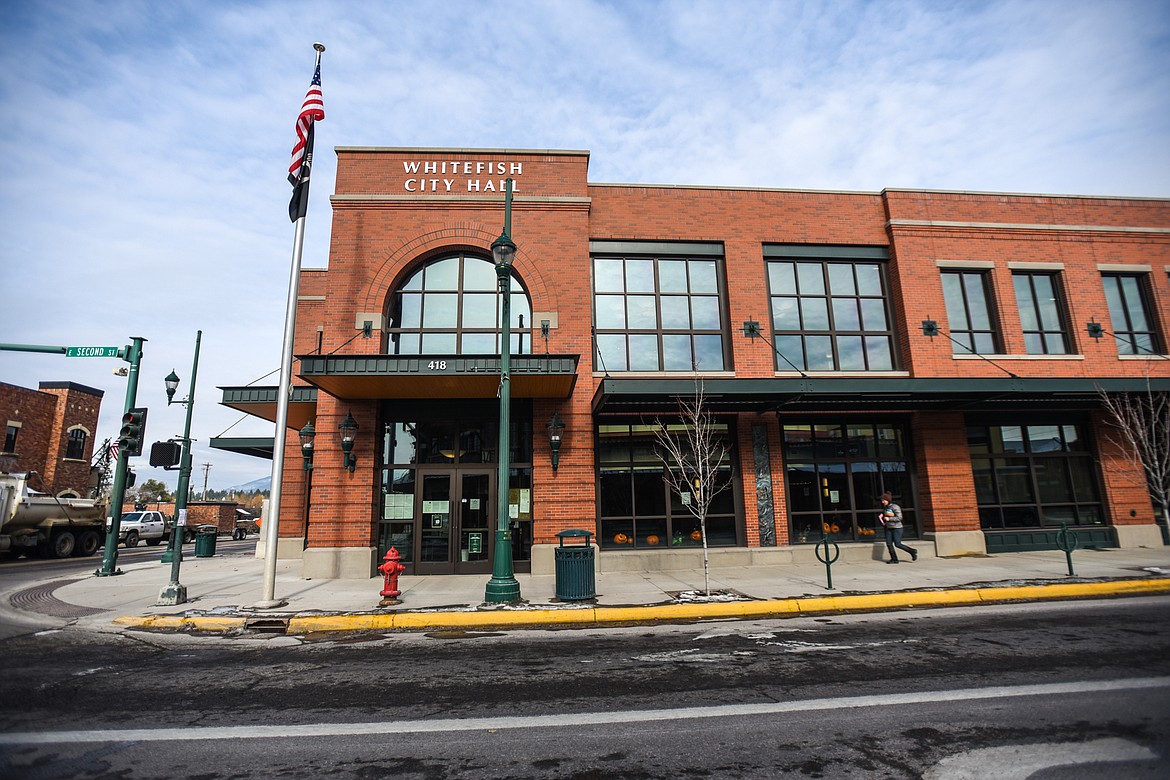 Whitefish City Hall on Tuesday, Oct. 27. (Casey Kreider/Daily Inter Lake)
by
CHAD SOKOL
Daily Inter Lake
|
February 18, 2021 12:00 AM
Uttering phrases like "How dare they?" and "Shame on you," Whitefish City Council members on Tuesday forcefully condemned two bills in the Montana Legislature that would strip the city of local control, eliminate the city's affordable-housing program and nullify a city ordinance requiring masks to curb the spread of COVID-19.
House Bills 257 and 259 passed readings in the House this week with support from nearly all of the chamber's 67 Republicans, and all 33 Democrats voting in opposition. Both bills would have immediate effects in Whitefish, where city officials have endeavored to make homes more affordable to workers and taken steps to combat the virus.
HB 257, sponsored by Rep. Jedediah Hinkle, R-Belgrade, would prohibit cities, counties and local health boards from compelling businesses to turn away customers who don't comply with health requirements, including those who refuse to wear face coverings. It also would prohibit local governments from taking any "retributive action" against businesses that don't enforce mask rules among their patrons – effectively nullifying emergency measures currently in effect in Whitefish and four of Montana's largest counties.
During Tuesday night's virtual Whitefish City Council meeting, council member Frank Sweeney said HB 257 "would restrict our ability as a local community to identify what the health and safety needs of our community are and act on those. I find that offensive in every way I can think of. How dare they?"
Gov. Greg Gianforte, who last week rescinded a statewide mask mandate issued by his predecessor, declined to comment directly on HB 257 during a call with reporters Wednesday.
"I'm not going to comment on legislation that hasn't made it to my desk yet," Gianforte said.
"I do think best government is made by local decisions, and that's part of the reason why we transferred the authority back to the public health officials here," Gianforte added, referring to his decision to lift the statewide mask mandate.
HB 259, SPONSORED by House Majority Leader Sue Vinton, R-Billings, would prohibit cities from requiring developers to dedicate land or pay fees in order to keep homes priced for people with specified income levels – a system known as inclusionary zoning, which has been deployed in various forms to address affordable-housing shortages across the country. It would eliminate Whitefish's 18-month-old Legacy Homes Program along with a similar program enacted in Bozeman in 2018.
During a recent committee hearing, Vinton, who co-owns a construction company with her husband, and several industry lobbyists argued inclusionary zoning doesn't work and puts too much financial burden on developers. On Tuesday, Whitefish City Council member Andy Feury offered a scathing condemnation of Vinton's bill and spoke as if he were addressing the lawmaker directly.
"Shame on you," Feury said. "I will give you at least the credit for having the transparency to say it's simply about builder profits. You didn't mask that at all. But you know what, you don't know what you're talking about, Rep. Vinton. I'm pretty much assured that you didn't take any time to read our affordable-housing program."
Feury said "thousands of volunteer hours" went into the development of the Legacy Homes Program and those efforts would be wasted if the bill becomes law.
"They've worked hard for a couple of years to make this happen, only so one ideologue from a community that doesn't share a similar problem is able to shoot that down," Feury said. "I hope everyone in Billings remembers that, and I hope to God she doesn't get re-elected again."
Vinton, in a brief phone call Wednesday, said she agrees there is no "one-size-fits-all" solution to the housing squeeze but repeated her assertion that inclusionary zoning is a failed approach.
"The building industry shouldn't be the one and only industry that gets cost passed on to it in an effort to provide affordable housing," she said. "Statistics across the country and in our state have shown that it hasn't worked."
ONLY ONE project has been initiated under Whitefish's Legacy Homes Program, and a House GOP spokesman noted only 14 projects have been initiated under Bozeman's program. But housing advocates who testified against Vinton's bill argued it's unfair to expect drastic results within a few years or less, and that developers can easily afford to help bring down home prices when the market is so hot.
Council member Ben Davis, who chairs Whitefish's Strategic Housing Plan Steering Committee, said Tuesday the city is unique in Montana.
"We have high visitation. We have high real-estate prices. And the fact that the state Legislature is unwilling to let the citizens of the communities make decisions that are correct for them – that might not be correct in other cities – is just absolutely infuriating," Davis said.
"I think that we, unfortunately, are going to need to prepare ourselves for both of these bills likely being passed," he said. "I cannot express my displeasure and my unhappiness about this any more. I think it's just absurd that they would do this."
Reporter Chad Sokol can be reached at 758-4434 or csokol@dailyinterlake.com
Recent Headlines
---