Kalispell dealership to host in-house boat show
by
BRET ANNE SERBIN
Daily Inter Lake
|
February 21, 2021 12:00 AM
Now's the time to start thinking about getting out on the water—even though it's mostly ice these days. That's according to Brittany Levandowski and Braylen Sykes, the couple behind Launch Watersports in Kalispell.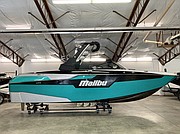 The duo will be hosting their own "In-house Boat Show" Feb. 26 through 28 at their Kalispell boat dealership, formerly known as Kalispell Marine. The event is designed to serve as an alternative for the canceled Flathead Valley Boat Show, usually hosted at the Flathead County Fairgrounds during the last weekend in February.
"We still wanted to do something to offer our customers to come in and see everything and check everything out," Levandowski said.
Boating has exploded in popularity this winter, so Levandowski and her fiancé wanted to do what they could to continue to serve that local interest. Launch Watersports offers both in-house options and virtual appointments, so boaters in all different circumstances can get a look at the latest watersport options.
Those who do decide to visit in-person will have a lot to see at the recently renovated boat dealer.
Sykes purchased the Kalispell dealership and its Great Falls affiliate in 2019 with visions of overhauling the existing business. His influence is on display at the Kalispell location in its updated showroom and the recent addition of a pro shop on-site.
"We're working on improving all aspects of the business up there," Levandowski said.
That goal springs out of the pair's experience on the customer's side of the boat-buying process. In fact, it was their love of boating as a pastime—rather than a profession—that led Levandowski and Sykes to the helm of the two dealerships.
"We spend a lot of our time in the summertime out on the lake," Levandowski said. "We loved it anyway."
When they bought the dual businesses, Levandowski was working as fourth-grade teacher and Sykes was running his own landscape maintenance company in Great Falls.
"He's always had a passion for boating his entire life," Levandowski said of her fiancé. "He wanted to get into that side of the industry."
To do so, Sykes developed a relationship with the previous owner of the two shops. Levandowski recalled that the business venture, "kind of just spiraled from there."
ALTHOUGH THEY worried about undertaking a business overhaul in the wake of the COVID-19 pandemic, they found the crisis barely rocked the boat in their industry. In some regards, the pandemic actually buoyed business.
Boating has become a more popular pastime for people looking for a self-contained solution to get outside. Levandowski reported overall sales in the industry have increased approximately 200% over the past year, and Launch Watersports' special orders alone are four times as popular as they have been in previous years.
"It's been crazy," she remarked.
"We were worried there for a little bit," she added. "It's taken us all by surprise, I think. We're happy with how it's been going so far."
It helps that Launch Watersports has been able to avoid most manufacturing shortages that have wreaked havoc on some supply chains.
Launch Watersports is Montana's exclusive dealer for Malibu and Axis boats, and according to Levandowski, their operations have come out largely unscathed.
"They've done a really, really good job with keeping up with the demand and getting boats to us," she said.
That's given her confidence going into the spring and summer, although she noted some boat buyers are more anxious to make sure their orders are secure well before boating season starts.
"People want to secure that opportunity to make sure they have something fun to do," she observed.
"I think it shouldn't be a problem," she said, but added, "you definitely want to do it now, rather than in a month or two."
Launch Watersports carries Malibu, Axis and Lowe boats, plus gear from Hyperlite and HO Sports.
The Launch Watersports In-house Boat Show will take place from 10 a.m. to 6 p.m. on Feb. 26 and 27; and 10 a.m. to 4 p.m. on Feb. 28. Launch Watersports is located at 2291 U.S. 93 S. The dealership can be reached at 406-755-5790.
Reporter Bret Anne Serbin may be reached at 758-4459 or bserbin@dailyinterlake.com.
---