Kalispell Chamber pulls plug on parade sponsorship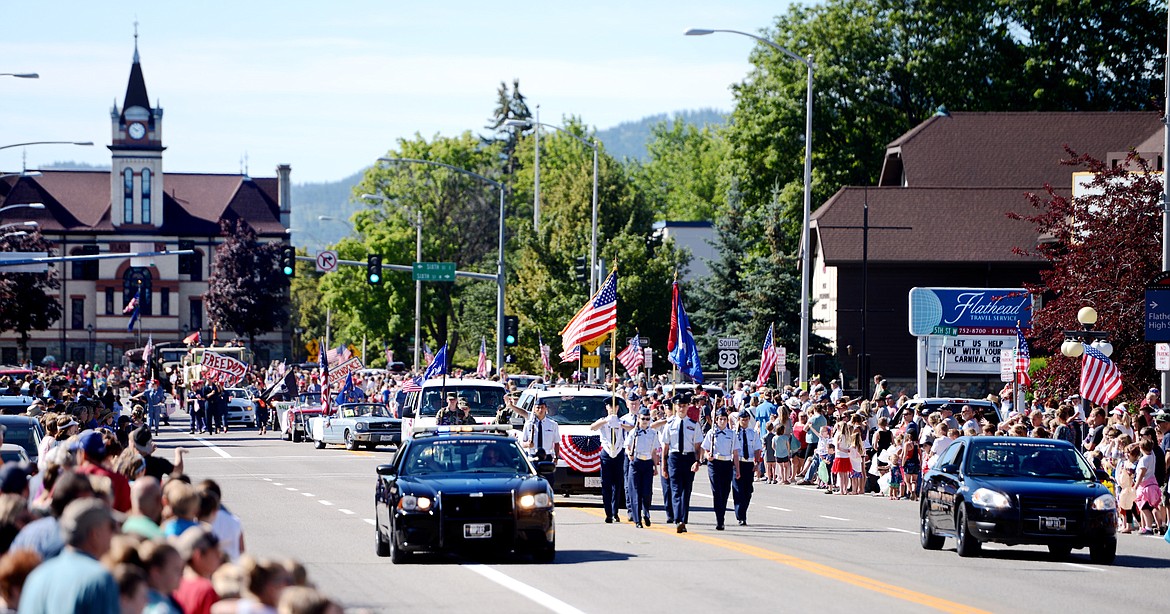 The Fourth of July parade on Main Street in downtown Kalispell. (Brenda Ahearn/Daily Inter Lake FILE)
by
BRET ANNE SERBIN
Daily Inter Lake
|
February 25, 2021 12:00 AM
The COVID-19 pandemic continues to rain on Kalispell's parade.
On Wednesday, Kalispell Chamber of Commerce President Lorraine Clarno publicly announced the Kalispell Chamber's decision to end its production of parades going forward.
Clarno said the Chamber is opting out of parade sponsorship in order to better utilize resources, which have been strained by the global health crisis.
"In order to deliver successfully on business priorities in 2021, we have had to examine our resources," Clarno wrote in an opinion piece in Wednesday's Daily Inter Lake. "Due to the continuing health situation, increasing costs and liabilities, and limited volunteer support, the Chamber will not produce parades going forward."
To put on parades for the Fourth of July, Christmas and the Northwest Montana Fair — all of which were canceled last year — Clarno said the Chamber needs an ample supply of resources "both financial and human."
The circumstances throughout the past year have not made that possible.
Clarno said Chamber membership and volunteerism decreased in 2020, and the organization eliminated two staff positions as a result. Chamber operations such as monthly meetings and the annual banquet were thrown into turmoil and restructured as virtual events.
"It should come as no surprise that we have had to say goodbye to several members, in-person event programming, and staff positions over the past year," Clarno wrote in her op-ed.
Now parades, too, have become another casualty of dwindling resources.
"Times have changed," Clarno pointed out. "It's not an easy decision."
PARADE PRODUCTION is an undertaking that requires financial backing and a lot of effort from numerous community members.
The hard work behind the fanfare might not be readily apparent to parade-goers, but the Chamber traditionally has been responsible for securing city permits for the event, arranging security with the Kalispell Police Department, finding support from staff members and local volunteers, as well as paying for liability insurance to cover any unforeseen circumstances.
Clarno said parades take "hours and hours and hours of staff time," and the diminished workforce at the Chamber these days isn't up to the task.
Volunteers, too, are in short supply. While the Chamber maintains a roster of about 20 volunteers, Clarno said only five or so of them are regular, active participants she can count on to help with such a huge activity.
Even if the Chamber were able to shore up enough local support for a parade, Clarno added, liability insurance has become an even bigger challenge because of the pandemic.
"Liability insurance is going up and up and up with the pandemic," Clarno reported.
Last year, the Chamber had to find a new carrier because local parades were no longer supported by the former service provider. Now, liability insurance costs about $800 per parade.
Clarno said the Chamber struggles to find liability insurance "when you're bringing 5,000-plus people on a Main Street at all times of the year in all different conditions."
"We know how beloved and important these events are to our neighbors and residents," she acknowledged.
But ultimately, she said, that wasn't enough to overcome the strain of producing parades.
"Given the new world we face and the new business priorities, we need to redirect resources that are going to directly impact the recovery of our businesses," she told the Inter Lake Tuesday.
In her opinion, limited Chamber resources would be better spent on initiatives such as networking, workforce development and promoting job opportunities.
Clarno said she's hopeful another local organization will take over parade production in the Chamber's absence. She noted community members stepped up last year to carry out the Christmas parade and organize the Kruise Kalispell car rally downtown.
"Any organization with a tie to the mission and with the resources to keep them going can contact us for more information about producing parades," Clarno said in the op-ed. "We are happy to share our knowledge with you and serve as a marketing partner."
THE DECISION leaves a lot of uncertainty for parade partners like Mark Campbell, manager of the Flathead County Fairgrounds.
He said he was disappointed by the news of the Chamber's withdrawal, and he's still not sure how that might impact the Northwest Montana Fair this year.
"I'm going to miss it huge. I know the community is going to miss it huge," he said.
"Everybody loves a good parade," Campbell added.
He anticipated the most severe impacts of this change will be emotional, rather than financial or other practical ramifications.
"The loss of traditions," could well be the worst fallout to the fair crowd, Campbell said.
The Fair Board is looking into the possibility of holding smaller, daily parades inside the fairgrounds as an alternative to the downtown parade, but that idea is tentative.
"It's still a way to celebrate," Campbell said, but they would be no replacement for the downtown celebrations from years past.
"There's a lot of change going on," Campbell observed. And at this point, that's all that's known for certain.

Reporter Bret Anne Serbin may be reached at 758-4459 or bserbin@dailyinterlake.com.
Recent Headlines
---