Keller, Glacier escape Flathead with win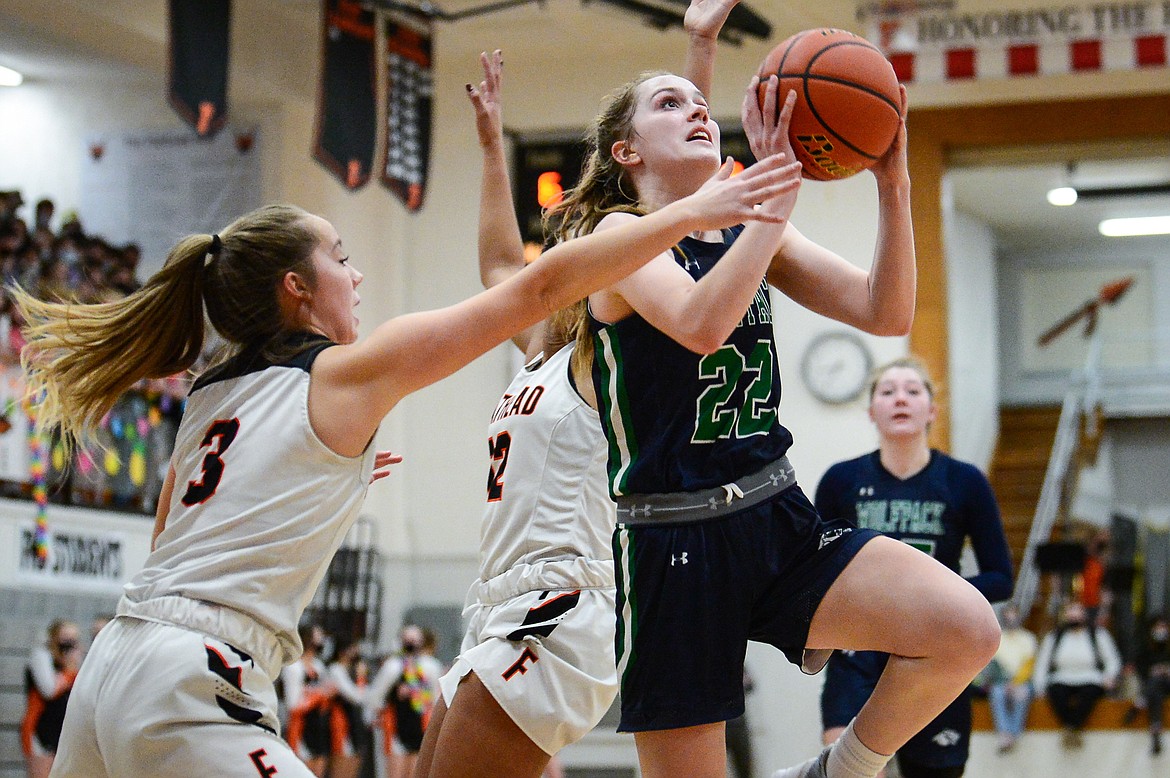 Glacier's Ellie Keller (22) drives to the basket against Flathead's Kuyra Siegel (3) at Flathead High School on Thursday. (Casey Kreider/Daily Inter Lake)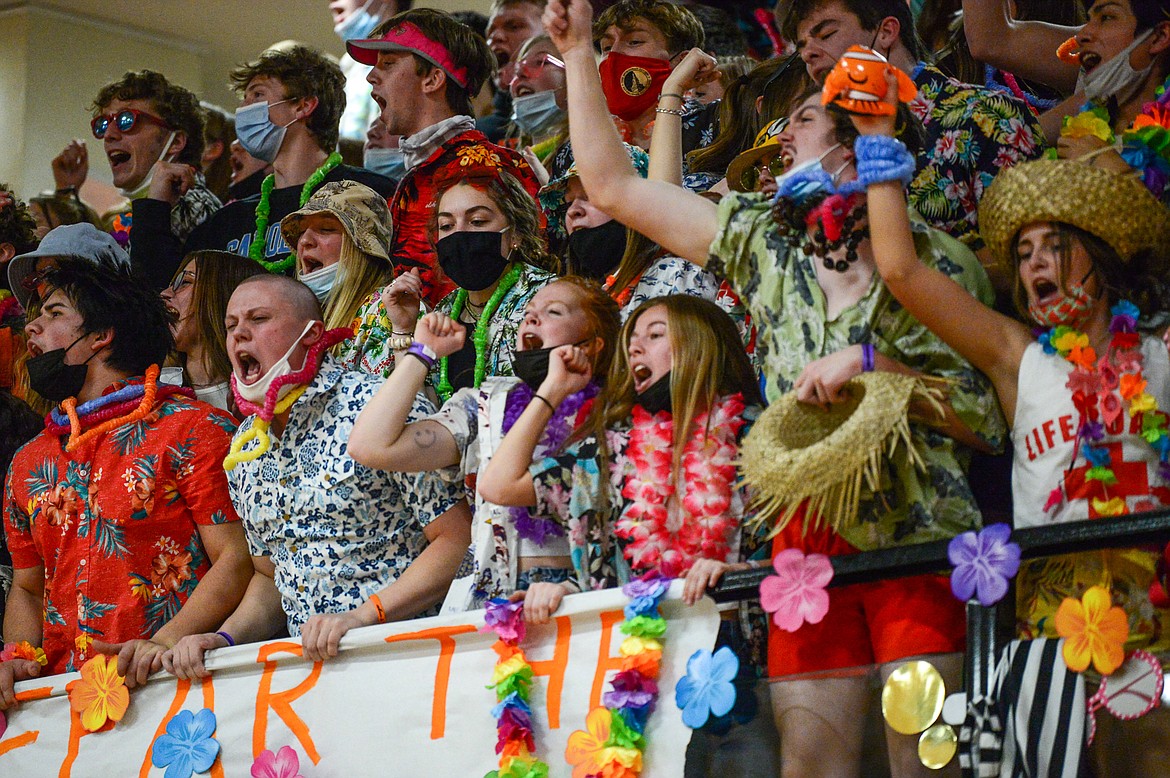 Flathead's student section cheers on the Bravettes against Glacier at Flathead High School on Thursday. (Casey Kreider/Daily Inter Lake)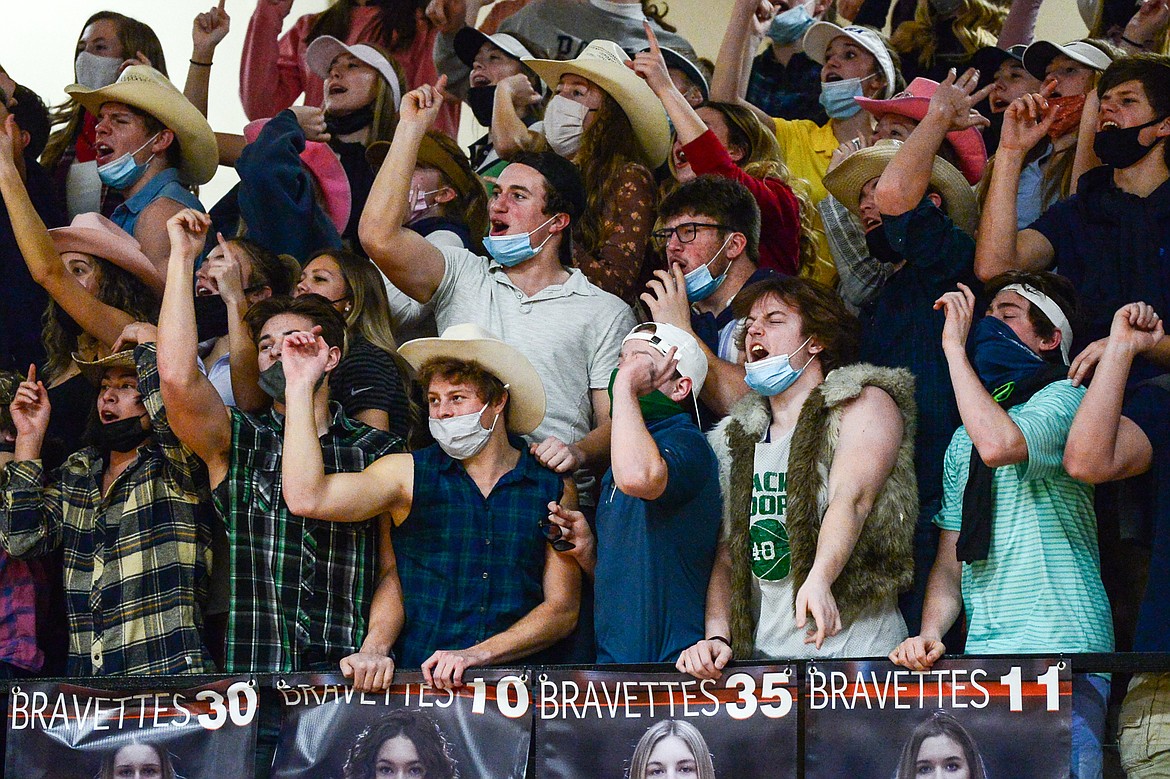 Glacier's student section cheers on the Wolfpack against Flathead at Flathead High School on Thursday. (Casey Kreider/Daily Inter Lake)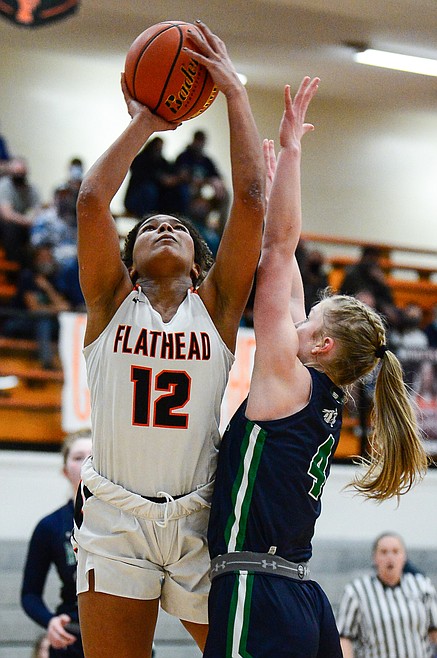 Flathead's Akilah Kubi (12) shoots over Glacier's Kaylee Fritz (4) at Flathead High School on Thursday. (Casey Kreider/Daily Inter Lake)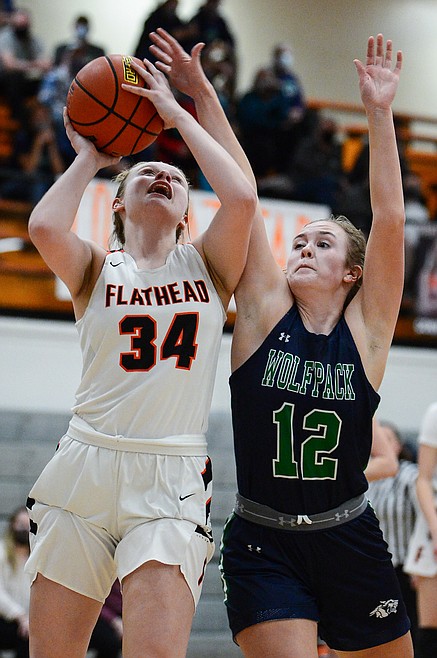 Flathead's Molly Winters (34) shoots over Glacier's Kenzie Williams (12) at Flathead High School on Thursday. (Casey Kreider/Daily Inter Lake)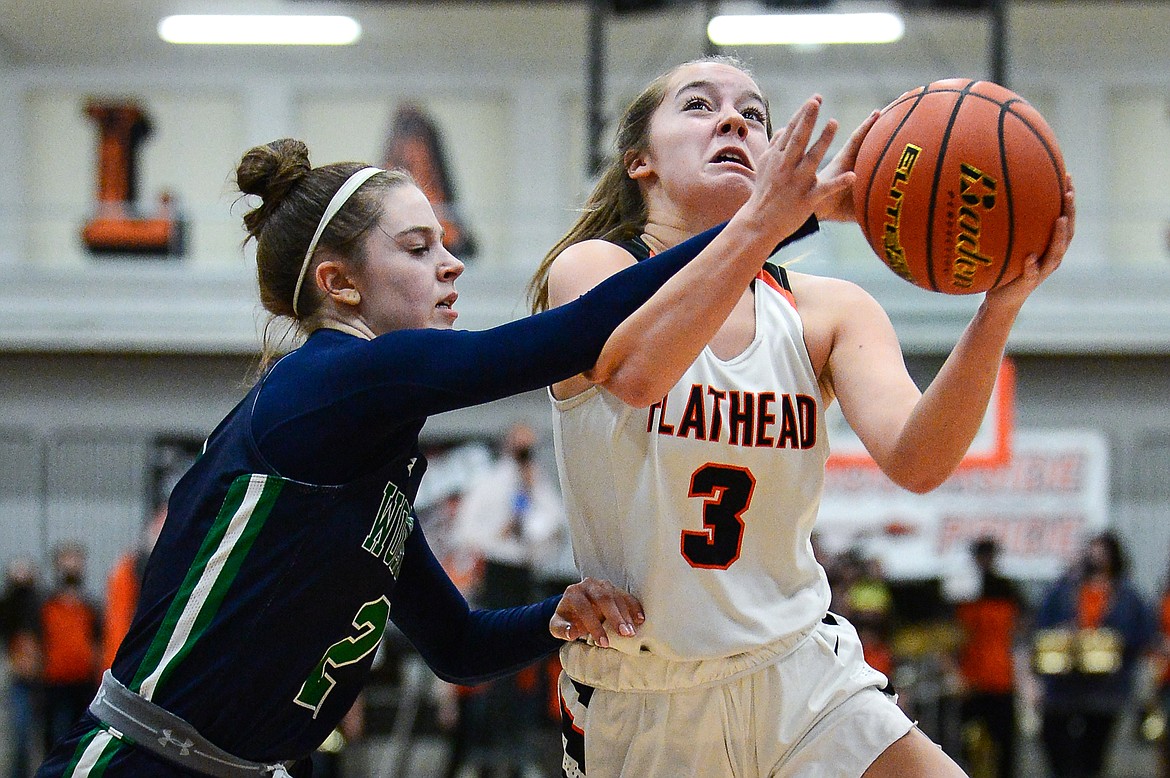 Flathead's Kuyra Siegel (3) draws a foul from Glacier's Sidney Gulick (2) on her way to the basket at Flathead High School on Thursday. (Casey Kreider/Daily Inter Lake)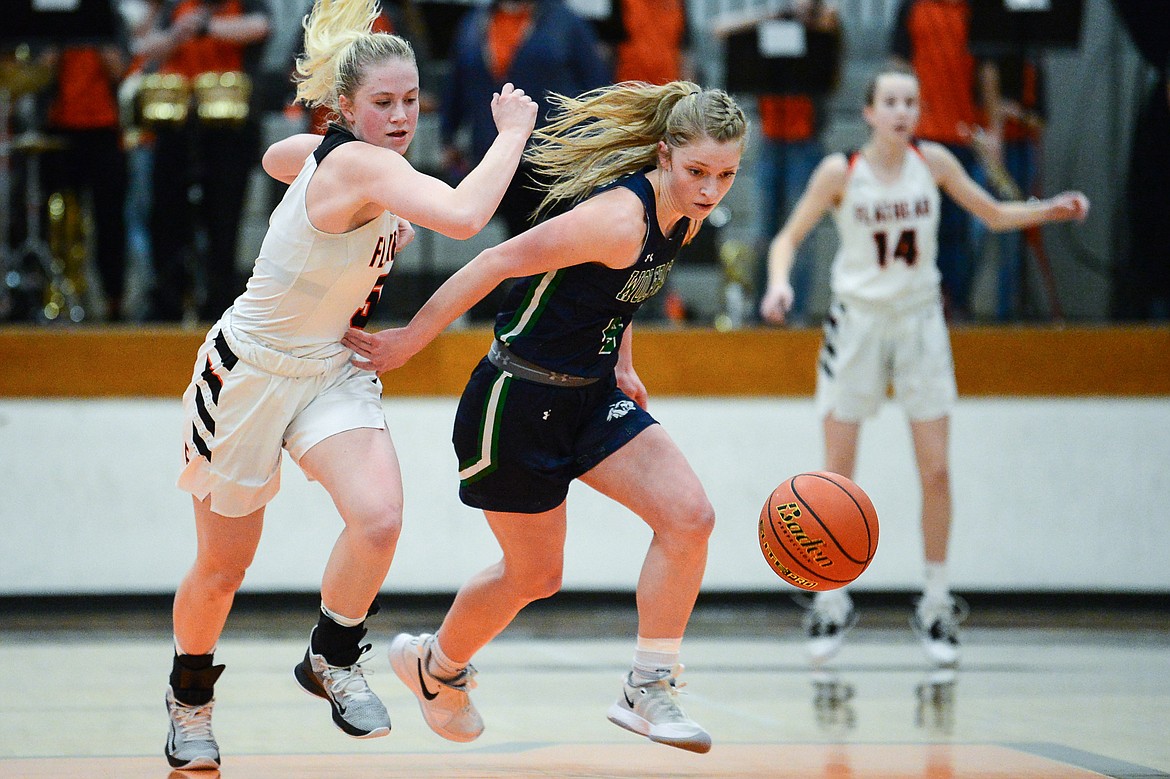 Flathead's Maddy Moy (5) and Glacier's Kaylee Fritz (4) chase down a loose ball at Flathead High School on Thursday. (Casey Kreider/Daily Inter Lake)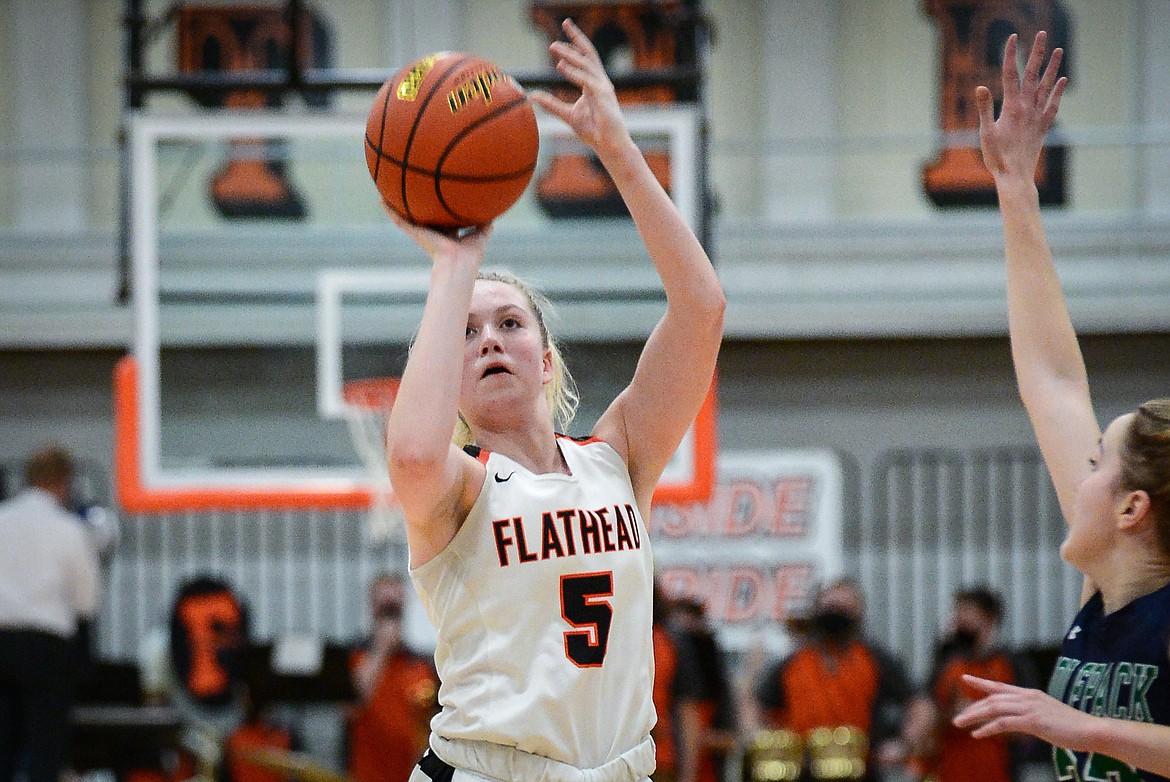 Flathead's Maddy Moy (5) looks to shoot against Glacier at Flathead High School on Thursday. (Casey Kreider/Daily Inter Lake)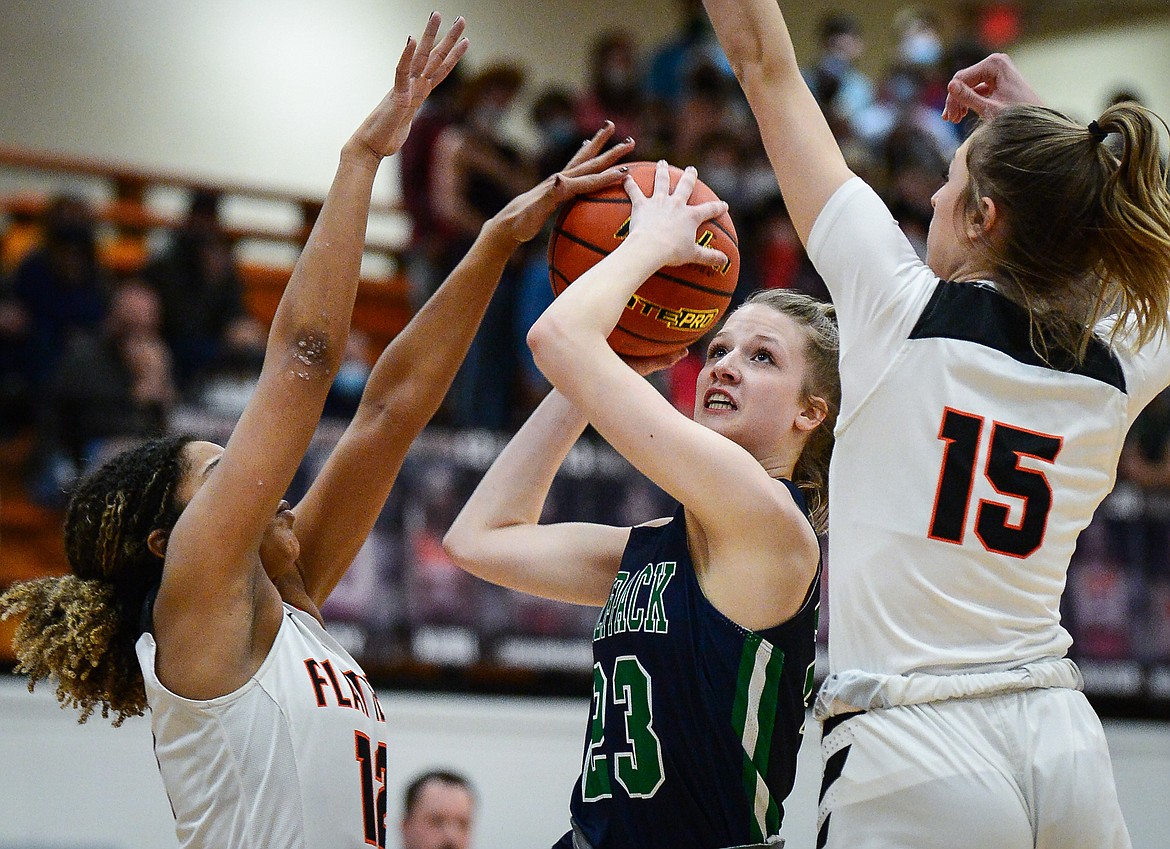 Glacier's Janessa Henson (23) drives to the basket between Flathead's Akilah Kubi (12) and Clare Converse (15) at Flathead High School on Thursday. (Casey Kreider/Daily Inter Lake)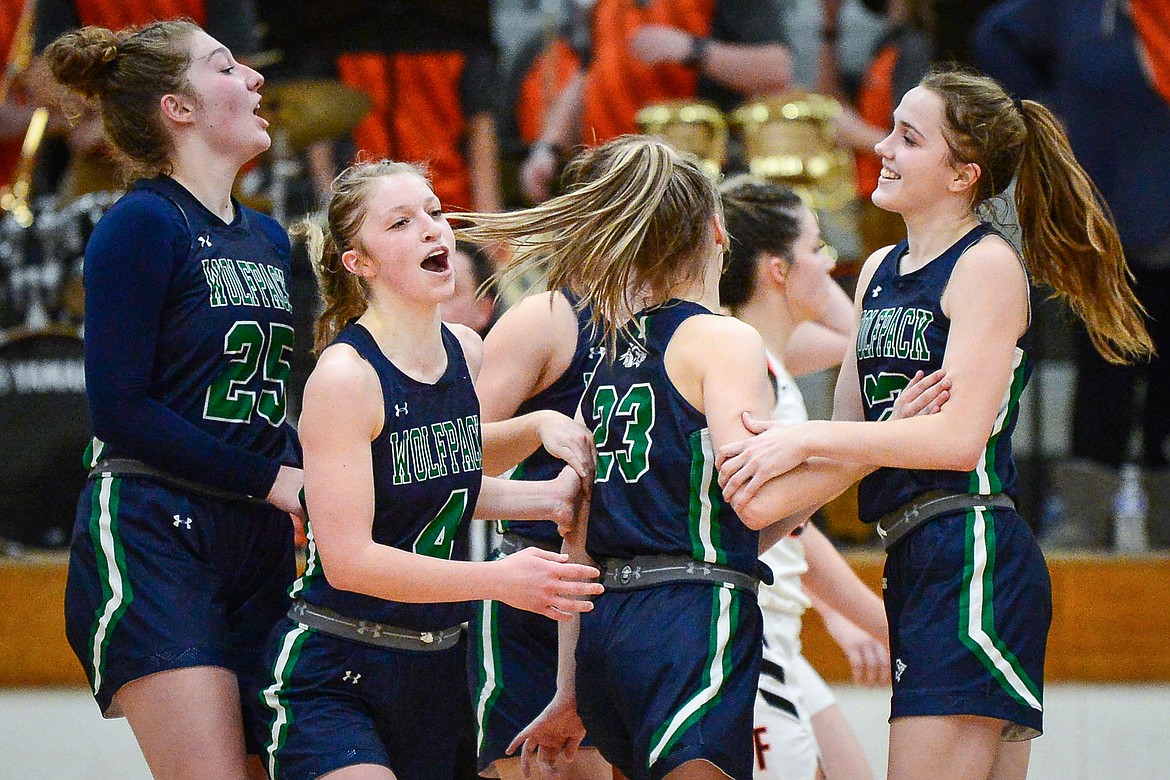 Glacier celebrates after their overtime win over Flathead at Flathead High School on Thursday. (Casey Kreider/Daily Inter Lake)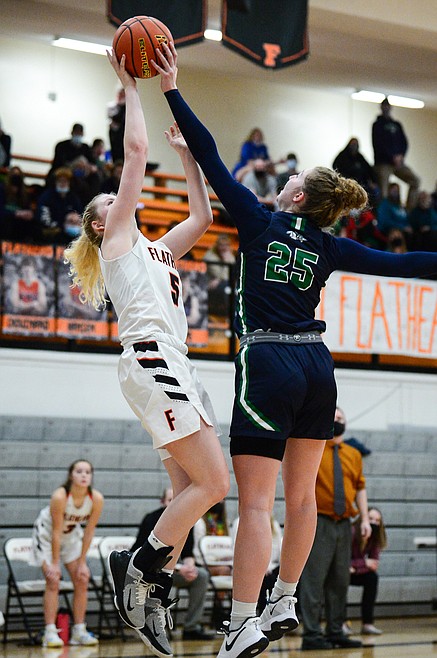 Glacier's Emma Anderson (25) blocks a shot by Flathead's Maddy Moy (5) at Flathead High School on Thursday. (Casey Kreider/Daily Inter Lake)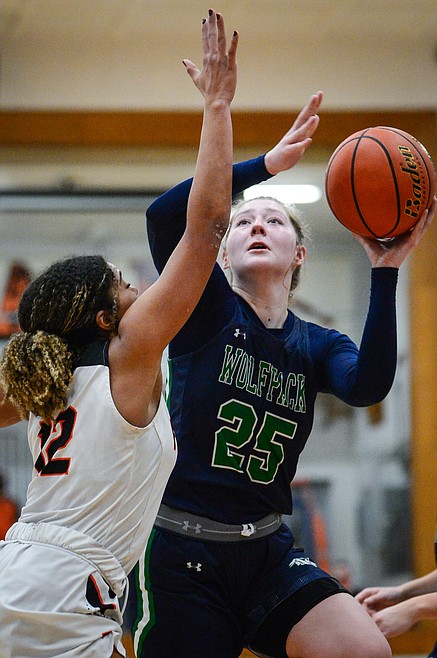 Glacier's Emma Anderson (25) looks to shoot against Flathead's Akilah Kubi (12) at Flathead High School on Thursday. (Casey Kreider/Daily Inter Lake)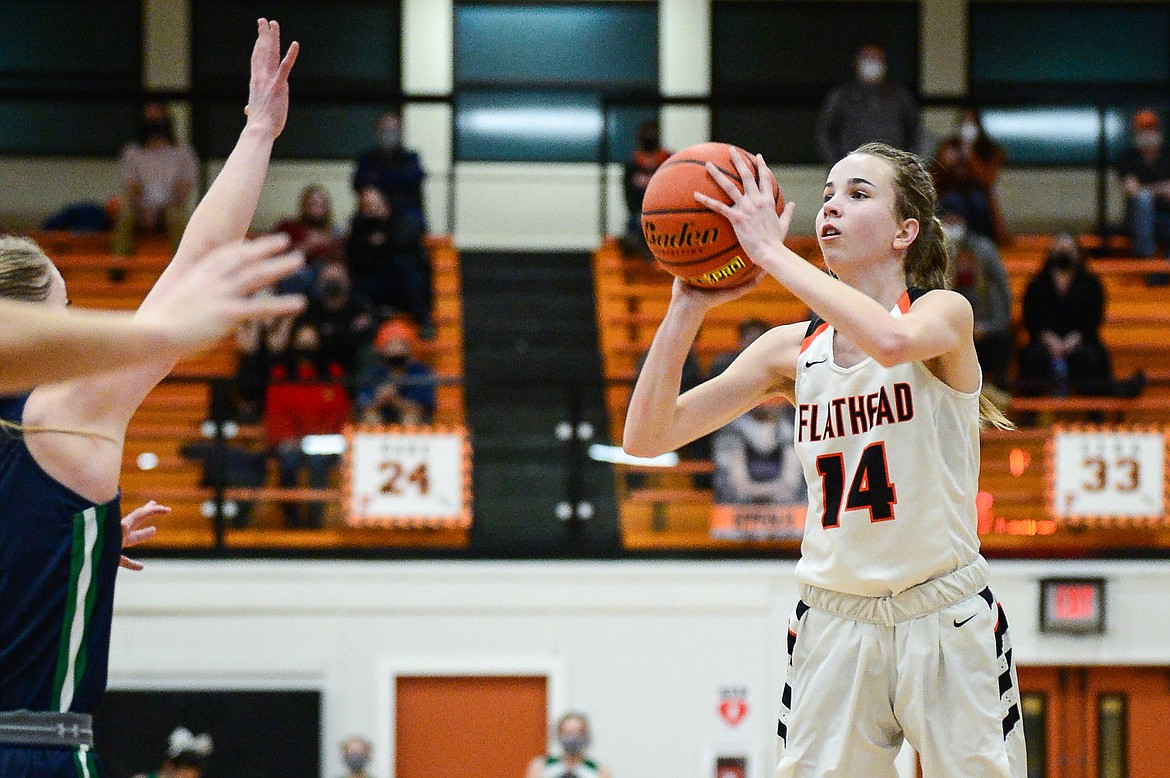 Flathead's Kennedy Moore (14) looks to shoot against Glacier at Flathead High School on Thursday. (Casey Kreider/Daily Inter Lake)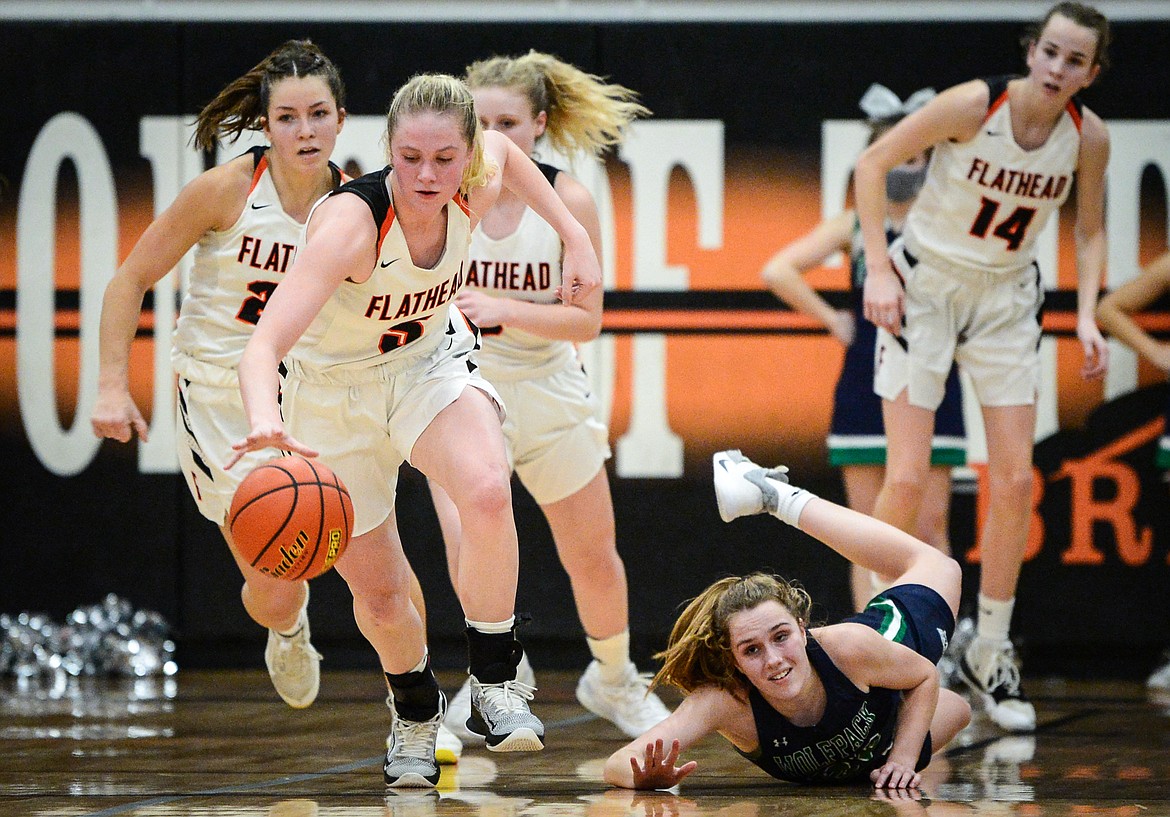 Flathead's Maddy Moy (5) scoops up a loose ball against Glacier at Flathead High School on Thursday. (Casey Kreider/Daily Inter Lake)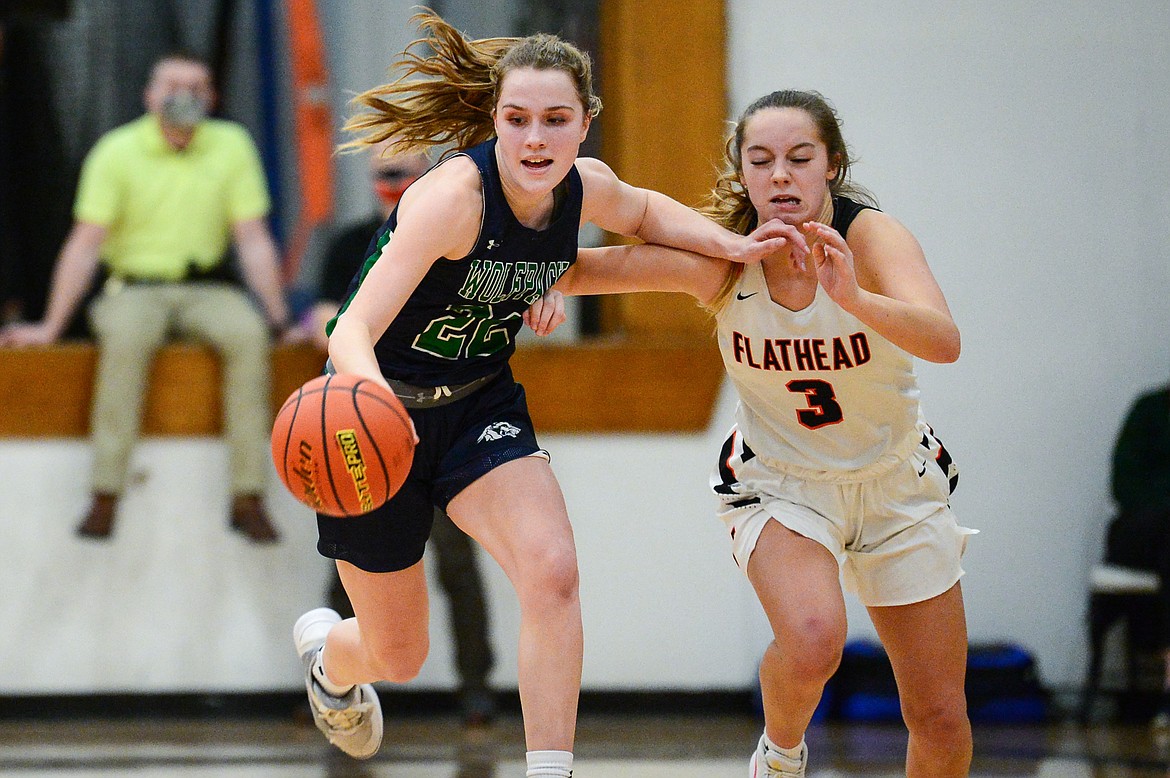 Glacier's Ellie Keller (22) picks up a loose ball in front of Flathead's Kuyra Siegel (3) at Flathead High School on Thursday. (Casey Kreider/Daily Inter Lake)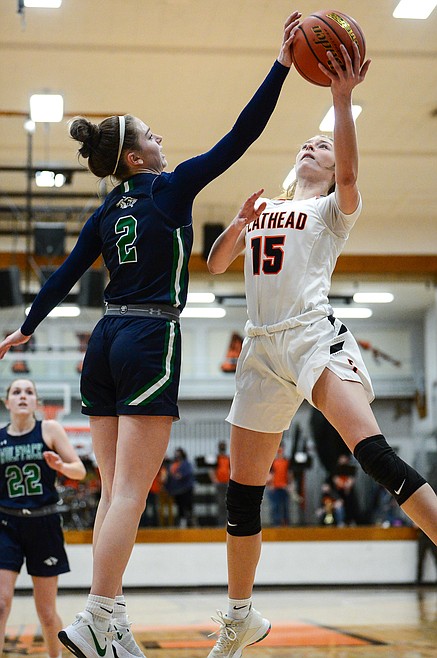 Glacier's Sidney Gulick (2) blocks a shot by Flathead's Clare Converse (15) at Flathead High School on Thursday. (Casey Kreider/Daily Inter Lake)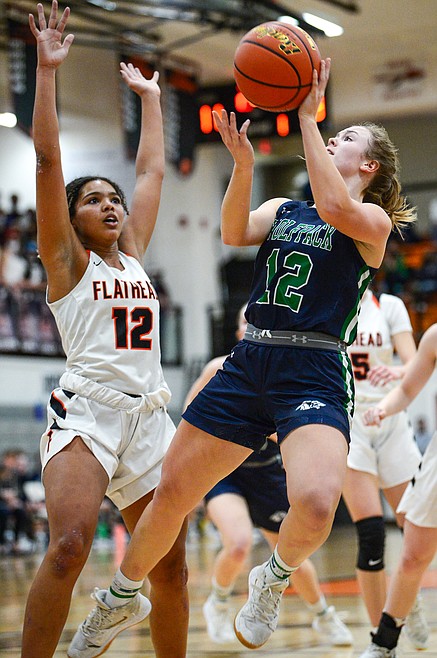 Glacier's Kenzie Williams (12) looks to shoot guarded by Flathead's Akilah Kubi (12) at Flathead High School on Thursday. (Casey Kreider/Daily Inter Lake)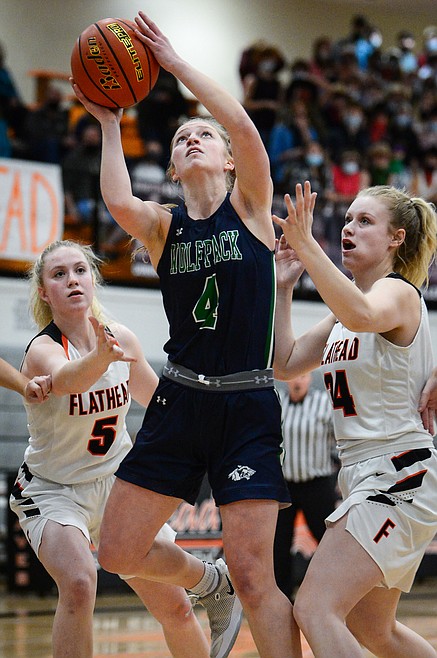 Glacier's Kaylee Fritz (4) goes to the hoop between Flathead's Maddy Moy (5) and Molly Winters (34) at Flathead High School on Thursday. (Casey Kreider/Daily Inter Lake)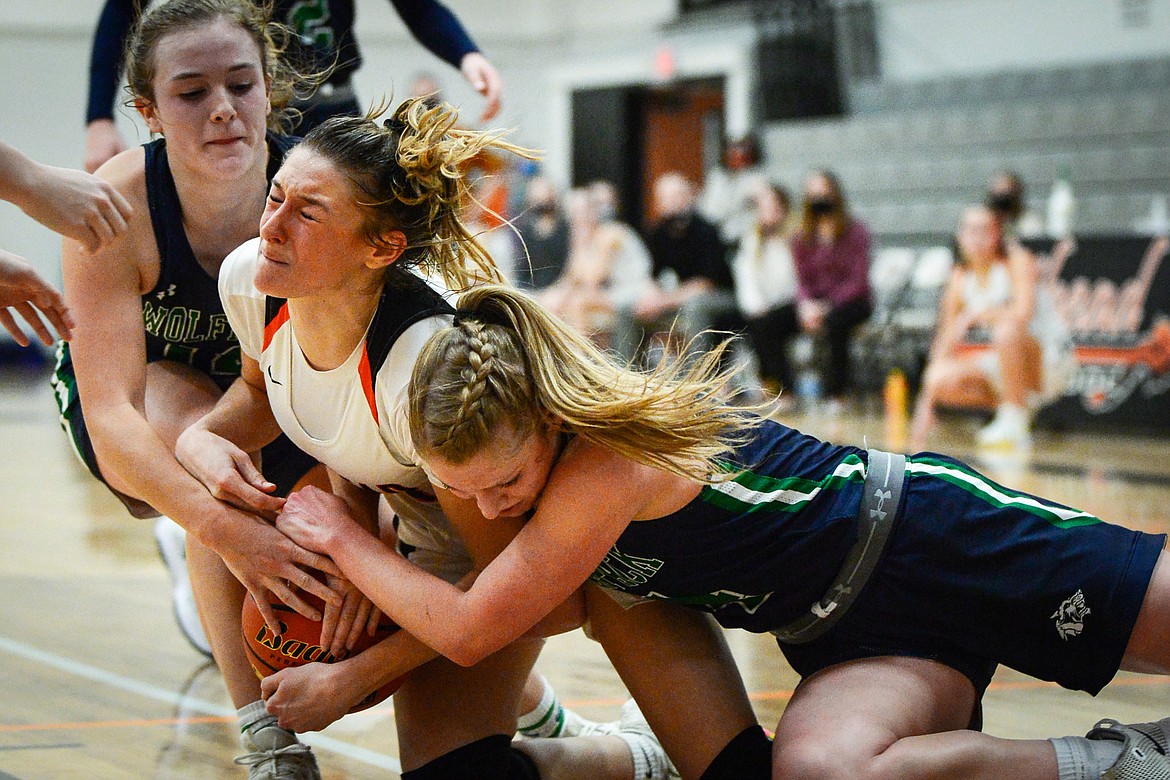 Flathead's Clare Converse (15) fights for the ball with Glacier's Kenzie Williams (12) and Kaylee Fritz (4) at Flathead High School on Thursday. (Casey Kreider/Daily Inter Lake)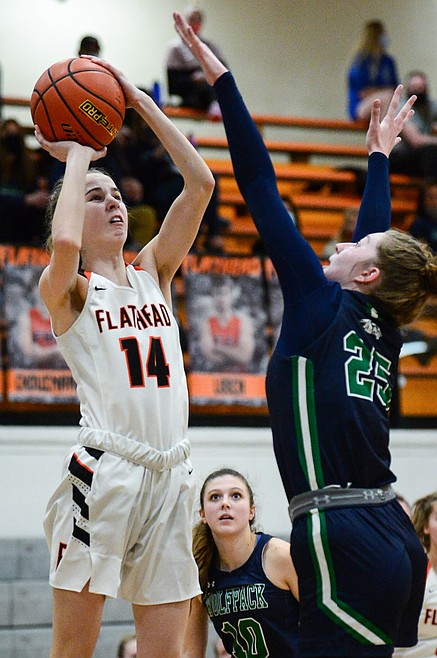 Flathead's Kennedy Moore (14) shoots over Glacier's Emma Anderson (25) at Flathead High School on Thursday. (Casey Kreider/Daily Inter Lake)
Previous
Next
by
FRITZ NEIGHBOR
Daily Inter Lake
|
February 25, 2021 11:23 PM
It was the final crosstown hoops game of the season, and it had the heat.
Glacier escaped the Flathead gym with a 49-48 Western AA girls' basketball victory Thursday, and the 8-6 Wolfpack can thank its usual poise down the stretch and Ellie Keller's knack for thievery and clutch plays.
But it could just as easily have been a signature win for the 2-11 Bravettes: They led 46-42 in overtime, then 48-47 on Kennedy Moore's move-over-Dr.-J scoop from underneath the hoop with 26 seconds left.
Which is to say it wasn't easy, for either team.
"We had our chances for sure," said Flathead coach Sam Tudor, whose team surged to a 20-12 lead and was up 33-21 midway through the third quarter.
"They were lights out," Glacier coach Amanda Cram said of the Bravettes. "And we didn't answer enough."
In the end Keller knocked down two free throws with 6.6 seconds left in OT – not quite the capper the night deserved – for the winning points. The senior guard figured to be a factor late. Keller hit a 3-pointer with 45 seconds left to put her team up 47-46, and finished with 15 points, nine rebounds and, unofficially, nine steals.
"That is the classic Ellie Flathead takeover," Cram said. "She's done it multiple times."
"We just knew we had to work hard the rest of the game," Keller added. "Take control, do the little things right. We were expecting it to be a good game, and it was."
Flathead came out in a man-to-man defense and found space on offense. Behind Clare Converse and Akilah Kubi the Bravettes ruled the glass.
Moore, a freshman, and Kuyra Siegel hit back-to-back threes to close the first quarter for Flathead. Moore's jumper over Glacier's Emma Anderson put it 33-21 at 3:40 of the third quarter.
Then the Bravettes went cold, or else didn't get a shot off. Keller repeatedly took the ball away, which accounted for much of her offense. Bridget Crowley drew Keller on defense and did solid work in the half-court.
"We felt all year that our top five can match up with just about anybody in the state," Tudor said of playing man. "We wanted to take all the variables out and see what happened.
"Crowley, she's an animal in there. Such an enthusiastic defender in there that she makes things tough on people. Ellie is the one that ended up beating us, but I can tell you she had to earn it."
"Their man was extremely aggressive," Cram said. "For the first quarter at least they face-guarded Ellie the entire time which was a pretty slick game plan. Fortunately we have a few other guards that can step up."
Meanwhile Flathead managed just five points – four from Crowley, who was working the glass for six offensive rebounds – the last 11:40 of regulation.
Eventually Glacier tied it at 38-all when Kenzie Williams converted her steal into two free throws, with 33 seconds left. Four turnovers followed; nobody got another shot off in regulation.
Eventually, the Pack escaped. Moore had 15 points to lead Flathead. Maddy Moy added 11, including two 3-pointers. Converse had nine rebounds and five steals.
"Clare was our heart beat tonight," Tudor said. "She didn't score a bunch but she got the young kids going, and I was trying to figure out a way to get her off the court and I couldn't. She was the one that kept us going.
"I was just happy about the effort. I think it was a good combination of senior leadership mixed with youth that is very talented. It was a good night for Flathead basketball. It's a tough pill to swallow but it was a good night for us. And everyone knows it."
Glacier 12 9 7 10 11 - 49
Flathead 20 8 5 5 10 - 48
GLACIER (8-6) — Janessa Henson 1-2 0-2 2, Ellie Keller 4-9 5-9 15, Emma Anderson 4-18 0-4 8, Kaylee Fritz 5-11 0-0 11, Kenzie Williams 5-11 3-4 13, Sidney Gluck 0-1 0-0 0, Bethany Sorenson 0-0 0-0 0, Kiersten Smith 0-0 0-0 0. Totals 19-52 9-19 49.
FLATHEAD (2-11) — Akilah Kubi 3-7 0-0 8, Bridget Crowley 1-5 3-6 5, Mollie Winters 2-5 1-2 5, Maddy Moy 4-11 1-2 11, Claire Converse 1-8 1-2 3, Kuyra Siegel 1-5 0-0 3, Kennedy Moore 6-11 2-7 15. Totals 18-53 8-19 48.
3-point goals — Glacier 2-14 (Keller 1-2, Fritz 1-5), Flathead 4-14 (Moy 2-5, Moore 1-2, Siegel 1-4). Rebounds — Glacier 39 (Keller 9, Fritz 8), Flathead 45 (Kubi 9, Converse 9). Fouls — Glacier 18, Flathead 15. Fouled out — Kubi. Blocks — Glacier 5 (Anderson 3, Fritz, Gulick), Flathead 4 (Moore 2, Kubi, Converse). Steals — Glacier 12 (Keller 9), Flathead 16 (Kubi 5, Converse 5). Turnovers — Glacier 22, Flathead 20.
---