WTC's 'Lifespan of a Fact' goes online Feb. 26 and 27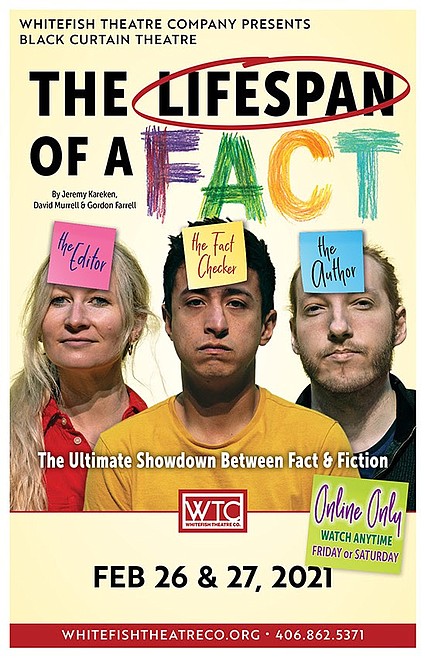 |
February 25, 2021 12:00 AM
The Whitefish Theatre Company has four Black Curtain productions planned for spring 2021.
The first, a timely and hilarious play 2018 Broadway hit "Lifespan of a Fact: The Ultimate Showdown Between Fact and Fiction" is only available for viewing online. Plans to return to a limited live audience may be in the future.
How negotiable is a fact? That's the premise of this critically acclaimed new play filled with blistering comedy and contemporary relevance.
A demanding editor-in-chief hires a determined millennial fact-checker at a high-end magazine to work on a groundbreaking essay written by a celebrated author. But with this potentially sensational essay, salvation looms. The deadline is tight and everyone must make a good faith effort to tell the story honestly. When the fact checker goes too far, however, the ultimate showdown between "truth" and "accuracy" begins — with deliciously funny consequences.
As a Black Curtain production, there will be no set or costumes, minimal props, and actors will be referencing their script.
Patrons have 48 hours to watch online anytime Friday and Saturday. Tickets may be purchased at whitefishtheatreco.org or by calling 862-5371 between 11 a.m. and 3 p.m. Monday through Friday.
The themes of the play are appropriate for older teens and up and there is some mature language."
---