New book highlights travel in Glacier Park past to present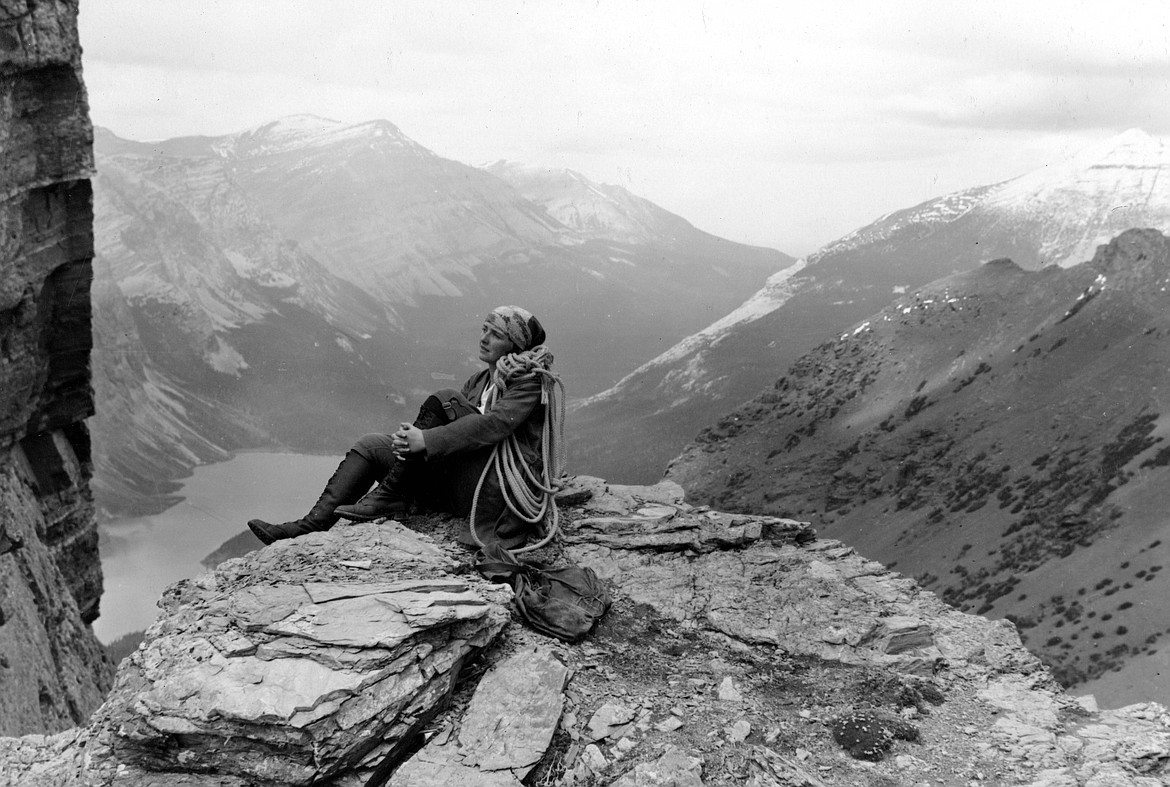 British climber Dorothy Pilley on the Ptarmigan Wall in 1926 with Elizabeth Lake below. This was prior to the opening of the Ptarmigan Tunnel in 1931. (photograph by T.J. Hileman, NPS GLAC8231)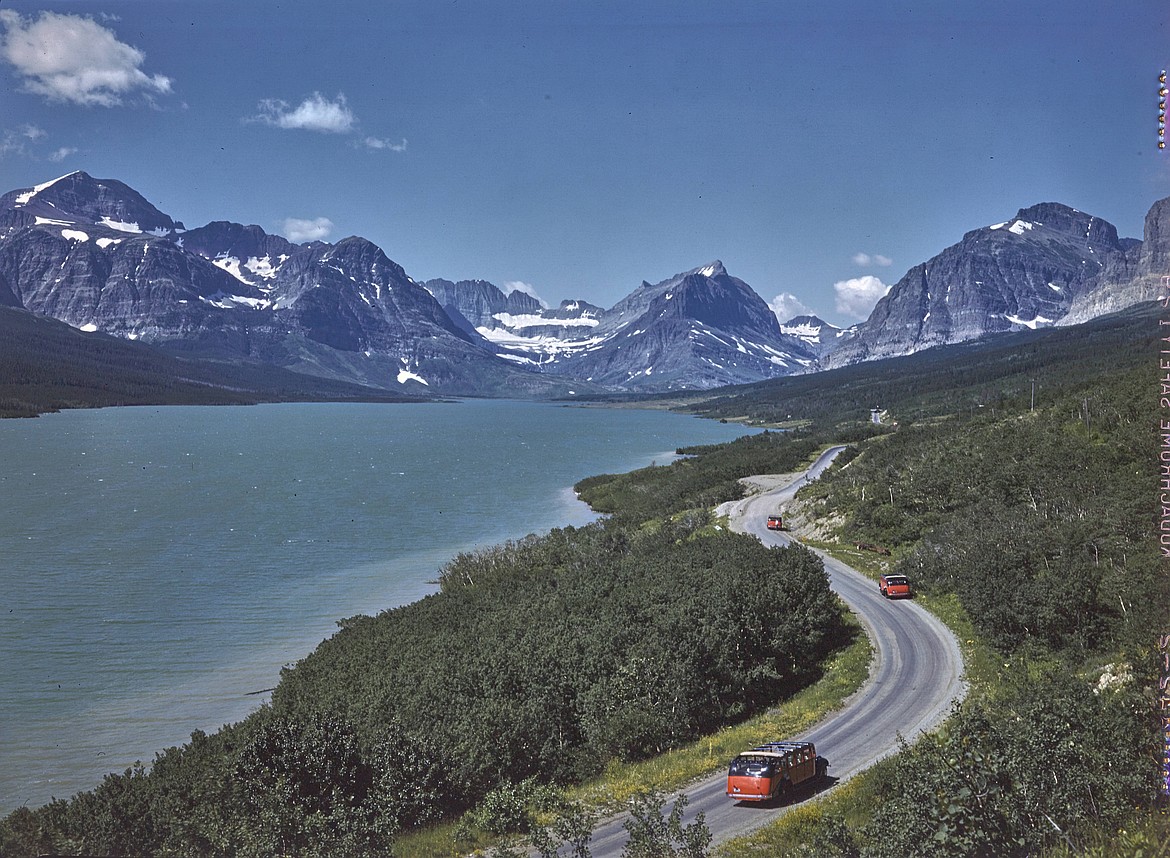 Buses Along Sherburne Lake circa 1950- photo by Fred Noble for the Great Northern Railway (credit- NPS GLAC_11104)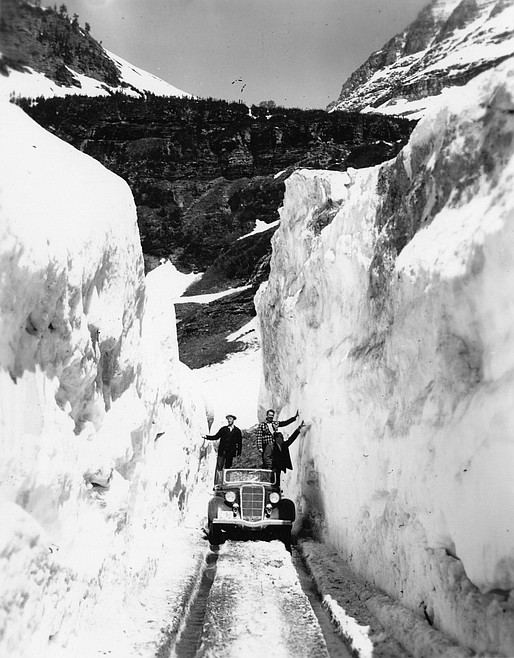 Auto heading east from Logan Pass on Going-To-The-Sun Road through the "Big Drift", circa 1930s. (unknown photographer, NPS GLAC HPF4580)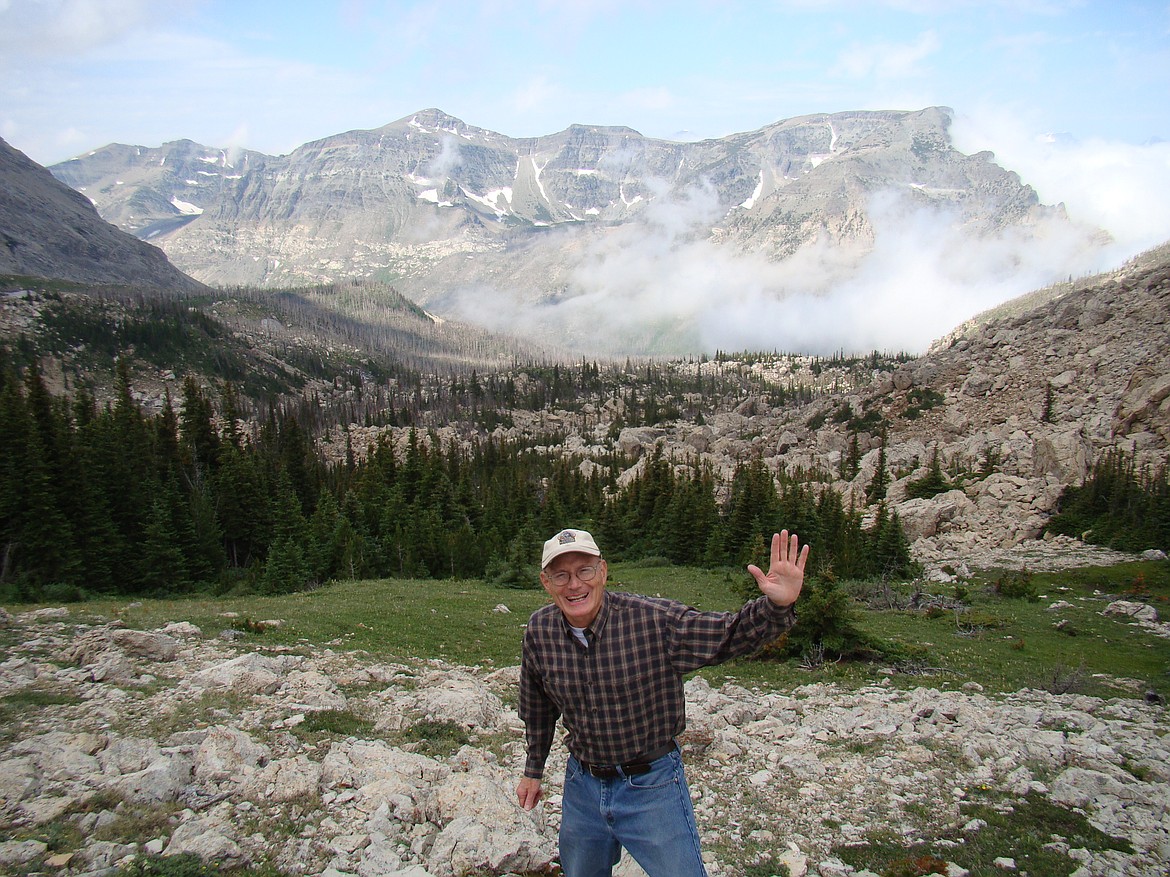 Author Mike Butler pictured in Glacier Park in 2012 when he accompanied his brother David Butler's research team studying the effects of the 2006 Red Eagle Fire upon the alpine vegetatioin.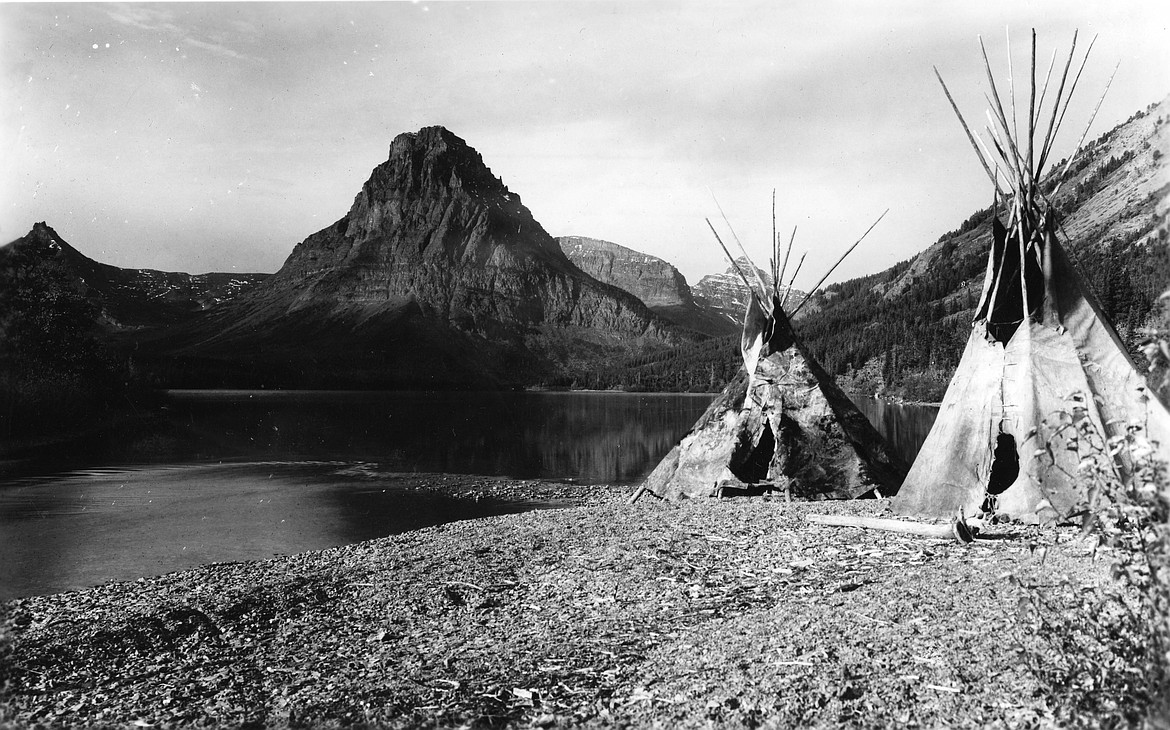 Blackfeet tepees set up on the shore of Two Medicine Lake with Sinopah Mountai across the lake, c. 1914 (Photograph by R. E. Marble, NPS GLAC6021)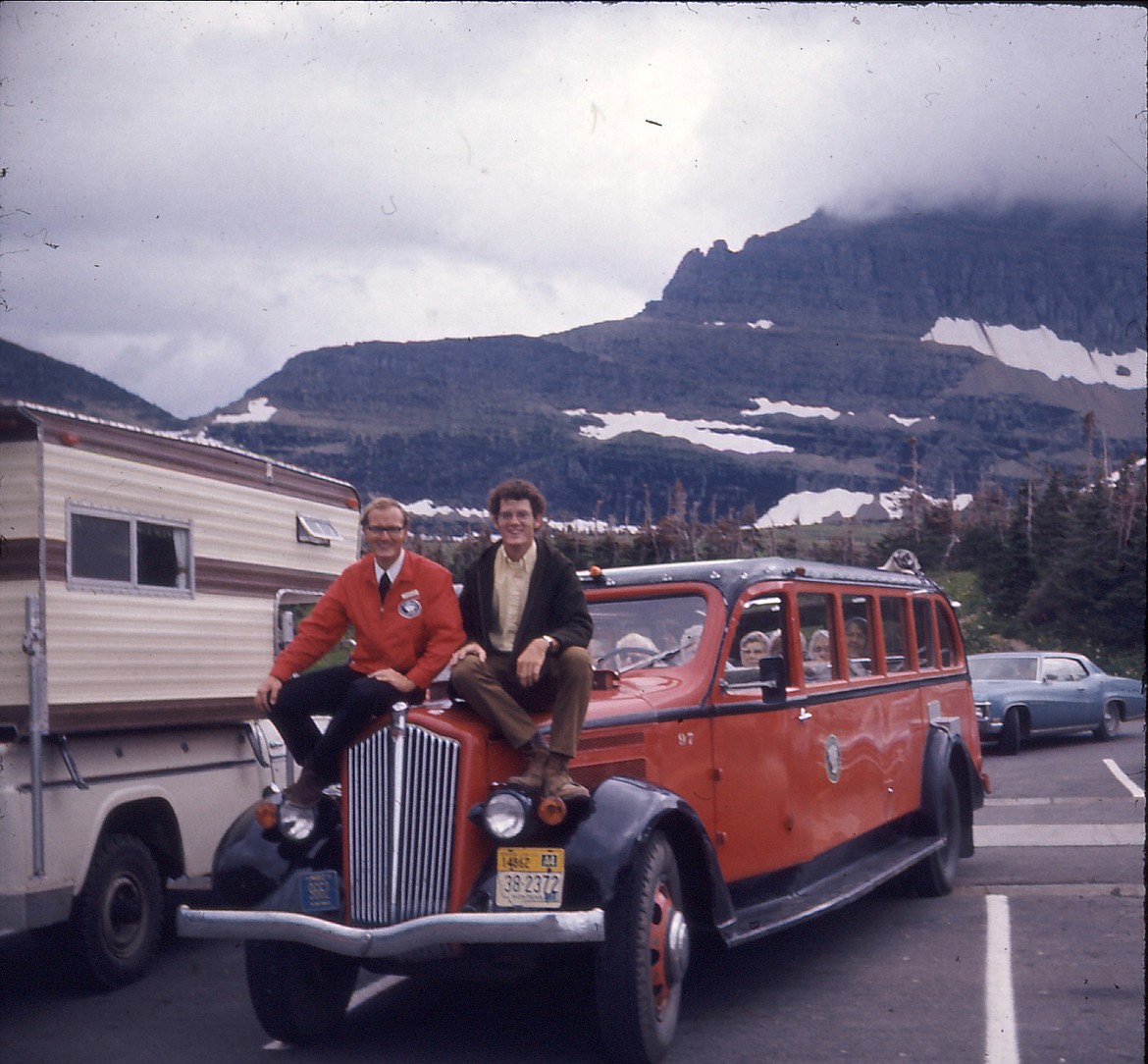 Author Mike Butler sits on his Red Bus no. 97 with his brother David Butler at Logan Pass, July 1972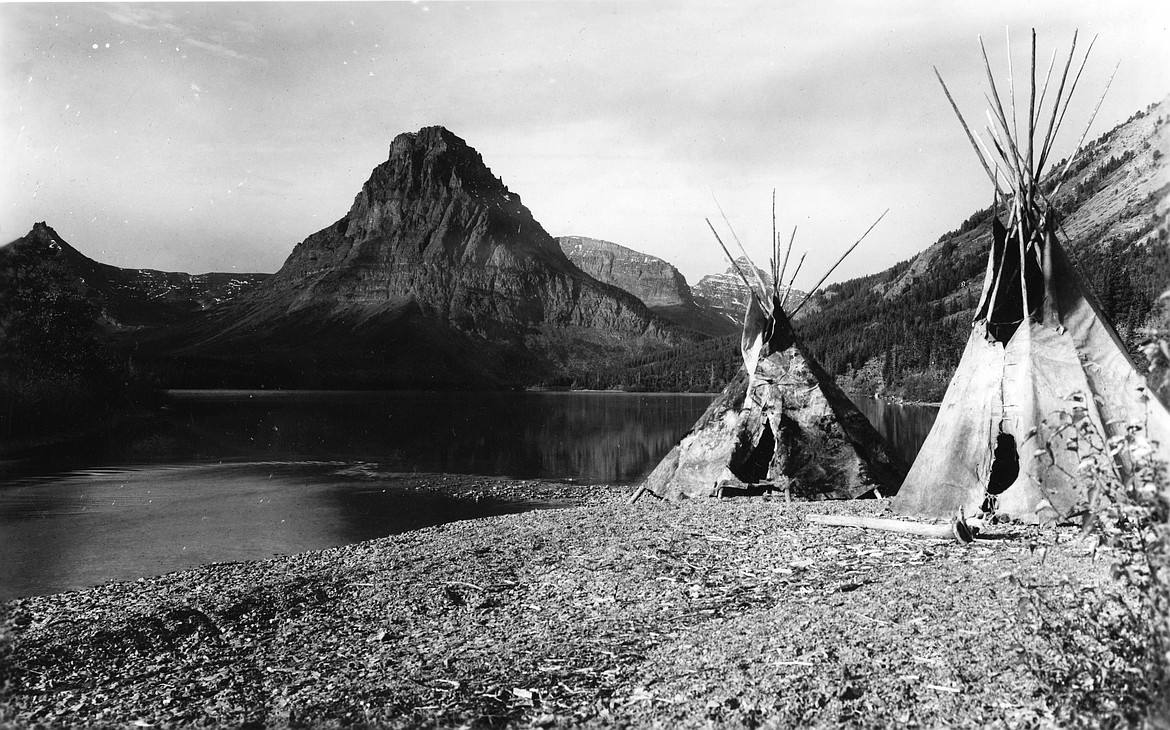 Blackfeet tepees set up on the shore of Two Medicine Lake with Sinopah Mountai across the lake, c. 1914 (Photograph by R. E. Marble, NPS GLAC6021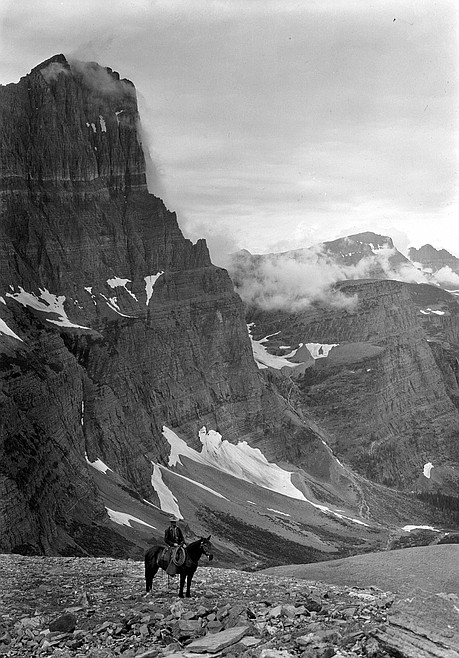 From the chalets, riders would head north over Piegan Pass to the Many Glacier Hotel nearly 13 miles away. This c. 1932 T.J. Hileman photograph shows a lone rider at the pass with Mount Gould on the left. (NPS GLAC103003)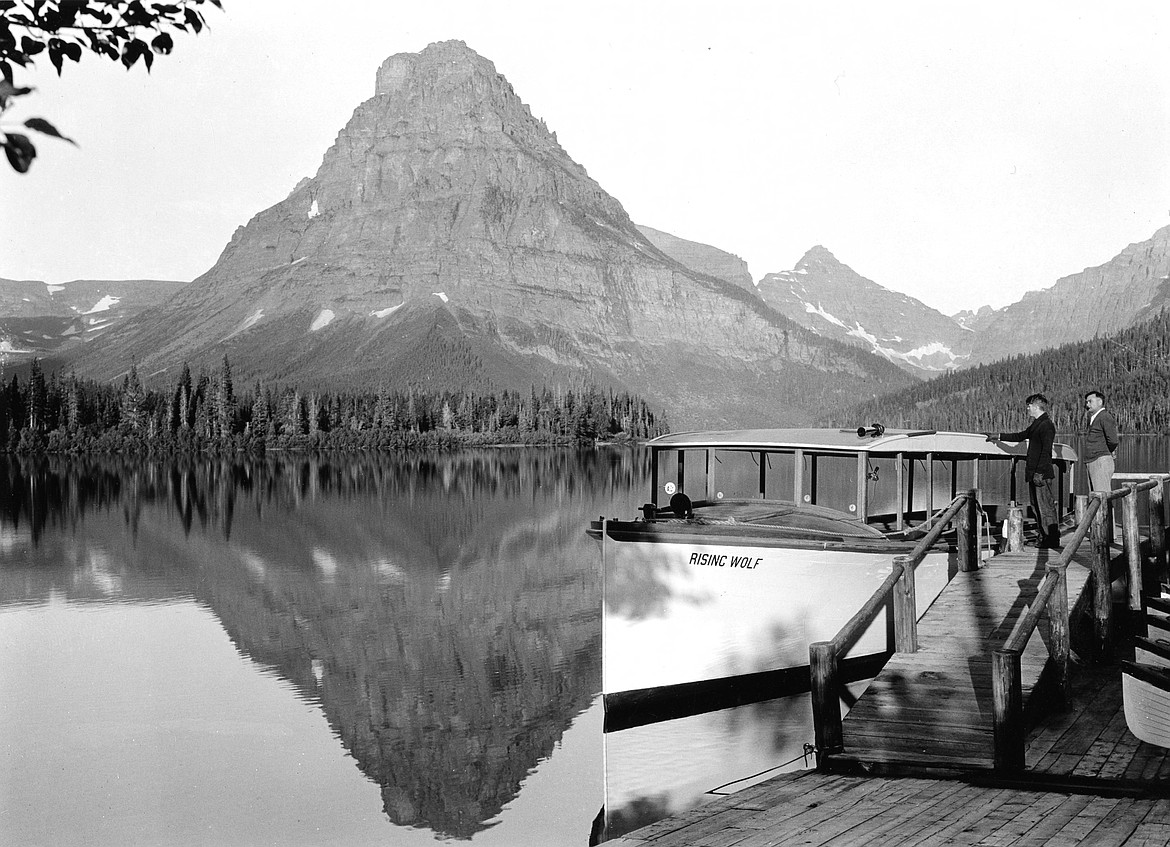 Boat Dock at Two Medicine Lake with Sinopah Mountain reflected in the Lake- photo by George Grant, July 16, 1932 (credit- NPS GLAC11343)
Previous
Next
by
CAROL MARINO
Daily Inter Lake
|
February 28, 2021 12:00 AM
In his new book "Getting Around in Glacier National Park," author Mike Butler tells the tales and travails of 20th century travelers seeking adventure in what Great Northern Railway magnate James J. Hill once termed "the playground of the Northwest."
Just getting to the park was an arduous adventure in its early days.
"In 1910, the year Glacier National Park was founded, "Glacier was virtually a pristine wilderness, with only a few private cabins on the shores of Lake McDonald and the remains of mining claims in the Many Glacier valley," Butler notes in his book.
He found further evidence of those challenging early-day journeys in a Hungry Horse News Going-to-the-Sun Road 1983 special edition, borrowed from a much earlier article originally published in the Daily Inter Lake, which noted the only road in the park, between Belton and Apgar, at the foot of Lake McDonald, was a 3-mile stretch of "quagmire, corduroy, and misery, dreaded by those who had ridden over it, (and) feared by those who expected to."
Butler's love for Glacier Park began years ago.
"Since my parents first took my brother and me to Glacier in 1969, I have simply been in love with the place," he said. "Being from the flatlands of Nebraska, Glacier was a whole new world to me. I was enchanted, and it has never ceased.
Butler worked as a "jammer" driver of Glacier's iconic red buses after college in 1972 and 1973.
"The jammer job was incredible," Butler said. "I was graduating and looking for a teaching job. Glacier's personnel manager Ian B. Tippet was recruiting college students for the summer … I applied and was probably accepted based on my experience as a lumber truck driver in the summers, and my teaching degree in geography."
"Getting Around in Glacier National Park" is packed with historical details and over 150 photos of the park's early years. It offers such rare glimpses into the park's pictorial history, such as explorer George Bird Grinnell standing on a glacier in 1926 with his wife Elizabeth Grinnell. Both he and James J. Hill played a pivotal role in the establishment of Glacier Park.
The book traces the discovery of the Glacier region by those who ventured into its remote backcountry — Grinnell, James Willard Schultz, Lyman Sperry, John Muir — in the late 1800s and early 1900s. After what would become Marias Pass was discovered as a way to cross the Continental Divide along its 1,816-mile transcontinental route, Great Northern Railway trains delivered tourists to the park's doorstep at the East and West Glacier stations. Construction of the park's great lodges came soon after, beginning with Glacier Park Lodge in 1913, then seven more by 1915, including the last two chalets that exist today — Granite Park and Sperry — many reachable only by horse or boat.
Bus transportation commenced in 1914, replacing horse and stage travel. Butler recounts in photographic and written detail the evolution of those early White Motor Company buses into the famed fleet of art deco red buses (the color red chosen for the mountain ash berry common to the park) that replaced them, which were capable of climbing Logan Pass once Going-to-the-Sun Road was completed in 1933. The engineering feat was gravel until paving began in 1938, yet would not be completely paved until 1952 because the park was closed during World War II.
The term jammer, Butler explains in his book, refers to the loud grinding noise emitted as drivers fought to find the right gear. Butler candidly recounts his own experience as a jammer. While jammers had designated places to stay in the park, the accommodations often left something to be desired.
"The jammers did have their own dormitory building in East Glacier with private rooms," Butler noted. "This was a luxury that we deeply appreciated, and it earned the jealousy of the other employees. Strangely though, the dorm was not heated, and it was plenty cold in the early days of June."
THE HEYDAY of horse travel in Glacier highlights the Park Saddle Horse Company's extensive chalets to tent camps excursions in the 1920s and 1930s using up to 1,000 horses for 10,000 riders each summer.
Prior to the construction of U.S. 2 East in 1930, to get across the Continental Divide cars had to be loaded onto rail flatcars at either East Glacier or West Glacier and ferried across the summit.
Butler also highlights how Glacier's history is also inextricably interwoven with the boats that once plied its waters.
"There are so many great characters in the history of Glacier …" Butler said. "One of my favorites was "Captain" Billy Swanson, the boat builder, who built boats which still take passengers on Glacier's lakes. These boats are older than the famous Red Buses."
The boats were so well-constructed and preserved they're listed on the National Register of Historic Places.
John William Swanson began building boats on Flathead Lake. Remarkably, he transported one of the biggest, the City of Polson, 60 miles up the Flathead River to McDonald Creek, to Lake McDonald, a two-week journey; it was in use until 1929.
The book features stunning photos of intrepid early-day mountain climbers. Butler retells what is known as perhaps the worst climbing tragedy in Glacier's history — the "Mount Cleveland Five" who in 1969 lost their lives on an attempted winter's ascent of Mount Cleveland, Glacier's highest peak — most likely caught in an avalanche.
RETIRED FROM the Denver Parks Department, the well-traveled author whose base camp is Santa Fe, New Mexico, hopes to return to Glacier in 2022 to commemorate the 50th anniversary of his first year as a jammer.
Butler credits his brother David Butler, fellow jammer and author of "Fire Lookouts of Glacier" in 2014 for Arcadia's Images of American series, for his help in researching his book, which was roughly a year in the making, including nine months of research.
Whether by train or trail, on horseback, bus, boat or by car, "Getting Around in Glacier Park" is a stunning photographic adventure and a treasure trove of rich history.
BREAKOUT BOX
"Getting Around in Glacier National Park" by Mike Butler is published by Arcadia Publishing as part of its America Through Time series. It was released Feb. 22; 6 ½" by 9 ¼"; $24.99
Butler's first book for the America Through Time series was "Tracking the Chili Line Railroad to Santa Fe." He has also written five other books for Arcadia's Images of America series: "Around the Spanish Peaks," "Great Sand Dunes National Park," "Southern Colorado: O.T. Davis Collection," "Littleton" and "High Road to Taos"; michaelbutler@q.com
Recent Headlines
---