Whitefish to require masks after Gianforte rescinds mandate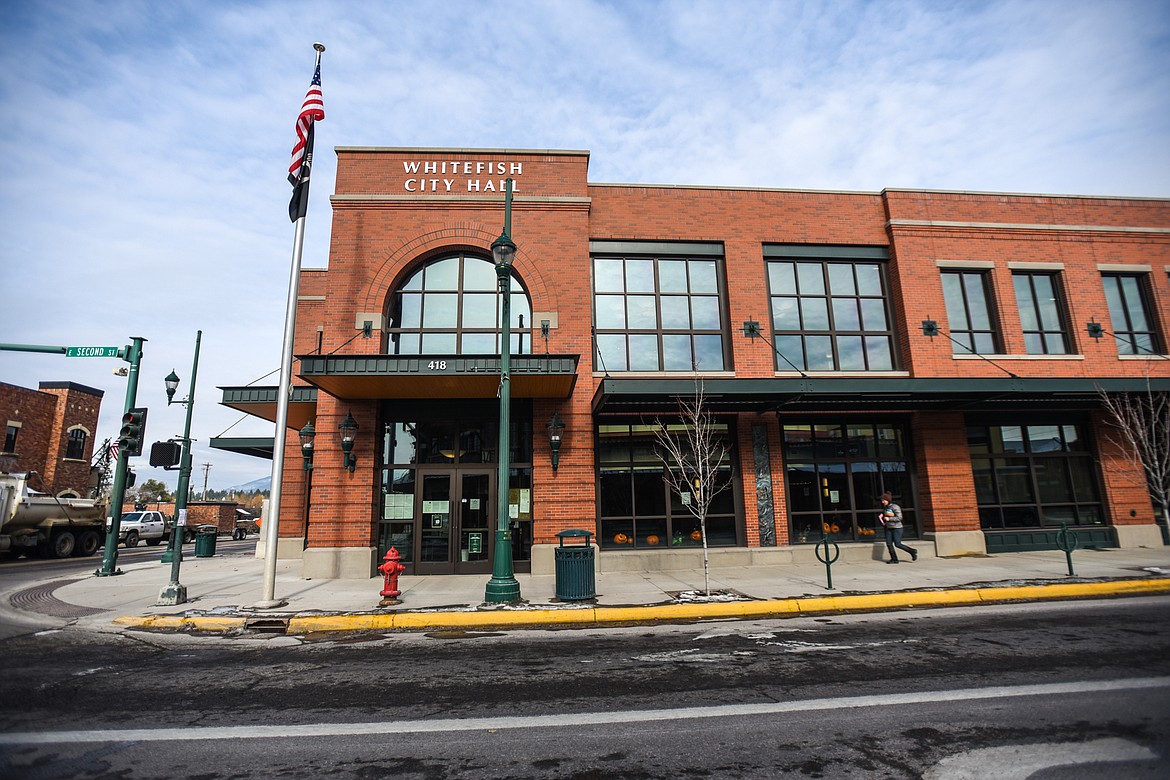 Whitefish City Hall on Tuesday, Oct. 27. (Casey Kreider/Daily Inter Lake)
by
CHAD SOKOL
Daily Inter Lake
|
January 5, 2021 3:55 PM
Montana's new governor says he plans to rescind a statewide mask mandate aimed at slowing the spread of COVID-19, but people will still be required to don face coverings in Whitefish.
On Monday night, the Whitefish City Council unanimously approved an emergency ordinance that will take effect "immediately upon repeal, dismissal, vacation or discontinuation" of former Gov. Steve Bullock's statewide mask directive.
Gov. Greg Gianforte, who was inaugurated on Monday, said during a news conference Tuesday he plans to rescind Bullock's directive within weeks, and on two conditions. First, he said, COVID-19 vaccines must be available to certain vulnerable groups, though he didn't provide specific benchmarks. Second, he said, the Republican-controlled Legislature must pass liability protections for businesses and other organizations that could face lawsuits related to coronavirus exposure.
"After we have increased vaccine distribution, and after I have legislation on my desk that protects businesses, schools, places of worship and nonprofit organizations that follow guidelines from lawsuits, then we will rescind the current statewide mask mandate," Gianforte said. "In the meantime, I choose to wear a mask, and I encourage others to do the same, as a way to show respect and to care for the people around us."
The Whitefish ordinance will take effect whenever Gianforte rescinds Bullock's statewide mask directive. It will require people 5 and older to wear face coverings in Whitefish bars, restaurants, shops and other indoor spaces that are open to the public, and at public gatherings where 6-foot social distancing isn't maintained. The ordinance will automatically expire after 90 days unless the council chooses to repeal it sooner.
"In Montana, it's not a one-size-fits-all approach to managing this pandemic," Whitefish Mayor John Muhlfeld said in a statement. "We are a unique town with a large tourist base, and by taking this preemptive and proactive measure, we are hoping it will help keep our ski lifts turning and our businesses and schools open."
Individuals who violate the city's mask ordinance could face municipal citations and fines. The ordinance says businesses that flout the requirements could have their business licenses revoked or get reported to the state Department of Revenue. And violations will be considered a public nuisance, which the city could enforce through civil legal actions, such as seeking an injunction or a restraining order.
The text of the ordinance notes "the overwhelming consensus of current medical and scientific evidence indicates that wearing face coverings reduces the transmissibility of COVID-19 by reducing transmission of infected droplets in both laboratory and clinical contexts."
During Monday's meeting, council member Steve Qunell blamed poor adherence to existing mask rules on conspiracy theories circulated by some public officials.
"This continued stream of misinformation from elected officials needs to stop, and it's given rise to people believing just whatever they want to believe, and it's not fair," Qunell said. "The science is there that supports masks."
Council member Ryan Hennen said he considered input from locals who object to mask rules, but he does not believe the ordinance is overly restrictive.
"I do not think that wearing a mask is too much to ask," Hennen said.
UNDER BULLOCK'S directive, bars and restaurants across Montana are required to operate at 50% capacity and close by 10 p.m. The Whitefish ordinance will not keep those requirements in place. Asked about those requirements during his news conference Tuesday, Gianforte said he would make an announcement in the coming days.
Gianforte also echoed the Whitefish mayor, saying the state shouldn't take a "one-size-fits-all" approach to the pandemic. He did not say he would challenge any local government that enacts stricter COVID-19 measures, though it wasn't immediately clear if the proposed liability protections might preclude enforcement actions against businesses that flout local rules.
"The current law gives broad discretion to local authorities, and I believe that the best decisions are often made by local government," Gianforte said.
As of Tuesday, the Flathead City-County Health Department had recorded 9,044 cases of COVID-1. Fifteen infected people were being treated at local hospitals, and 56 people in the county have died of the disease.
Reporter Chad Sokol can be reached at 758-4434 or csokol@dailyinterlake.com
---