COVID-19: Health officer says Flathead County 'not out of the woods' yet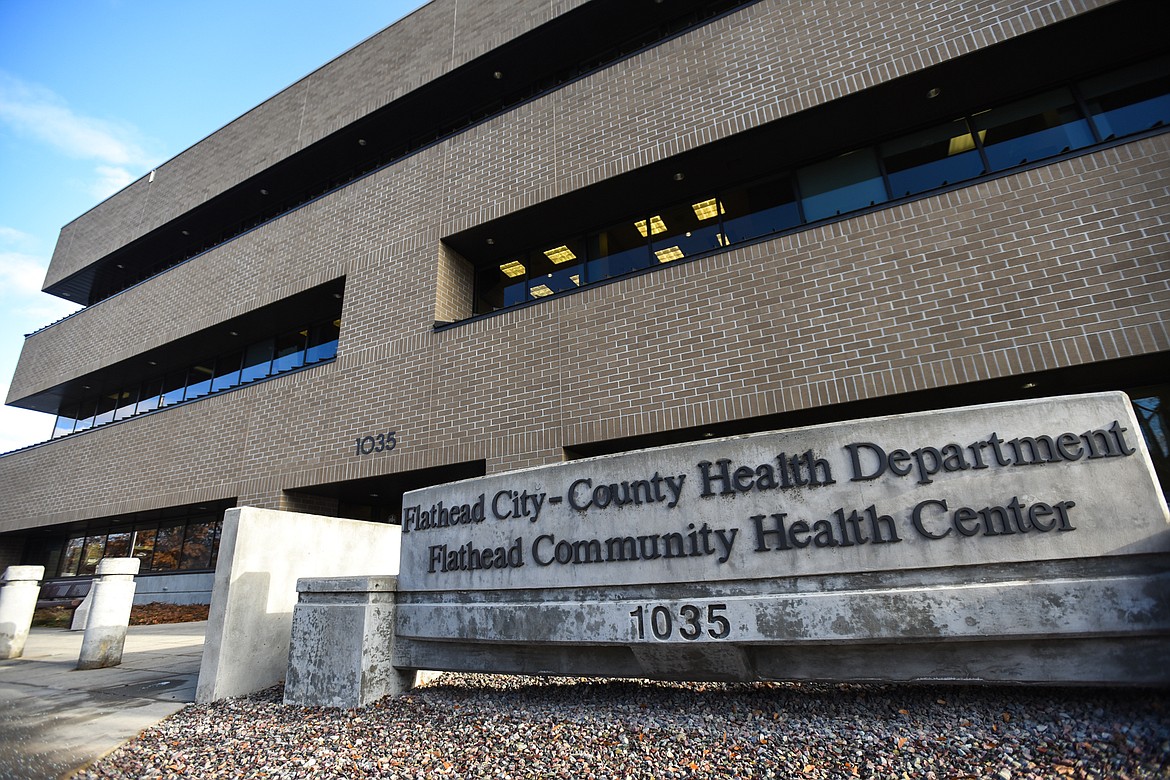 The Flathead City-County Health Department and Flathead Community Health Center at 1035 1st Ave. W. in Kalispell on Tuesday, Dec. 1. (Casey Kreider/Daily Inter Lake)
by
BRET ANNE SERBIN
Daily Inter Lake
|
January 6, 2021 12:00 AM
Even though the number of local COVID-19 cases is dropping, Flathead County won't be "out of the woods" until the daily number of lab-tested cases is 30 to 35 or fewer, Flathead County Public Health Officer Joe Russell told the Kalispell City Council Monday.
A comprehensive report from Russell occupied most of the Kalispell City Council meeting that took place via Zoom videoconference.
"It looks like our cases are going down, which is good news," Russell told the council. But he added, "I clearly don't think we're out of the woods when it comes to new cases."
Russell said he believes the declining rate of local COVID-19 cases can be attributed to what he called "social burnout." Essentially, he explained, the novel coronavirus likely has already made its way through groups of people who have not been diligently following social distancing guidelines.
Even those who have already had a COVID-19 infection should receive the vaccine when it becomes available to them, Russell advised.
Lately, Russell said, COVID-19 transmission in the valley seems to be largely a result of "social settings," such as bars and family gatherings. Even as the vaccine begins to be administered in the community, Russell urges local residents to continue wearing masks and practicing social distancing.
Despite some promising indicators from the declining case numbers, Russell warned it will take substantial time and manpower before the county is in a safe place with regards to the pandemic.
"It's going to take a while. It's going to take a lot of people," he said, adding the health department and Logan Health (formerly Kalispell Regional Healthcare) continue to grapple with finding enough staff to meet the demands from the outbreak.
Russell said he would consider the county "out of the woods" once it starts to see about 30 to 35 daily lab-tested COVID cases or fewer. He didn't specify when he predicted the county might reach that milestone.
The average number of new positive cases per 100,000 people for the week of Dec. 21 to Dec. 27 was 41 cases per day, according to the Health Department website at https://maps.flathead.mt.gov/portal/apps/sites/#/applications/pages/flathead-county-covid-19-community-indicators
IN OTHER business, the council approved three development proposals.
One development request came from JAG Capital Investments, LLC for a major residential subdivision known as Autumn Creek.
The proposal included a zone change request to rezone the property from R-2 (Residential) to R-4 (Residential), as well as a preliminary plat request for the 28-lot, 8.4-acre property located on Hathaway Lane.
The council approved both requests, although council member Ryan Hunter voted against the preliminary plat request because he noticed city code does not include a stipulation for riparian buffers along roads. He pointed out he would like to see this oversight changed in the future.
Another large property on the docket Monday was Silverbrook Phase 2B-B, part of the extensive Silverbrook Estates development.
The latest phase includes an eight-lot residential subdivision on 4.49 acres along Silvertip Trail, along with a subdivision improvement agreement in the amount of $430,000. The request from WGM Group on behalf of Silvermont Properties was unanimously approved.
Also unanimously approved was a request from Northwestern Energy to expand the company's nonconforming utility storage yard along North Meridian Road.
The energy company requested a conditional-use permit to expand its main office and utility yard, a proposal that ordinarily would not be allowed in the neighborhood business zone where the property is located.
Northwestern Energy proposed adding 5,305 square feet to the existing 13,975 square foot building at 890 North Meridian Road. Expansions of up to a cumulative increase of 50% are allowed with a conditional-use permit.
At the end of the meeting, council member Kyle Waterman urged other council members to get involved with United Way's 2021 Point-in-Time Count of the local homeless population, which is scheduled for Jan. 27, 2021.
Reporter Bret Anne Serbin may be reached at 758-4459 or bserbin@dailyinterlake.com.
---