Trump supporters protest vote certification in Kalispell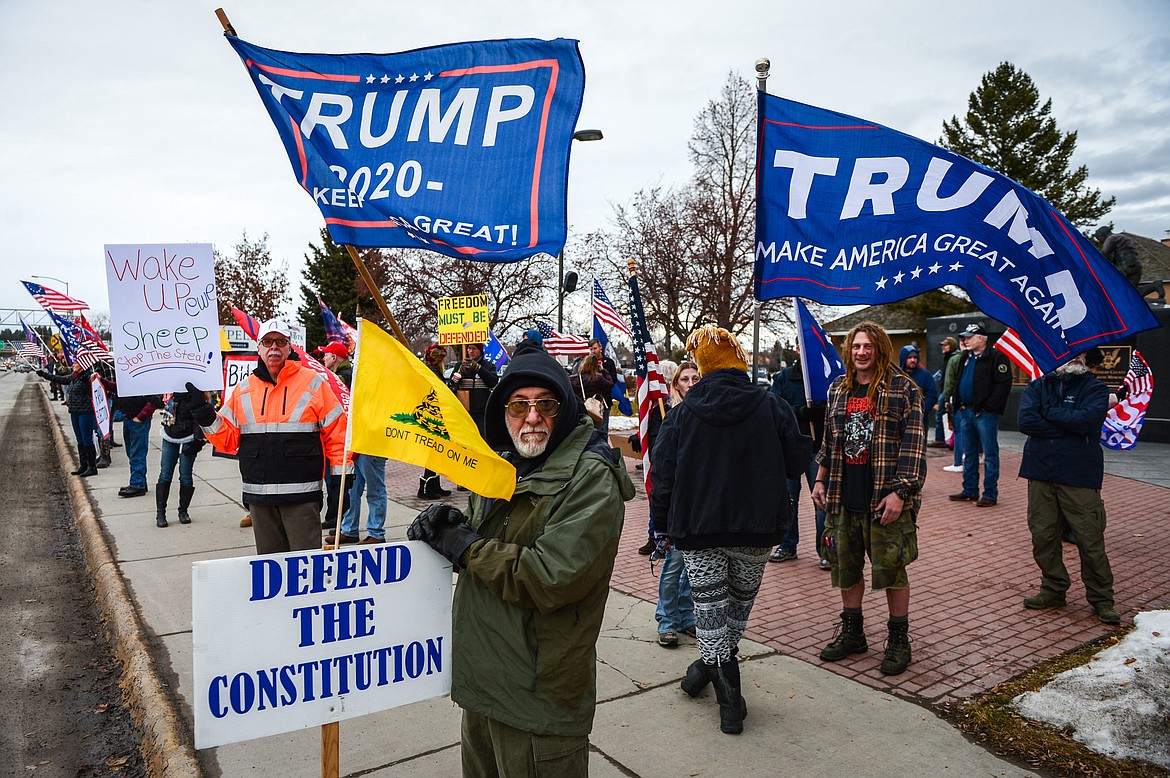 Protesters hold signs and wave flags in support of Donald Trump at Depot Park in Kalispell on Wednesday, Jan. 6. (Casey Kreider/Daily Inter Lake)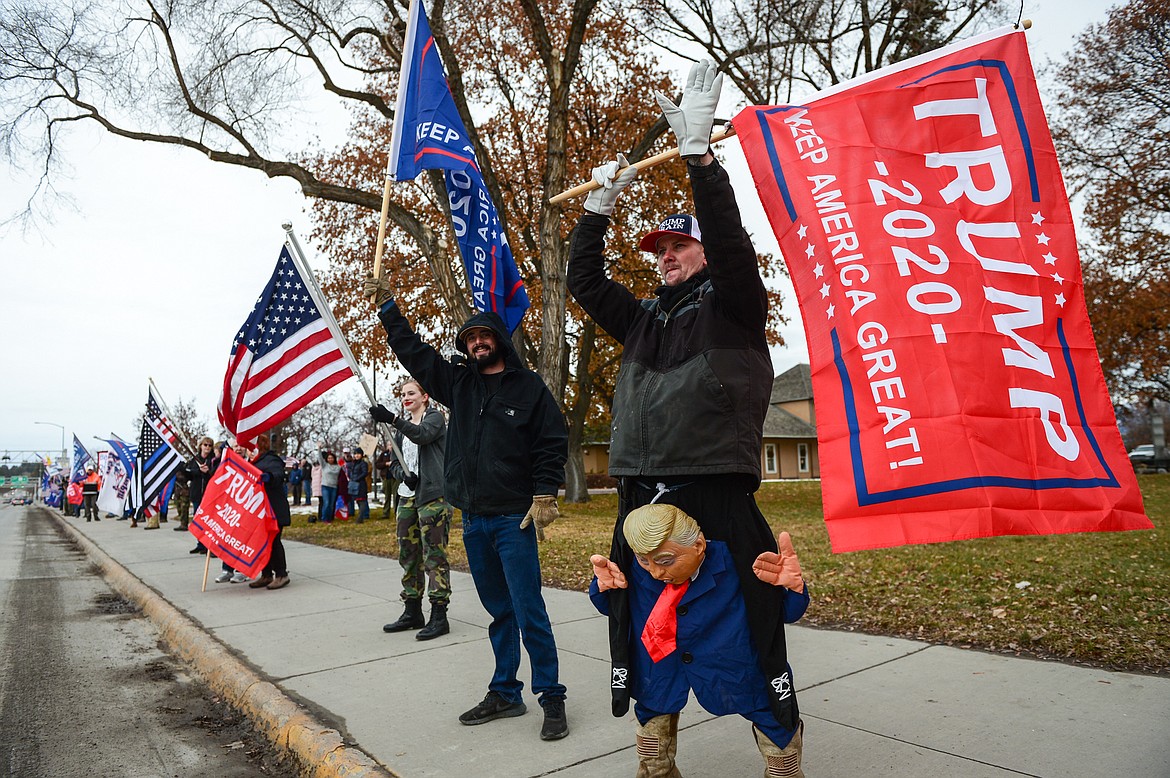 Kevin Extreme, from Proctor, waves a flag in support of Donald Trump while waving to passing motorists at Depot Park in Kalispell on Wednesday, Jan. 6. (Casey Kreider/Daily Inter Lake)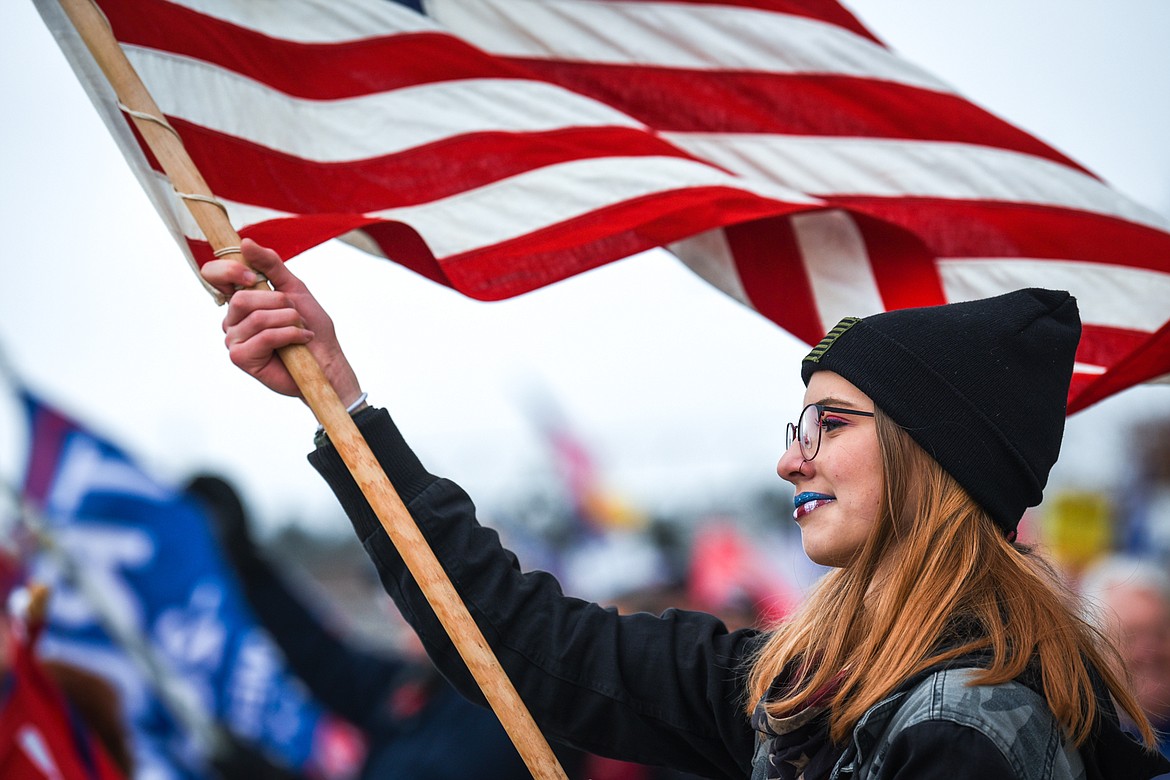 Karissa, who declined to provide her last name, waves an American flag as supporters of Donald Trump gathered at Depot Park on Wednesday, Jan. 6. (Casey Kreider/Daily Inter Lake)
Previous
Next
by
CHAD SOKOL
Daily Inter Lake
|
January 6, 2021 4:00 PM
As insurrectionists stormed the U.S. Capitol on Wednesday, dozens of people objecting to President-elect Joe Biden's victory staged a small demonstration in downtown Kalispell, waving flags and encouraging passing motorists to honk in support of outgoing President Donald Trump.
Those demonstrating, some of whom openly carried pistols and military-style rifles, were swayed by Trump's false claims of widespread election fraud. And some were convinced – after ballot recounts, dozens of unsuccessful lawsuits and assurances from officials of both parties that the presidential contest was fair and secure – that a viable path still exists for Trump to remain in the White House.
Members of Congress were evacuated from the Capitol on Wednesday before they could finish certifying the Electoral College vote that sealed Biden's victory. But even if they had completed that process, it wouldn't have been enough to assuage Scott Mattheis' concerns about the election.
Mattheis, a Eureka resident and member of the Lincoln County Planning Board, and two of his friends joined around 50 other pro-Trump demonstrators in Kalispell's Depot Park on Wednesday. Citing several debunked theories about illegally cast ballots and ballot-counting machines, he declined to speculate on a world in which Biden is president, suggesting state lawmakers can move to "decertify" the vote more than two months after the election.
"It's not over until Jan. 20," Mattheis said, referring to Inauguration Day.
One of Mattheis' friends indicated he views the incoming Biden administration as a threat. Asked what he will do when Biden begins signing bills, issuing executive orders and carrying out other official duties as president, Todd Butts, a 53-year-old Trego resident donning a "Make America Great Again" cap, said he will start "buying guns and saving money."
Meanwhile, Terry Charles, 73, of Kalispell, stood along Main Street waving a Trump flag at passing motorists. Offering no evidence, she asserted the election was "hijacked" and said she was demonstrating to stand up for the Constitution.
"I think there was some fraud within the election, and I just really feel that we need to look into it – not necessarily either party, but just to get it stopped – because I think it's been going on for a while," Charles said.
Republican members of Montana's congressional delegation have been among those stoking election conspiracy theories.
In November, Sen. Steve Daines' campaign sent text messages to many Montanans claiming Democrats were "stealing" the presidential election. Daines and newly elected Rep. Matt Rosendale both said they would join a group of Republican lawmakers in opposing the electoral vote certification; they also said a commission should be appointed to audit vote counts.
And before he left Congress to start as Montana's governor this week, Greg Gianforte joined about half of House Republicans in supporting a lawsuit that was rejected by the U.S. Supreme Court.
Daines reversed course late Wednesday. In a statement, he called it "a sad day for our country" and indicated he would vote to certify Biden's victory.
"The destruction and violence we saw at our Capitol today is an assault on our democracy, our Constitution and the rule of law, and must not be tolerated," Daines said. "We will not let today's violence deter Congress from certifying the election. We must restore confidence in our electoral process. We must, and we will, have a peaceful and orderly transition of power."
Rosendale, meanwhile, doubled down, saying in a statement he "will not be intimidated by mob violence from the left or the right."
"I will oppose certification of electors from certain disputed states," Rosendale said. "These votes today were always about preserving and protecting the integrity of our election process, not any candidate."
Among those demonstrating in Washington, D.C., was Wade Long, a 57-year-old Kalispell resident who spent nearly three days on the road with his brother and two friends to show support for Trump.
In a phone call late Wednesday, Long said he had seen "red flags" in the ballot-counting process and wanted to "drop everything" to be a part of the crowd. He said he had seen some skirmishes and police firing tear gas in the streets of the capital.
"The place looks like a warzone," he said.
Reporter Chad Sokol can be reached at 758-4434 or csokol@dailyinterlake.com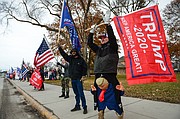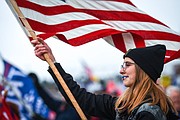 ---