Painter creates harmonious interiors with faux finishes
by
HILARY MATHESON
Daily Inter Lake
|
January 11, 2021 12:00 AM
All Kim Brubaker needs are brushes, paints, and reference materials to make ordinary household items blend into their surroundings.
"I make things that need to disappear like outlets and speakers, doors — look like wood, plaster or granite, or whatever material they are on," the Whitefish artist said.
The magic is in the illusion of the decorative faux finishes she paints using brushstrokes to replicate wood grain or coarse stone, for example.
She also can make things stand out and create interest in a room such as accent walls or ceiling murals.
One of her favorite mediums to use on walls are metallic plasters. Using a trowel she can create a decorative finish that makes walls look lustrous under light.
"They're plasters that have a little shimmer in them and they reflect the light, creating a lot of movement in walls," Brubaker said. "It's not like you throw glitter on a wall. It's very soft, subtle and pretty the way it reflects the light."
She works on projects of all scales.
"The highest I've ever worked was on four levels of scaffolding," Brubaker said, which was a home in Iron Horse.
And it's hard work.
"Some days my job is art and some days it is really manual labor — climbing scaffolding, moving a 10-foot ladder and painting," she said. "The job is tough on your body."
On such large-scale jobs, Brubaker works alongside other faux painters who have become friends over the years.
Asking others for help was not easy when Brubaker was starting out.
"I suffered from this imposter syndrome like someone would discover I didn't know what I was doing," Brubaker said.
She tried to tackle each project on her own until one project proved to be too much to do solo.
"Probably six or seven years ago I was forced on a very tough job to get help. It was a tough thing to ask for help from other faux painters, but what it did was totally rejuvenate the job for me," she said.
One of the colleagues she has worked with on large-scale projects is Krista Oge Kober, who she said is very good at painting faux wood finishes.
"She taught me about visualizing. If I want to paint an outlet to look like wood, she told me to think what wood looked like raw and then build the grain and then the color on top to give it depth," Brubaker said.
She also often works on projects with Rae Clausen, and calls the trio a cooperative of sorts.
This year, one of her two daughters, Mason, has followed in her footsteps and started working on projects with her, as she once did with her mother, Suzanne, from whom she learned faux painting.
"My mother is a trained artist and she really taught me about perspective and shading," Brubaker said.
Brubaker takes projects that have large and small budgets. While one of her clients has her fly out to Maui to work on a condo, others may simply want to update the look of their kitchen cabinets.
Brubaker said faux finishes are a great way for a client with a modest budget to refresh the look of an interior space.
"Often people don't know old cabinets are salvageable," she said, using an example of the distressed wood finish trend. "With new hardware and a paint job, it can look amazing."
How much creative freedom Brubaker has depends if a client knows what they want and the working relationship.
"I have repeat customers and they often trust my judgment. I've also worked with some really interesting and innovative designers — and we collaborate on projects," she said. "I've worked with lovely and interesting people.
"You go into every job not assuming what you're doing, or not assuming it's the same thing you did at your last job. You go in and meet the designer's needs, or homeowner's needs or builder's need."
Projects aren't always glamorous, but often it's these types of projects that keep her busy and build her clientele. These smaller projects she referred to as repairs.
"Say a carpenter accidentally puts a hole in a wood panel, I can help repair that, or an electrician in a plaster wall," she said.
BRUBAKER DIDN'T immediately start painting after graduating from college with a bachelor's degree in anthropology. She didn't necessarily know what she wanted to do.
"My mother was always encouraging me to consider faux painting," she said.
In 2003, she started traveling to Dallas, Texas, where her mother was living at the time, to assist her with projects. She said faux painting was a big trend in Dallas then and hadn't yet gained popularity in Whitefish.
"So for about two years I was traveling to Texas and working on gigantic homes in Dallas and really benefiting from learning from her. She worked for builders who let her do what she wanted and she experimented with paints and glazes," Brubaker recalled, and she was able to learn from it.
As trends change, so do the types of finishes people request, "which makes it really interesting and not boring to me," Brubaker said.
In 2006, her husband, Justin Lawrence, who was a fly fishing guide at the time, got her connected with a local builder who needed a faux painter.
"And it took off," she said.
While most of her projects are in private homes, there are places to see her murals such as in Kalispell Regional Healthcare's pediatric facility, alongside Clausen. A mural she worked solo on is a depiction of Our Lady of Guadalupe in Mama Blancas, a restaurant in Whitefish. For the Mama Blancas mural, she used a technique to give it a centuries-old look. First, she painted on a canvas, which she affixed to the wall.
"Then I troweled the wall with plaster and carried it over onto the canvas, and scraped it all over so it looked old," she said. "My mom had done that process once before. I think the clients wanted to be able to take it if they moved."
In addition to faux painting, she and her husband own Lakestream Fly Shop in Whitefish.
"I definitely spend a lot of time fly fishing," Brubaker said.
As far as giving advice to others interested in making a living in a creative career, she advised them to "reach out to people in the building industry. Ask questions.
"Plaster and painting companies are always looking for good employees," she added. "While it may not be the ideal job at first, it may lead to something more artistic. It's a good industry to work in."
Reporter Hilary Matheson may be reached at 758-4431 or by email at hmatheson@dailyinterlake.com.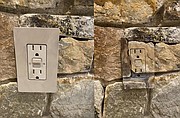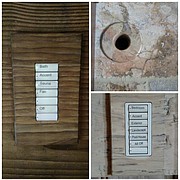 ---