Bill would shield Montana businesses from COVID lawsuits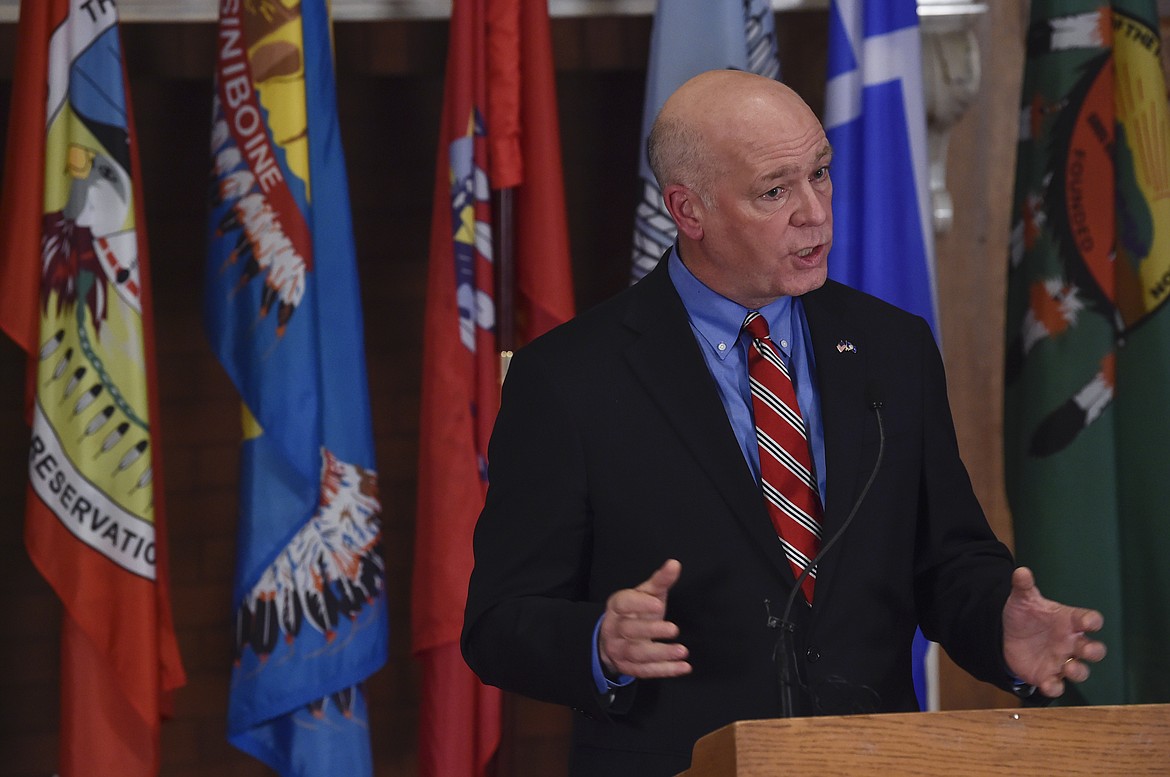 Montana Gov. Greg Gianforte speaks to members of the press in the Governor's Reception Room of the Montana State Capitol in Helena, Mont. Tuesday, Jan. 5, 2021. (Thom Bridge/Independent Record via AP)
by
CHAD SOKOL
Daily Inter Lake
|
January 13, 2021 12:00 AM
A bill introduced in the Montana Senate last week would shield businesses, nonprofits and health-care providers from lawsuits related to COVID-19 as long as they comply with local, state and federal public-health requirements.
Republican Gov. Greg Gianforte has praised the legislation and said it's one step on the path toward rescinding a statewide mask mandate.
Business leaders and lobbyists voiced support for Senate Bill 65 during a hearing before the Business, Labor and Economic Affairs Committee on Friday. Sponsored by Sen. Steve Fitzpatrick, R-Great Falls, the bill would protect businesses from some claims of negligence related to COVID-19 if they are in "substantial compliance" with applicable public-health rules, laws and orders. It would not protect against claims of gross negligence or "willful and wanton misconduct."
"COVID-19 has been a minefield of uncertainty for businesses, and we believe that Senate Bill 65 is a needed metal detector for said minefield – a way for responsible business owners to reengage their communities without the threat of being sued in their pursuit to survive," Bridger Mahlum, with the Montana Chamber of Commerce, told the committee. "Reasonable liability protections are essential to get Montana's economy back on track."
Bars, restaurants, hotels and other businesses have been hard hit by declines in customers as well as occupancy restrictions and curfews aimed at curbing the spread of COVID-19. Ronda Wiggers, a lobbyist for the National Federation of Independent Businesses, said the legislation would give peace of mind to small businesses already struggling to keep their doors open.
"They cannot afford even the $2,500 or $3,000 it would cost them to go talk to their attorney for a frivolous lawsuit," Wiggers said. "Maybe most of them would get dismissed, but that initial attorney fee is more than these businesses have left right now."
OPPONENTS OF the bill, including Sen. Cydnie Boland, D-Great Falls, raised concerns it would eliminate legal recourse for workers, patients and consumers who are infected or exposed to the coronavirus in businesses or health-care settings.
Al Smith, executive director of the Montana Trial Lawyers Association, testified against the bill, noting litigation over coronavirus exposure already is rare in Montana. He cited one pending case in Flathead County District Court, which accuses the Whitefish Care and Rehabilitation Center of negligence following at least 13 patient deaths and 39 coronavirus infections.
"This bill is unnecessary. There has not been an explosion of COVID litigation," Smith said. "I'm aware of only one case in Montana involving malpractice or personal injury – a nursing home in the Flathead with a subsidiary in Butte. I'm not aware of any consumer or worker lawsuits at this point."
Smith added, "Our current law already provides protections for businesses and medical providers, which is why there hasn't been an explosion of cases. Under current liability laws, businesses and medical providers are only required to do what is reasonable under the circumstances."
During his first news conference as governor last week, Gianforte said he plans to rescind the statewide mask mandate implemented by former Gov. Steve Bullock, after two conditions are met. First, the Legislature must pass liability protections for businesses, and second, COVID-19 vaccines must become more widely available to Montanans, Gianforte said.
Gianforte has characterized the liability shield as a way to provide an incentive to businesses to comply with public-health requirements and guidelines.
"We need to protect businesses and schools from lawsuits if they make a good-faith effort to protect individuals from the spread of the coronavirus and follow clear public-health guidelines," Gianforte said during a Jan. 5 news conference. "To combat the virus, I believe providing incentives and promoting personal responsibility are more effective than imposing impractical mandates."
But Smith, with the lawyers association, told the Senate committee, "We understand that this immunity bill is a priority step towards rescinding the mask mandate, but we don't see how providing immunity improves the health of our communities and therefore would allow for rescinding the mask mandate."
GIANFORTE'S STANCE on coronavirus liability is a departure from Bullock's approach. In October, the state Department of Public Health and Human Services sued five Flathead County businesses accused of flouting Bullock's directive requiring masks and social-distancing. A judge declined to grant preliminary injunctions, and the businesses have filed counterclaims against DPHHS, alleging the agency selectively targeted them and hurt them financially.
Attorneys representing all five of those businesses – the Remington Bar in Whitefish, Sykes Diner and Scotty's Bar in Kalispell, and the Ferndale Market and Your Turn Mercantile near Bigfork – said the counterclaims are still active. The state has until Friday to respond.
In an email, attorney Bruce Fredrickson said it's "really too early to predict the direction the litigation will take under the new administration."
DPHHS spokesman Jon Ebelt said Tuesday the agency couldn't comment on the pending litigation.
SB-65 ALSO would require businesses and other entities to comply with local public-health requirements in order to be shielded from lawsuits. The Whitefish City Council, for example, last week approved a citywide mask ordinance that will take effect whenever Gianforte rescinds the statewide mandate.
The ordinance will require people 5 and older to wear face coverings in Whitefish bars, restaurants, shops and other indoor spaces that are open to the public, and at public gatherings where 6-foot social distancing isn't maintained. The ordinance will automatically expire after 90 days unless the council chooses to repeal it sooner.
Individuals who violate the ordinance could face municipal citations and fines. The ordinance says businesses that flout the requirements could have their business licenses revoked or get reported to the state Department of Revenue. And violations will be considered a public nuisance, which the city could enforce through civil legal actions, such as seeking an injunction or a restraining order.
Whitefish City Attorney Angie Jacobs said if the city were to sue any business or nonprofit, it would not seek damages for coronavirus exposure.
"If the city, in theory, were to file a suit for public nuisance, it would only be seeking equitable relief in the form of an injunction," Jacobs said in an email. "That said, the city will remain focused on education and outreach. It's extremely unlikely we would ever file a public nuisance lawsuit."
Reporter Chad Sokol can be reached at 758-4434 or csokol@dailyinterlake.com
---