Man in the middle: Allen plays pivotal role on a talented Glacier squad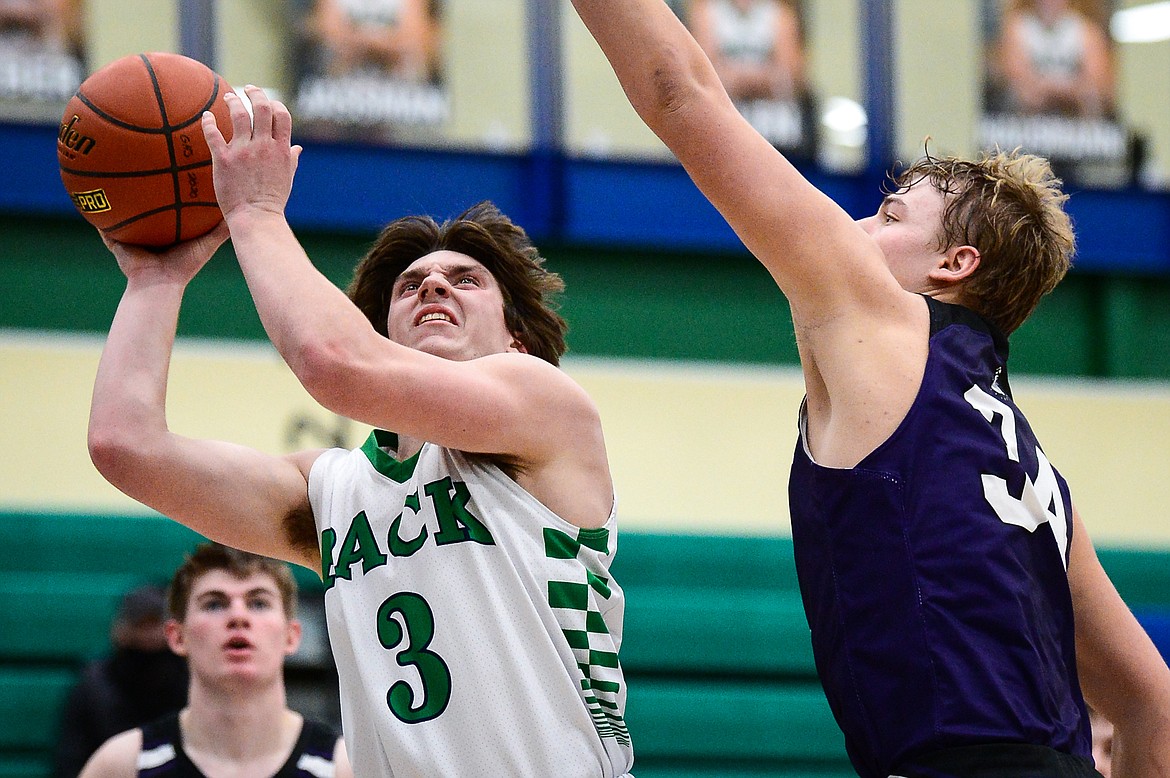 Glacier's JT Allen (3) goes to the hoop against Butte's Jake Olson (34) in the third quarter at Glacier High School on Thursday. (Casey Kreider/Daily Inter Lake)
by
FRITZ NEIGHBOR
Daily Inter Lake
|
January 20, 2021 9:04 PM
JT Allen comes across maybe as an undersized "five" for a Class AA basketball player, but you need to know: He's been 6-foot-2 for a long time.
"I sprouted early," the Glacier High School senior said this week. "I haven't grown since like, seventh or eighth grade."
This isn't the norm, where the rest of the class catches up to the tall one. As it happened, in his early days of athletics, Allen was so big he had to have a wrestler's mentality, because if you weighed too much in Little Guy football they put you on the line.
"I remember I had to lose the weight the week before," Glacier's starting quarterback the last two years said. "I always lost five or 10 pounds. I just didn't really eat for a few days."
On Friday the senior will play the pivot in the first of this season's crosstown basketball games, against Flathead at the Glacier gym. He's not piling up the points; he knows that's not his role.
"I'm not much of a scorer compared to our other guys," said Allen, alluding to Weston Price, Keifer Spohnhauer and Jaxon Olsen. "I know those other guys are more skilled.
"Obviously I can score when I'm open, but those three are pretty lethal at times."
Allen concentrates instead on defense and rebounding and leadership.
"He brings a toughness," Glacier basketball coach Mark Harkins said. "He's a physical player – he's not a big player, and he's shorter than our point guard, for crying out loud – but he works very, very hard and runs the court well."
Harkins likes the intangibles, noting how Allen scrambled for a loose ball that ended up leading to a layup in the Wolfpack's 62-42 win over Butte last week.
"He's taken the most charges on our team," Harkins added. "It's those things that don't show up on the state line that are important."
They'll be important Friday against a Flathead team that has shown promise after a 3-win campaign in 2019-20. Of course those Braves gave Glacier, which had the better record, all it could handle last season.
"The thing about cross town, no matter the sport, is you can't really look at how good they're playing or their record," Allen said. "Both teams play their hearts out and it's kind of a different atmosphere. Take football – last year they didn't win a game but we didn't go in thinking it was going to be easy. Because no crosstown is easy."
Ah, football. Allen set Glacier's single-season mark for completion percentage in 2019, then scuffled at the start of last season before catching fire on a playoff-bound team. His 402 passing yards in a 63-0 playoff rout of Missoula Big Sky set the Pack's single-game record.
"He had a really great senior season," Wolfpack football coach Grady Bennett said. "And I think at the start of his senior season he was maybe pressing too much. We were a little bit different team as well, establishing the run with Jake Rendina and having younger receivers.
"That's sometimes high school football from year-to-year."
Recruiting – Allen is headed to Rocky Mountain College, a Frontier Conference school in Billings this fall – had fallen off because COVID-19 had put a stop to college seasons. Whatever the case, Allen caught fire.
"The turning point I thought was Hellgate," Allen said of Glacier's 54-38 win on Oct. 2. "We started executing our passing game. We kind of had a rough game against Sentinel, but that was a snow game and nobody threw much. The following three weeks we played well."
"He did a good job of making adjustments and getting his mind right and doing what he needed to do," Bennett said. "He really had a good finish to the season, and I think that's what the colleges that recruited him saw."
Bennett chuckles remembering Sept. 7, 2018: His Pack was playing powerful Bozeman and starting QB Evan Todd went down injured on the second play. Bennett looked around for his backup, and thanks to injuries to two other QBs, only Allen was left.
"He was scared white to go in, but he did a great job," Bennett said. "That's when I realized this kid can really, really play."
"I wasn't even starting junior varsity that year," Allen notes. "Our starring JV guy got hurt, too. I wasn't really experienced and Bozeman had the No. 1 defense in the state. But I didn't do too badly."
The numbers, in a 38-22 Hawks' win: 9-for-11 passing for 106 yards.
"I gained a lot of confidence after that," Allen said. "That's kind of when I knew I could play at the varsity level."
Now he's in basketball mode, squaring out on bigger bodies for a Glacier team that has played well at home and has had its issues in two road losses. A lot of scoring returns from last year's 10-win team, so Allen remains confident.
"We need to start better on the road," Allen said. "We struggled against Hellgate and Big Sky. When we played Sentinel at home, even though we lost, we started off well and played well the whole game.
"It's just a matter of getting off the bus and getting our minds right."
Friday the Wolfpack is at home, looking to continue a streak of success against Flathead High. There is time to get in a groove.
"I think we need to realize our potential and take it to the next step," Allen said. "We have the talent, we just need to mesh together better. Once we start playing better on the road and realizing our potential, we can make it a long way."
---