Today's Achievers: Compassionate leader is 'go-to-girl' at Flathead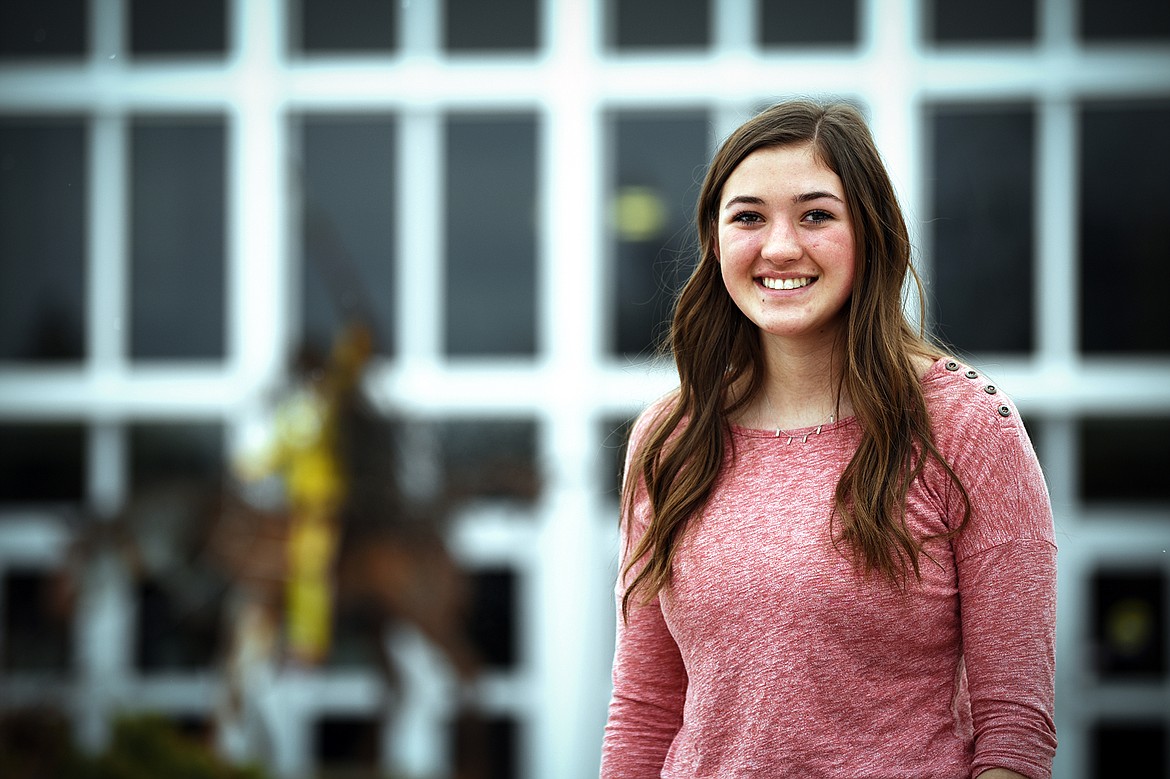 Paityn Reece outside Flathead High School on Wednesday, Jan. 27. (Casey Kreider/Daily Inter Lake)
by
HILARY MATHESON
Daily Inter Lake
|
January 31, 2021 12:00 AM
Flathead High School's Paityn Reece is the "go-to girl" for support, guidance, friendship and leadership, attributes she built out of hardship, according to Mike Kelly, a career center counselor at the school.
"Paityn has beautifully blended her kind and genuine disposition with assertive and effective leadership skills in order to positively impact her school and community," Kelly wrote in a letter nominating Reece, who was selected as a Today's Achievers, Tomorrow's Leaders honoree.
Reece believes there is strength in kindness when it comes to leadership.
"I feel this world is already so torn apart by so much hatred and just disrespect towards each other and I feel like if our school, or just me, can be respectful and kind to somebody then that makes a huge difference in someone's life," Reece said.
The Today's Achievers, Tomorrow's Leaders program recognizes the academic achievement and community involvement of high school students who contribute to improving the lives of others. The award is sponsored by Kalispell Regional Healthcare in collaboration with the Daily Inter Lake. In addition to the recognition, honorees choose a school club or activity to receive a $250 donation. She plans to donate the money to Braves Mentoring, a program where upperclassmen help freshmen navigate their first year of high school and get involved.
"And maybe those who are struggling — we're able to come alongside them and guide them to find success in their first year," Reece noted, adding, "I feel this program has really grown into something amazing."
BECOMING A confident leader took time, and was not without challenges along the way.
"Paityn's leadership journey isn't without peaks and valleys," Kelly wrote. "One of her biggest challenges was discovering her own self-worth after experiencing difficult family circumstances … ."
These past experiences, however, have shaped her into who she is today.
"Finding her voice and becoming a strong self-advocate are outcomes she has taken great pride in after facing this adversity. She has used her background to connect and relate to others in a very tangible, honest way," he noted.
During high school, Reece has participated in many clubs and activities that have community service components, including the National Honor Society, serving as senior class officer, Leaders of Tomorrow, Interact, She-Ra Book Club, Hedges Elementary after-school tutoring program and Rotary Youth Leadership Academy.
She also has volunteered with the Heart Locker, food bank, Special Olympics and Holiday Fest. In addition, she's competed in volleyball, basketball, cross-country and track and field.
"I feel through all these leadership positions in my high school I've been able to develop self-confidence and learn about the things I can do to help other people get through struggles in their life," Reece said.
DRAWING FROM personal experience may be why Reece's positive influence and empathy for others is far-reaching.
"Paityn's positive influence reaches those who don't necessarily have a particular niche in the school. She tutors students struggling academically, befriends students experiencing a difficult home life, volunteers at the Heart Locker (our resource for homeless students in the district), assists with the Special Olympics Program and more," Kelly wrote in the nomination letter. "Her heart and passion for human service is extraordinary and has garnered admiration from students and staff. Paityn carefully leads by example and values her character above all else. Her compassionate personality drives her to, directly and indirectly, embolden and uplift all students in the Flathead High School family."
Even with the numerous extracurricular activities Reece is involved in, she's maintained a 3.9 grade-point average while taking several International Baccalaureate and honors classes. She said she's been able to accomplish this through a strong work ethic, prioritizing different areas of her life and her mother's encouragement.
"I think the most influential person in my life has been my mom," Reece said. "She just always pushed me to be the best version of myself that I could be, so I think I kind of learned from her — and just self-motivation."
To Reece, a successful leader doesn't work alone.
"I think that part of being a leader is depending on those around you to help you with the things you don't know or aren't sure of. I think that learning from others helps you become the best leader you can be," Reece said.
She also believes that anyone is capable of leading.
"I think everybody has potential to be a leader. I think that if you just are able to develop those traits and qualities of a good leader then you can be one," Reece said.
Reporter Hilary Matheson may be reached at 758-4431 or hmatheson@dailyinterlake.com.
Recent Headlines
---