Reappraisal reality: Flathead property values, taxes going up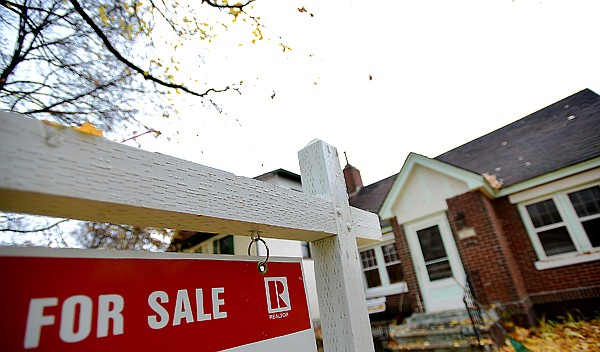 A for-sale sign hangs outside a house in Kalispell in this Nov. 1, 2012, file photo. (Daily Inter Lake)
by
CHAD SOKOL
Daily Inter Lake
|
July 10, 2021 12:00 AM
A Montana housing market often described as a "feeding frenzy" for out-of-state home buyers is driving up prices and appraisals. The surge in demand means homeowners across the state can expect their property tax bills to go up significantly this fall.
The Daily Inter Lake obtained data from the Montana Department of Revenue, which appraises homes across the state every two years based on estimated market values.
The department recently finished its latest round of appraisals, and the data show taxable home values statewide are rising 15.04% on average for the next two-year cycle. That's compared to a 12.51% jump at the start of the last cycle.
In Flathead County, taxable values are going up 16.72% on average compared to 10.69% last cycle. Lake and Lincoln counties will see increases of 14.5% and 13.71%, respectively.
The county experiencing the highest jump in taxable home values — 25.02% — is Madison County, which is just south of Butte and just east of Big Sky and West Yellowstone.
Gallatin County, home to Bozeman, will see taxable values jump 22.22% compared to 23.34% last cycle.
In Missoula County, taxable values will rise 15.43% compared to 11.98% last cycle.
Yellowstone County, home to Billings, and Lewis and Clark County, home to Helena, will see increases of 7.92% and 11.73%, respectively.
Two of Montana's 56 counties will see their taxable home values decrease — Dawson County by 0.42% and Richland County by 1.38%. Both counties are on the state's eastern border.
In a competitive seller's market, homes in many parts of Montana are selling for well above their taxable values and asking prices. That might be partially chalked up to the pandemic "Zoom boom" that allowed high-paid professionals to flee big cities and work remotely in Montana's smaller cities and tourism destination towns.
The Federal Housing Finance Agency recently released a house price index showing a record 15.7% increase in home prices between April 2020 and April 2021. The Mountain region — which includes Montana, Idaho, Wyoming, Nevada, Utah, Colorado, Arizona and New Mexico — experienced the highest rate of appreciation, with home prices jumping 20.6% over the year, the agency found.
Flathead County Treasurer Adele Krantz said tax bills will be sent at the end of October and payments will be due Nov. 30.
There's not a direct correlation between government-appraised values and homeowners' tax bills, as homes in different parts of the county receive different water, sewer, police and fire services, and there are flat fees for services like the county landfill.
Assistant editor Chad Sokol may be reached at 406-758-4439 or csokol@dailyinterlake.com.
---