Lakeside bike park caters to downhill mountain bikers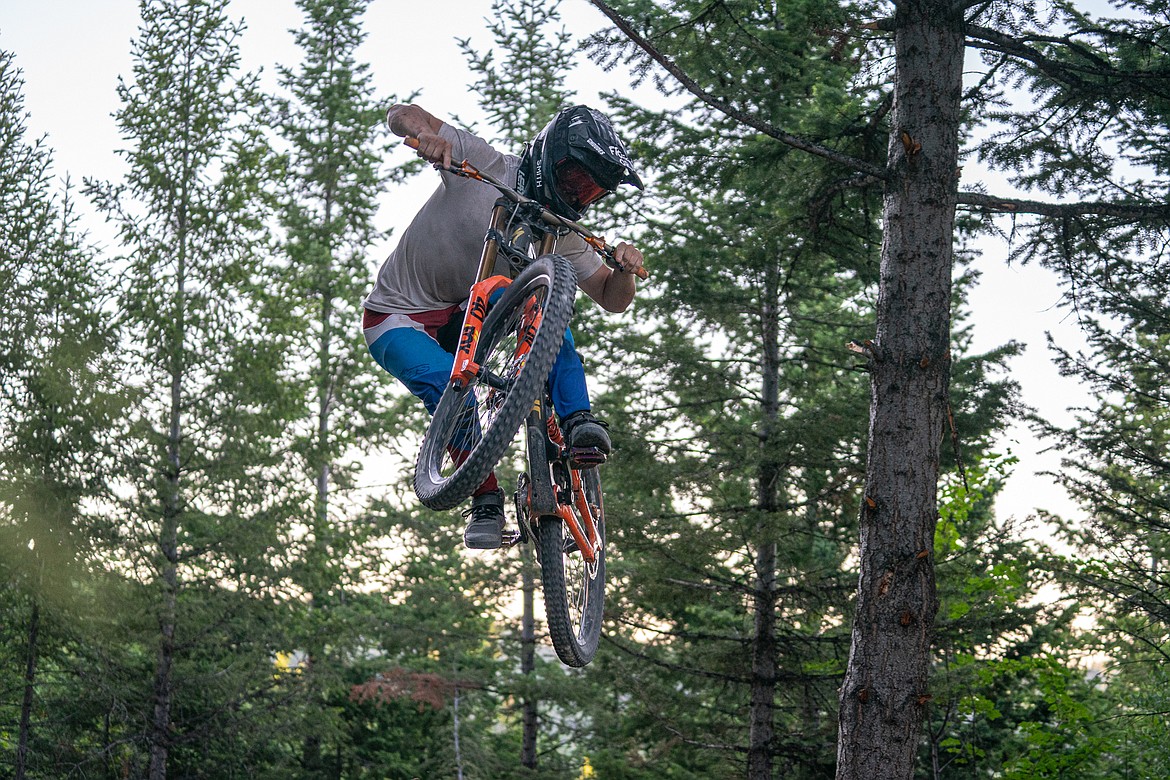 A mountain biker catches air at the new Legacy Bike Park near Lakeside. (Courtesy of Lech Naumovich)
Legacy Bike Park is almost ready to roll in Lakeside. The new downhill mountain biking park will open to its first riders on Thursday.
Legacy Bike Park will be the first of its kind in northwestern Montana. Situated on 175 acres just south of Lakeside, the park features 13 shuttle-served trails built specifically for mountain-biking.
"It's for folks who want to ride down and repeat," said Marty Beale, one of the creators of the park. "We're maxing out the smiles per mile."
The idea came to Beale about a year and a half ago, on his way from Whistler, British Columbia, back to his home in Whitefish where he runs a contracting business, Mindful Designs.
"I was dreaming all the way home," Beale recalled.
There's no shortage of mountain bike trails in the Flathead Valley, or operations specifically focused on mountain biking. The Whitefish Trail, Whitefish Mountain Resort and the Whitefish Bike Retreat all offer a version of what Beale was dreaming about on his journey home from Canada.
But Beale wanted to replicate the large-scale, downhill-focused bike parks he rode north of the border.
He broached the possibility with his partners, Dave Radatti and Jason Pholman, at Mindful Designs.
Then he brought on the other half of the Legacy Bike Park dream team: Linda and Pete Costain of Terraflow Designs.
The Costains work between Whitefish and Big Sky, building state-of-the-art trails that many in the valley have enjoyed countless times. Terraflow's resume includes the Whitefish Trail, the Lodge at Flathead Lake, the Big Sky Resort and the ultra-exclusive Yellowstone Club.
Mountain bike trails are Terraflow's bread and butter, and the Costains said they relished the chance to be a part of Legacy Bike Park.
"It is a dream project," Pete Costain said. Costain and Beale knew each other from years of working together in the Whitefish construction industry.
THE COSTAINS' expertise is on display in the diverse trail system sprawling throughout Legacy Bike Park.
All of the trails — from the pair of green beginner tracks to the most advanced options — are oriented around downhill flow.
"We're just excited about having a place that's 100% focused on the gravity side of riding," Costain said.
Day passes (season passes aren't an option yet) give riders shuttle rides to the top of the trail system from 10 a.m. to 5 p.m. Friday through Monday. Passes can be purchased online ahead of time or from the parking lot at the entrance to the property.
Since bikers can catch a lift uphill on the park's specially made "huck wagons," the trails are built exclusively around the downhill experience.
TRAIL QUALITY is also a high priority at Legacy Bike Park. The trails were intentionally carved into the north side of the hill to keep them cool and damp, and ticket sales are capped at 80 riders per day to avoid overuse.
"That keeps the quality of the experience really high," Beale said.
There's something for just about every kind of rider at the new Lakeside attraction.
"There's a real wide variety to the entire cycling spectrum, and they're all great," Beale said.
There are tricky trails and massive jumps for what Beale calls "the top, top end" bikers, but there are also options for less-experienced riders, like Beale's 8-year-old niece. When the young thrill seeker went for a spin through Legacy's green and blue trails, she reportedly loved feeling like she was cruising on a "giant roller coaster."
"You can get 15- to 20-foot airs, or you can keep your tires on the dirt," Beale said.
However, potential guests with no biking experience are encouraged to take their very first test ride elsewhere before riding at Legacy Bike Park.
The trail variety is part of the partners' vision for creating a biking community, rather than a standalone set of trails.
Legacy Bike Park doubles as a primitive campground with 31 sites, plus simple amenities such as picnic tables, a slack line and a sandbox.
"It's a super fun place to hang out," Pete Costain said.
Legacy doesn't include many luxuries — there's no power or running water — and that's deliberate.
"We encourage people to enjoy Montana," Beale said.
THERE WILL be more to come at Legacy Bike Park in the next few years.
"It's not completely dialed" just yet, Beale said. Next summer, Legacy Bike Park plans to celebrate its true grand opening. By that time, Beale expects the number of trails to nearly double. In fact, he said there's no end in sight to the trail additions his team will build at the park.
"There's so much more to come," he promised.
Even in its infancy, Legacy Bike Park is already attracting attention.
During opening weekend, Transition Bike Co. from Bellingham, Washington, will make Legacy Bike Park the first stop on its tour of must-ride mountain biking locales.
Legacy Bike Park will host a party at the campground and offer a limited number of day passes courtesy of Transition Bike Co. during their visit.
Beale said he's excited for the pros to take a spin on their trails, since it will help get the word out about the "grassroots" effort.
"This is completely Mom and Pop, or Joes and Bros," he said. "It's just a bunch of dirty bikers doing it ourselves."
That's why he and his partners are looking forward to introducing riders of every caliber at Legacy Bike Park.
"We want to share the stoke," Beale said. "That's just our style."
The park's website is legacybikepark.com.
Reporter Bret Anne Serbin may be reached at 406-758-4459 or bserbin@dailyinterlake.com.
Recent Headlines
---