USDA loan program helps Belgrade firm acquire 'Super Scoopers'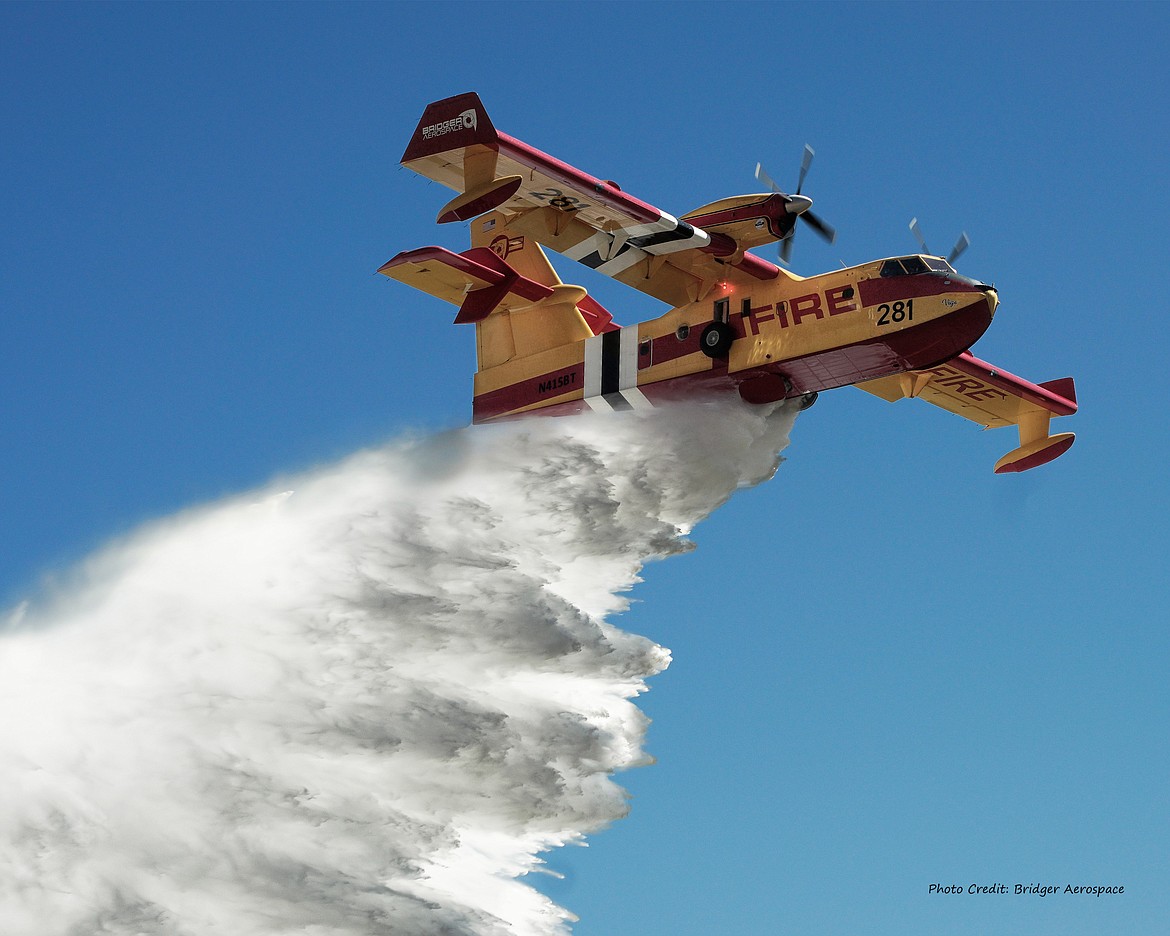 Bridger Aerospace of Belgrade has acquired two new CL-415EAF "Super Scooper" fire suppression airplanes through a U.S. Department of Agriculture loan program. (Courtesy of Bridger Aerospace)
by
Daily Inter Lake
|
July 18, 2021 12:00 AM
Montana's wildfire season came early this year as a result of drier-than-normal and windy conditions. But Bridger Aerospace, a veteran-owned company based in Belgrade, was ready to answer the call with its two new CL-415EAF "Super Scooper" fire suppression aircraft.
Through a U.S. Department of Agriculture Rural Development loan program, Bridger Aerospace was able to complete the purchase of the two planes, which are unique water-scooping aircraft used to assist wildland firefighting through aerial suppression. And, with a vivid red-and-yellow color scheme, the air-based emergency response resources, which are part of Bridger Aerospace's larger fleet, are hard to miss.
"This summer, you will see the Super Scoopers in the skies fighting forest fires with environmentally friendly water for the federal and state governments," said McAndrew Rudisill, the company's chief investment officer.
Bridger Aerospace chose to pursue a USDA loan on the advice of Live Oak Bank, according to a press release. USDA Rural Development has a stated mission of expanding infrastructure and employment in rural Montana, and that aligned with Bridger's business model.
"BA's work fighting forest fires through aerial suppression with the purpose-built CL-415EAF 'Super Scooper' aircraft has created many new high-paying jobs for skilled workers in rural Montana and generated substantial development around the Belgrade community," Rudisill added.
To get to the point of procurement, Bridger Aerospace required long-term financing to match the Super Scooper's 30-year lifespan and the USDA program fit the bill.
"The process of working with the USDA was comprehensive and systematic," Rudisill said. "We appreciated the partnership and experience with Live Oak Bank to help guide us through the USDA process and recommend that any company preparing to apply for a B&I loan with the USDA should be very organized in their approach and be prepared to answer detailed questions about their business model and use of capital proceeds from the loan."
The USDA has available up to $1 billion in loan guarantees to help rural businesses meet their working capital needs during the coronavirus pandemic. The application deadline is Sept. 15 or when funds run out.
---