Kalispell youth soccer player recovering from cardiac event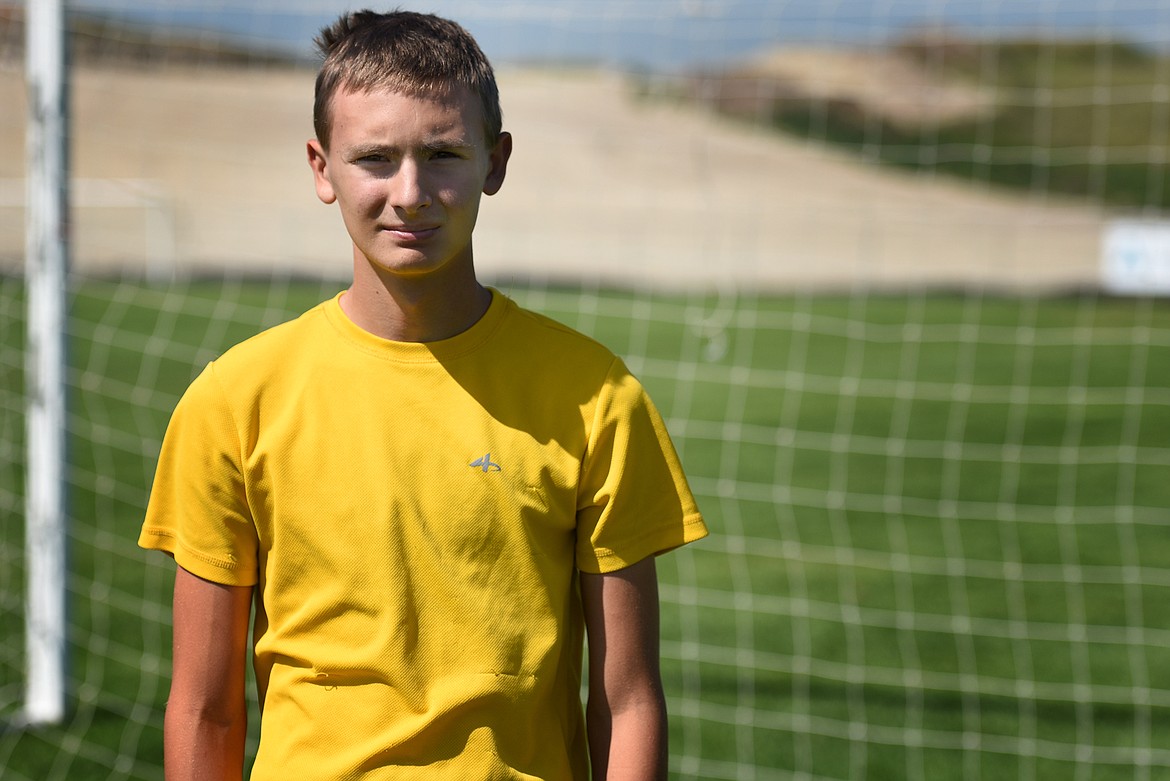 Kalispell's Tucker Paul was competing at the Three Blind Refs soccer tournament on June 6, 2021, when his heart stopped beating. An automatic external defibrillator was used to save the 14-year-old's life. (Jeremy Weber/Daily Inter Lake)
by
JEREMY WEBER
Daily Inter Lake
|
July 21, 2021 12:00 AM
Tucker Paul doesn't remember the moments after his heart stopped beating. Now, he carries a credit-card sized device in his chest that will ensure he never forgets.
The 14-year-old Kalispell soccer player had just scored a goal during his team's early morning game at the Three Blind Refs Tournament in Kalispell June 6 when he suddenly collapsed.
Paul's next memory was waking up in the hospital surrounded by his family, having no idea that a small group of medical professionals and the use of an Automatic External Defibrillator (AED) had saved his life.
Paul's mother, former Kalispell Mayor Tammi Fisher, was sitting on the sidelines with her husband on that cool Sunday morning when she saw a player "go down like a sack of potatoes" near the centerline, but had no idea her son was the one who had collapsed.
"I didn't think it was Tucker at first. There wasn't anything wrong with him. There is never anything wrong with him," she said. "I thought maybe he had been hit in his head, but he hadn't. When I got to his side, he was clearly gone. He was blue, without a pulse and totally lifeless. I couldn't believe what I was seeing."
TRAVIS AND Jaimee Dorvall, both nurses at Logan Health Whitefish, were watching their son play a match on the adjacent field when they heard someone yell that a player was having a seizure.
"We turned around to continue watching our game when we heard someone yell to call 911, so I ran over to see if I could help. When I arrived, Tucker was gray and had no pulse," Jaimee Dorvall said. "My first reaction was to call for Travis, because I know that he knows CPR. Before I knew it, Travis was performing chest compressions."
Logan Health athletic trainers Amy Thoreson and Tracey Houser were at the medical tent a few hundred yards away when the call for help reached them.
Thoreson and the tournament director sped to the field on a golf cart while Houser began jogging the several hundred yards to the scene.
When Thorseon reached the boy's side, she immediately grasped the seriousness of the situation.
"I ran up to Tucker and attempted to take his pulse and could not find one," she said. "He was gasping for breath, so I immediately turned to Tracey and told her to get the AED."
Houser quickly turned around and sprinted back to the medical tent for the device while those gathered around Paul continued administering CPR.
Two shocks from the AED brought Paul's heart back to a normal rhythm, but he remained unconscious as an ambulance transported him to Logan Health Medical Center.
A BATTERY of tests and time have yet to uncover the cause of the acute cardiac event that sent Tucker to the ground that day, but the internal cardiac defibrillator (ICD) inserted under the skin on the left side of his chest sits ready to respond, should his heart stop again.
For Tucker, the event was a surreal experience that found him with no memory between running back from scoring the goal and waking up in the hospital surrounded by his family.
"I just don't remember it at all," he said. "I woke up with them telling me what had happened and I just couldn't believe it."
While he has been cleared to continue playing soccer and other contact sports, he has decided to take a new recreational path.
"My solution is going to be to take up golf or something a little less active than soccer," he said. "I don't want to take that risk with contact sports from now on."
THE USE of the AED to save her son's life was particularly impactful for Fisher, whose Gap Fillers charity has been providing the devices to local schools for several years.
"I had heard of AEDs, but I never really knew what they did until now," she said. "I now know it is critical for all of our schools and coaches to have AEDs and know how to use them for both practice and competition."
Fisher and Gap Fillers announced June 8 the purchase of four AEDs that have been donated to Bigfork High School, where a football player collapsed and later died after the first day of practice in 2007.
In addition, the Logan Health Youth Development Program has approved the purchase of another 20 AED units to be placed in schools and with youth sports programs in the area.
While Fisher says the family may never know what caused her son's heart to stop, she is just glad that the trainers had arranged to borrow an AED from the Summit Medical Fitness Center to have on hand during the soccer tournament.
"It was crazy. There was no obvious cause, like being hit in the chest or anything like that. His EKG was normal when he had his sports physical and it was normal when he got to the hospital. His MRI was normal and they found no heart muscle defects. It wasn't a heart attack. It was just sudden cardiac death with no known cause.It's frightening as a parent," Fisher said. "The lesson for me as a parent is that you have to be sure there is an AED present. You are not always going to be lucky enough to have people around that know CPR. I guess we will never know the cause and we will have to accept that. We may not know why it happened, but we know what the solution is. I just urge parents with active kids to be cautious and know where the nearest AED is during an event."
FOR BOTH Tucker and his mother, life is slowly returning to normal. He is back to his normal routine of waking up early to walk the family dog and occasionally mow the lawn, but the ICD in his chest will serve as a life-long reminder of the day when his heart stopped.
"I don't think I quite understand the gravity and impact of the situation just yet," he admitted. "I woke up having felt no pain at all, so I am just pretty much rolling with it."
Fisher said she checked on her son every 15 minutes after the traumatic event.
"Now, I can go for about an hour," Fisher said. "It gives me peace of mind knowing that with the ICD there is something there to protect him other than a hovering mother."
Reporter Jeremy Weber may be reached at 758-4446 or jweber@dailyinterlake.com.
Recent Headlines
---