Rebecca Farm XC course tricky, but upgraded with safety features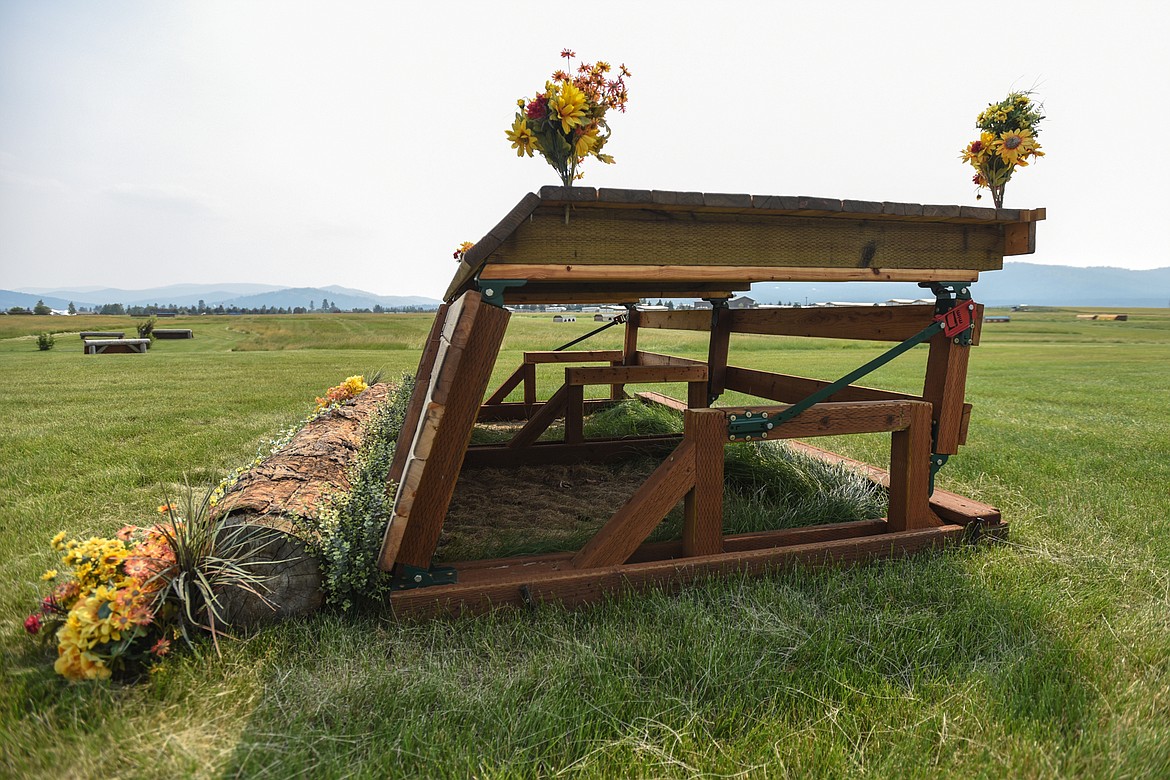 A cross-country course jump at Rebecca Farm with frangible pins, in red at right, that are designed to drop the jump's top element if the fence is hit from above on Thursday, July 15. (Casey Kreider/Daily Inter Lake)
by
KATIE BROWN
Daily Inter Lake
|
July 21, 2021 9:12 PM
Riding a cross country course in the equestrian sport of eventing is all about lines.
The course at Rebecca Farm opened to competitors Wednesday, and riders of various levels took the first of several walks to scope out the obstacles.
Determining the proper approach and landing of each jump is important, especially for jumps set up in a combination. Messing up an approach or not getting the correct number of strides in between obstacles can result in riders incurring time faults, elimination, or worse, serious injury to both horse and rider.
Course designer Ian Stark had all these elements in mind when he first began redesigning the course for the Event at Rebecca Farm in 2012.
New safety features have emerged since then, including something called "frangible" jumps. These jumps, when hit hard enough, have a mechanism made of pins or hinges that break or swing down, which reduces the risk of dangerous horse and rider falls. The United States Eventing Association has been implementing these structures at several venues, including Rebecca Farm, but research on their effectiveness is a work in progress.
Stark agrees that they do work, and notes that horses can clip the jump but are sometimes able to continue the course even if it collapses.
"It would avoid a fall, but they might still keep going," he said.
There is some discussion about whether a penalty should be assessed for a horse and rider pair that causes the jump to fall but is able to go on and finish the course. Stark says riders are more likely to take risks at frangible jumps because they know they are more forgiving. He says he is a proponent of giving the penalty in those cases where riders are clearly taking risks they would not if the jump was fixed in place.
Riders can incur penalties on the course for many things, including falls, going over the optimum time limit (this varies by division) and circling a jump.
The course at Rebecca Farm has several frangible jumps, some with hinges, some with pins. The ones outfitted with pins are corner jumps, where the horse must clear an obstacle outfitted with brush or hedges that is shaped with logs set up like a fence corner. When hit hard enough, the pins shear and the log drops down onto another log on top of the base. Spare pins are kept nearby in the event that this occurs.
This type of construction will change in the future.
"They're now saying that these are good, but not good enough, the front pins," Stark said. "It makes building corners like this quite difficult to do if you can't use front pins."
Stark, a five-time Olympian for Great Britain, has designed four- and five-star courses in the U.S. and internationally and was inducted into the Scottish Sports Hall of Fame in 2011. He's earned acclaim for his course designs and still competes in three-star events occasionally. While he takes his job seriously, he still maintains his sense of humor.
"What I really love to do is frighten the crap out of the riders. And the horse, as long as the horse is understanding my question, they'll try," Stark said. "But if the riders are scared, they ride better … they either ride better or worse."
Three and four-star CCI level cross country begins Saturday with the first riders out of the start box at 9:50 a.m. Upper-level dressage starts today at 8:30 a.m. and cross country at 7:45 a.m. for novice and training level three-day competitors. Novice A-G junior and senior show jumping is set for 8 a.m. today. Admission to the Event is free.
Recent Headlines
---