A change of pace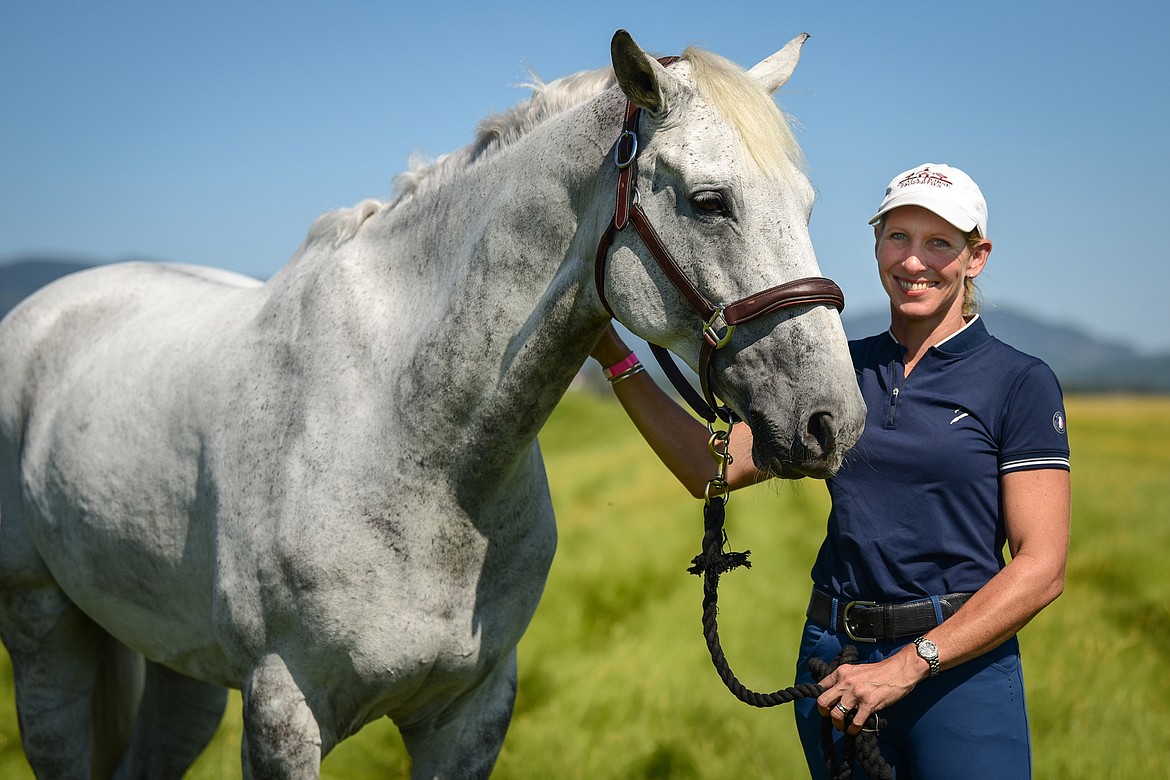 Elisabeth Halliday-Sharp with Cooley Quicksilver, who is owned by the Monster Partnership, during The Event at Rebecca Farm on Thursday, July 22. (Casey Kreider/Daily Inter Lake)
by
KATIE BROWN
Daily Inter Lake
|
July 22, 2021 7:00 PM
As the saying goes, when life hands you lemons, make lemonade.
For Liz Halliday-Sharp, the lemon came when her horse, Deniro Z, suffered an injury a few weeks before the start of the Tokyo Olympics.
"Obviously it was an enormous blow to me and my owners and it was a lot to deal with," Halliday-Sharp said. "And I always try and pull myself back together again. So I sort of thought, 'Well, what else can we do?'"
The answer was to make lemonade out of the situation and take another horse to the Event at Rebecca Farm.
"It kind of gave us all something new to fight for and just kind of a new goal when we needed to get away and do something," she said.
Halliday-Sharp learned she qualified for the Tokyo Olympics after a top 10 finish in CCI5*-L at the Land Rover Kentucky Three-Day Event in May, fulfilling a childhood dream in the process. She is the No. 1 event rider in the United States.
The horse she brought to Montana is called Cooley Quicksilver. He's nicknamed Monster and his ownership group, Monster Partnership, derived its name from that.
Monster is a 10-year-old gray Irish Sporthorse gelding that Halliday-Sharp trained up to the 5-star level. She also competed in Kentucky with Monster. Rebecca Farm is his first outing since that event because he needed rest.
"He's a unique individual," she said. "He's very cheeky. He's quite strange and weird and goofy and wiggly."
The plan is for Monster to go to another 5-star event in Pau, France at the end of the year.
"This is just one step forward, but I think this (Rebecca Farm) will be a really great event back for him and he loves to travel," Halliday-Sharp said. "So this was like totally his jam."
A lifelong equestrian, Halliday-Sharp is also an accomplished race car driver. Though she quit the sport in 2013 to focus on eventing, she distinguished herself in sportscar and GT endurance racing. She competed in races such as the 24 Hours of Les Mans, the American Les Mans series, and the British GT Championship and then worked as a commentator and reporter for various media outlets before retiring from racing for good.
The time was right for Halliday-Sharp to focus on one sport, as she had recently been named to the U.S. Equestrian Federation Eventing High-Performance list and was having trouble finding racing sponsors.
"I thought now is the time that I put my soul into something that really is my passion," she said. "Obviously, I loved motorsport. I was very passionate about that too, but it's sort of you're either on top or you're not."
Halliday-Sharp calls Kentucky and Florida home for parts of the year, but spent nearly 20 years racing and riding in England.
So far she's been enjoying the Montana hospitality and the venue at Rebecca Farm.
"The people are amazing and the venue is just blowing my mind," she said. "And honestly, I think the ground on cross country is the best ground I've ever seen in my life anywhere."
Monster and Halliday-Sharp are set to go for dressage today at 2:20 p.m. Though she considers that her best event, nothing beats the adrenaline rush of the cross country phase.
"I think you don't stay eventing if you don't like cross country," said Halliday-Sharp. "Of course we enjoy that and there's a thrill involved there that you don't find from many other things."
Recent Headlines
---