DREAM Adaptive summer program makes splash with participants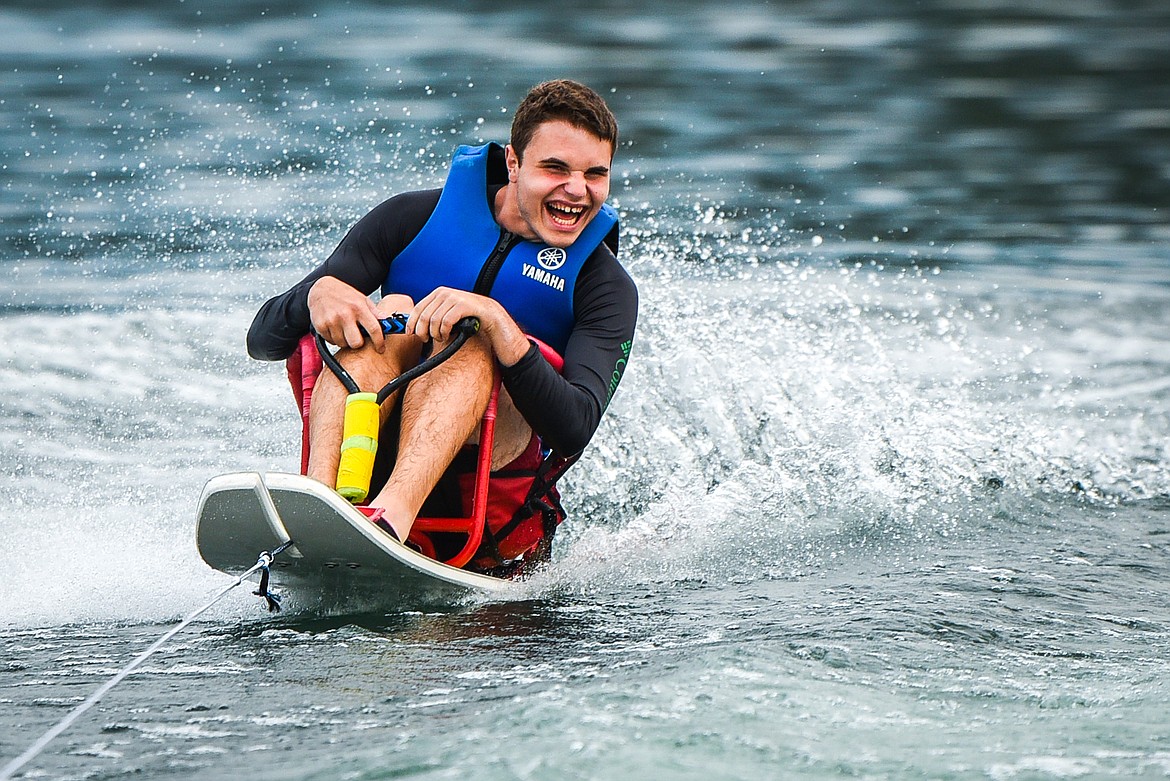 Kjell Sandler, of Kalispell, enjoys a ride around Echo Lake on a sit-down water ski during DREAM Adaptive's Water Sports Program on Tuesday, July 20. (Casey Kreider/Daily Inter Lake)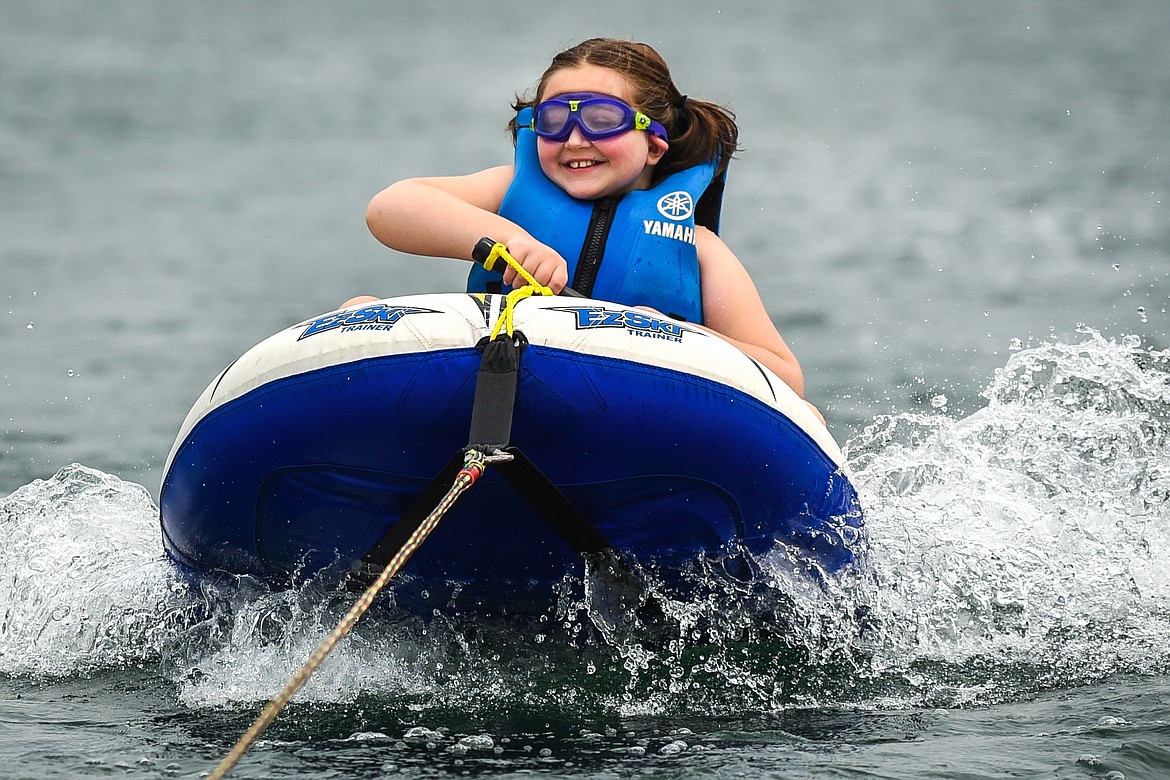 Gracie Jones, of Kalispell, flashes a smile as she rides an inflatable EZ-Ski around Echo Lake during DREAM Adaptive's Water Sports Program on Tuesday, July 20. (Casey Kreider/Daily Inter Lake)
Previous
Next
by
SCOTT SHINDLEDECKER
Daily Inter Lake
|
July 23, 2021 12:00 AM
Many years ago, DREAM Adaptive board member Jerry Mahugh was working as a volunteer at one of the organization's winter ski events when he wondered if similar events could be held during the summer.
Mahugh's thought was the genesis for the expansion of the group's many outdoors activities catering to people with disabilities in Northwest Montana.
Mahugh's dad and Mike Thompson's grandfather had been friends for several decades. His parents had a cabin on Echo Lake while Thompson and his wife, Julie, live on the lake located between Creston and Bigfork.
"Jerry called me and said 'Your place would be perfect to host adaptive events.' So we decided to do it," Thompson said Tuesday during DREAM'S 13th annual summer waterfest.
It didn't happen overnight. There was fundraising to do, planning and logistics.
"We started buying equipment and here we are," Mahugh said.
He was correct in his assertion that the Thompson property is perfect for hosting such an event. There is plenty of space for outdoor grilling, a set of steps down to the water and docks where participants can climb aboard tubes, boats or adaptive water skis.
DREAM Adaptive's summer events program began Tuesday and will conclude Friday with a day's worth of water skiing, tubing and boat rides for disabled service veterans.
"We have many to thank for the event taking place, but the Thompsons have been nothing but gracious hosts and let us take over their property to do this," said Julie Tickle, DREAM Adaptive executive director.
Tickle, who has run the DREAM program since 2018, said funding comes from Weyerhaeuser and Move United's Warfighters grant, as well as many other donors.
"These events are critical for learning different skills such as socializing," Tickle said. "People with disabilities were even more isolated during COVID, so getting back to this was really important this year."
THE AIR was filled with squeals and howls of delight as one group after another embarked on a tube ride.
Happiness was evident among the participants and volunteers.
Alison Bowers enjoyed tubing and standup paddleboarding Tuesday. She and her family lived in Bozeman before recently moving to Kalispell to be closer to family.
"I skied at Eagle Mount and that's where I learned about DREAM," Bowers said. "Being involved with DREAM is amazing and I feel very grateful. I like meeting new people and staying busy and this is a great way to do it."
Kalispell residents Cheryl and Brian Luke have been volunteering at DREAM events for seven years.
"My wife (Cheryl) is from here and after we retired, we moved back here," Luke said. "It's a lot of fun helping people and seeing smiles on their faces while they do things they couldn't otherwise do."
Luke and other water-sports experts made sure everyone wore a personal flotation device and explained how each sport worked and how to do it safely.
Dave Sandler, of Kalispell, and his 18-year-old son, Kjell, are longtime DREAM participants and advocates. Dave is also a DREAM board member.
"Kjell was 5 when my wife heard about DREAM and we were skiers, so we got involved," Dave said. "Jerry was running the ski program and his son, Jesse, took Kjell skiing.
"He loved it and it's given him a sense of independence to ski without us," Dave said. "He has fun while developing friendships and building relationships which is so important."
Sandler said DREAM events also have helped Kjell with social skills.
"He works at Buffalo Hill Golf Course and it's important to know what you can and can't talk about at work," Dave said. "These programs have helped so many people over the years."
DREAM participants came from as far as Ronan, but Tickle said they have people come from all over the country.
"We have some visitors plan their vacations here around our events, so that's pretty cool," Tickle said.
DREAM events are set up to host about 25 people each day and their families are also welcome to attend and participate. Tickle said about 20 to 25 volunteers work, but she's hoping for more growth in all their programs.
"There is always a need for more volunteers," Tickle said. "We have six unique days for military veterans and we're hoping to raise more money so we can do more here and even expand it to people all over Montana."
DREAM Adaptive events are open to persons ages 5 and older with permanent disabilities.
For more information on DREAM Adaptive, go to dreamadaptive.org. or call 406-862-1817.
Reporter Scott Shindledecker may be reached at 406-758-4441 or sshindledecker@dailyinterlake.com.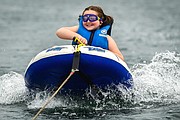 ---