Flathead COVID cases, hospitalizations surge amid low vaccine rate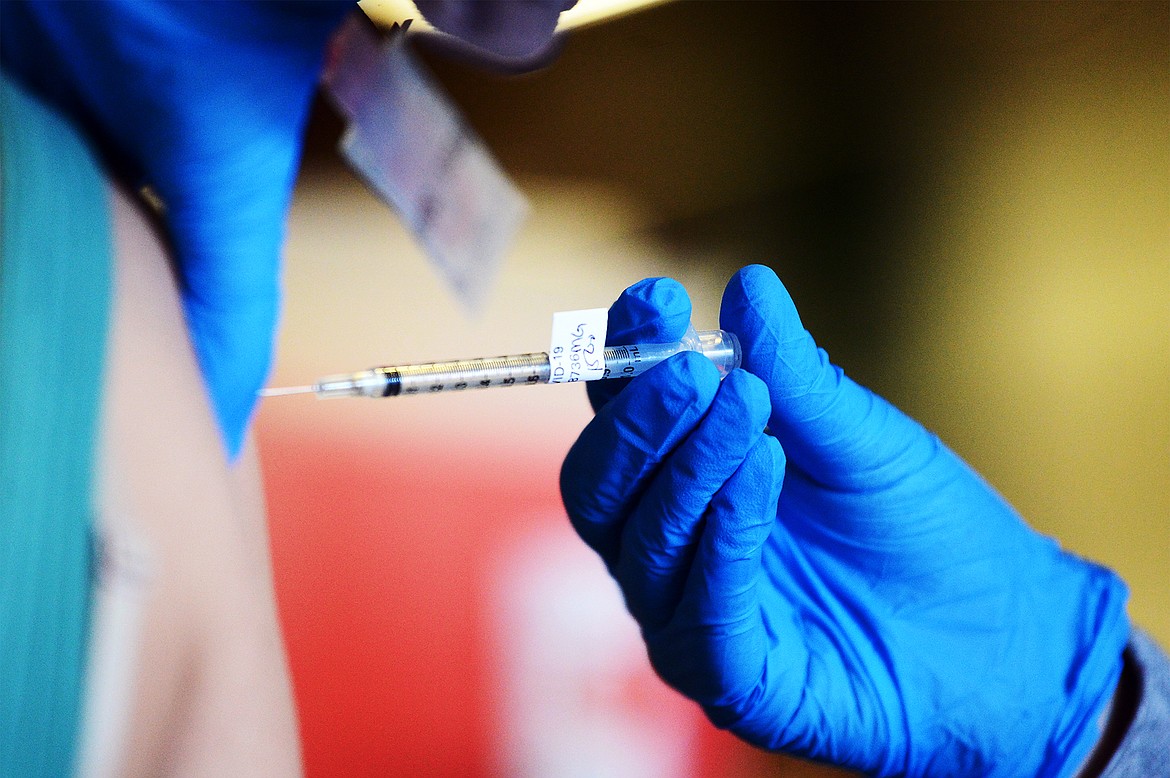 A second dose of the Pfizer Covid-19 vaccine is administered during the last vaccination clinic at the Flathead County Fairgrounds in this June 22, 2021, file photo. (Casey Kreider/Daily Inter Lake)
by
KIANNA GARDNER
Daily Inter Lake
|
July 23, 2021 12:00 AM
Flathead County has become Montana's COVID-19 hot spot in recent weeks, with the area now reporting roughly 30% of the state's active caseload.
Public health experts attribute the surge to low vaccination rates and the presence of a new, more infectious strain of the virus.
State data shows Montana currently has nearly 700 active COVID-19 cases, with Flathead County accounting for 210 of those cases. The area with the second highest case count is Yellowstone County, where there are 106 active cases.
Joe Russell, health officer for the Flathead City-County Health Department, said the valley has witnessed a steady uptick in cases and hospitalizations for the past few weeks. Logan Health spokeswoman Mellody Sharpton said 14 people currently are hospitalized for COVID-19-related issues; that number has fluctuated from 10 to 14 over the past week.
Russell explained that many individuals are testing positive for the Delta variant, a strain the Centers for Disease Control and Prevention say first emerged in populous India and is more transmissible than other previous variants. Health leaders announced Tuesday that the Delta variant now accounts for 83% of new coronavirus cases, and is moving swiftly through the nation's unvaccinated population.
IN FLATHEAD County, nearly 89,000 people are eligible to receive the vaccine, but only 38% are fully immunized. By comparison, state data shows Yellowstone County has vaccinated 46% of its eligible population, Gallatin County has vaccinated 55%, Missoula County is at 60% and Cascade County is at 43%.
"There is no question that the Delta variant is circulating in our community, and yes, I'm very concerned about it," Russell said. "We are on the cusp of being back where we were last year with this virus. That's how contagious it can be."
Russell emphasized that individuals who are fully vaccinated stand a good chance against the strain, according to current research. And in the off-chance they do catch the new variant, symptoms should be fairly mild.
Since Flathead County's vaccination efforts began in December 2020, Russell said the health department has recorded only 43 "break-through" instances. In other words, those individuals were all deemed fully vaccinated at the time they tested positive for COVID-19.
All told, that means less than .002% of Flathead County's vaccinated population have contracted the virus after being immunized — a statistic Russell hopes will restore peoples' faith in the overall efficacy of the vaccines and prompt more people to get their shots.
"Whoever is vaccinated right now, research shows they have a very good chance of being protected against this strain," Russell said. "We are seeing good alignment in terms of these vaccines doing what they're supposed to do."
PERSUADING UNVACCINATED individuals to get vaccinated is one of the biggest obstacles Flathead County faces in terms of keeping its caseload under control. But there are numerous factors working against the health department's ability to inch closer to herd immunity, which experts say is typically reached when 70% of a population is vaccinated.
As one example, Russell acknowledged that the valley is home to a large population of Republicans, many of whom he said tend to be more vaccine-hesitant. The idea that there is a political divide when it comes to vaccination rates has been the subject of numerous studies and surveys, including ones conducted by Pew Trust, Harvard University and the Kaiser Family Foundation.
When observing Flathead County specifically, the Montana Secretary of State's Office shows about 34% of the electorate body voted for President Joe Biden in 2020 — a figure that's not too far off from the county's 38% vaccination rate, suggesting those who vote Democrat are more likely to be vaccinated. As one other example, 61% of Missoula County's electorate body voted for Biden, which is only 1% off from its current 60% vaccination rate.
"I think it's well-known that conservative areas have lower rates," Russell said. "We've been put in a very difficult place and I am a firm believer that literally we have the best tools and system available to keep this transmission low, but people still won't get vaccinated."
Politics aside, Russell also said the valley will face challenges in the coming months as people partake in large summer events and gatherings.
For example, the health department already has determined that a handful of new cases likely stemmed from the Under the Big Sky Festival that unfolded last weekend. Russell anticipates Flathead County will experience a sizable spike from the three-day music event, which drew approximately 20,000 people to Whitefish.
"Months ago when our cases were down and someone asked me what would drive them up again, I said then that it would be event-driven," Russell said. "Large gatherings will influence these numbers and it's unvaccinated people that will be predominantly affected."
All Montanans ages 12 and older are eligible to receive COVID-19 vaccine appointments. Those interested in being vaccinated can submit a request form on the Flathead City-County Health Department's website (flatheadhealth.org) and a staff member will contact you to schedule an appointment. The health department's COVID-19 call line may also be reached at 406-751-8119.
Reporter Kianna Gardner may be reached at kgardner@dailyinterlake.com.
Recent Headlines
---