Mustangs making their mark in the eventing world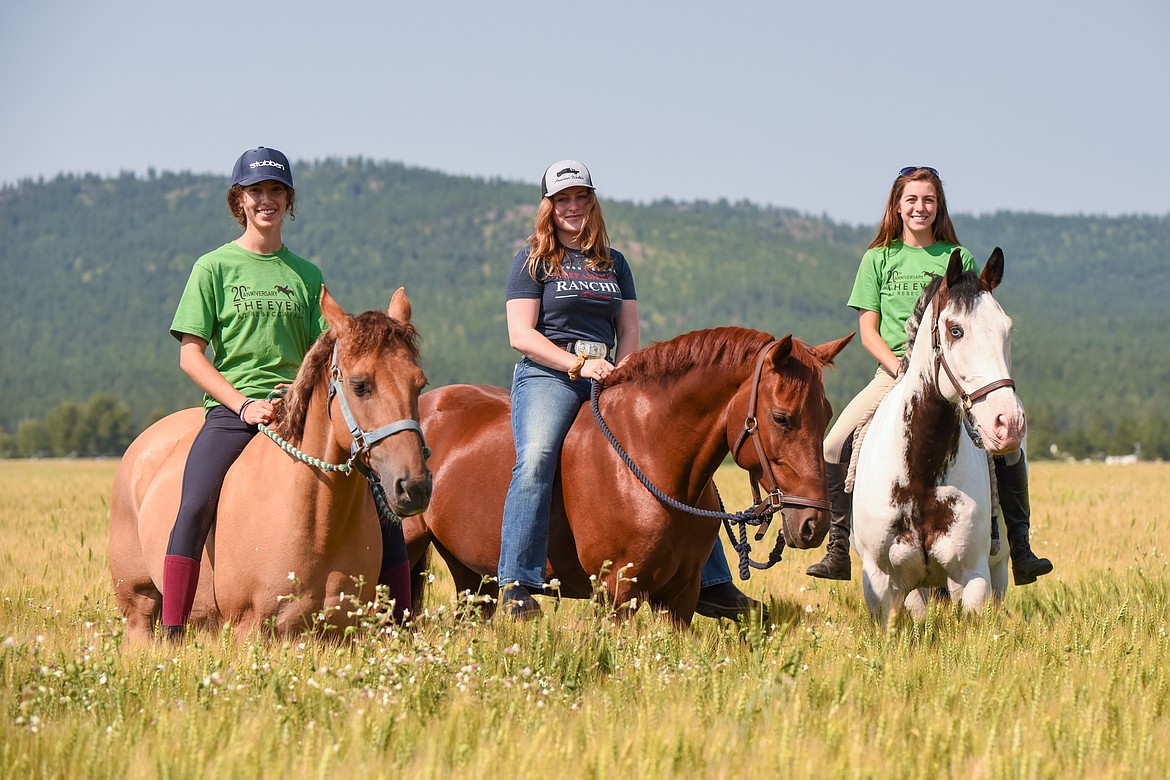 Three of the four Mustang horses entered at the Event at Rebecca Farm pictured on Saturday, from left: Noga Navot and Willow; Maggie Roth and Starlight; and Courtney Cemulini and Davy Crockett. (Kristen Binder/Kristen Binder Photography)
by
KATIE BROWN
Daily Inter Lake
|
July 24, 2021 9:19 PM
Mustangs are the type of horses typically associated with the Old West and western riding disciplines.
But these horses, some formerly wild, are making a splash in the eventing world. Four Mustangs were entered at The Event at Rebecca Farm — a relatively high number considering how rare it is to see them competing in the sport.
Maggie Roth and her horse, Wish Upon a Star, or Starlight, placed second in Senior Open Novice B and have a fascinating origin story.
The two were placed together as part of a program that paired young riders with yearling or 2-year-old Mustangs to train for 90 days. Roth was 9 and the youngest participant in the contest. She placed third and decided to keep Starlight instead of adopting her out to someone else at the end of it.
"It was totally by chance," Peggy Roth, Maggie's mother said. "But we said since they both had red hair, it was going to be a good match."
The two started competing in eventing a few years later. Now 11, Starlight is a 15.3-hand chestnut mare.
"She absolutely loves cross country," Roth said. "She is so excited for it."
Starlight is freeze-branded, which is a method used by the Bureau of Land Management to identify wild horses and burros. The numbers correspond to a specific herd, others are for the estimated birth date and an identification number for that horse.
The descendants of Spanish horses brought to North America in the 1500s, Mustangs roam wild across public lands across the country. The BLM manages the preservation of these horses and facilitates adoption to control herd sizes, but some still end up destined for slaughter despite these efforts.
Preservation is how Davy Crockett came into Courtney Cemulini's life. Davy's owner, Anna Cummings, rescued his mother, who was pregnant at the time, from a slaughter pen. He was born soon after that and was eventually broken to saddle by a cowboy, who used him as a hunting horse.
Cemulini has only been riding Davy for six months, and that's also about how long the horse has been doing eventing.
"Davy marches to the tune of his own drum," Cemulini said. "He is so laid back."
It turns out that all that experience in the backcountry comes in handy for an eventing horse.
"He's been so good," Cemulini said. "Nothing really fazes him. He went out like a champion, went over everything. And I'm so blown away because he's been under saddle English for six months."
Looking at the 6-year-old gelding, who stands 16 hands tall and has striking blue eyes and splashes of brown and white on his coat, you might not peg him for a Mustang. He doesn't have a freeze brand since he was born after his mother was bought by Cummings.
Mustangs come in all shapes and sizes depending on the herd they were culled from, because of interbreeding that's occurred throughout the years.
Noga Navot's mount, Willow, is a Mustang pony cross that was supposed to be a Western gaming horse — think pole bending, barrel racing, etc.
"(She) hated it," Navot said. "Like she did not want to do it."
The cowboy who was training Willow brought her to the barn where Navot rode and started training her over jumps.
"She jumped everything from day one and just really fell into it," Navot said. "And then I ended up competing with her at a few local schooling shows and I really bonded with her a lot."
Navot bought Willow soon after. They ended up 10th in their division at Rebecca Farm, Junior Open Novice A.
Willow is 14.1 hands high, a pony. But her size doesn't hold her back from higher jumps.
"The bigger we go, the more she wants to do it," Navot said. "She just loves jumping so much."
Peggy Roth noted that though the Mustang community in eventing is small, they are dedicated and eager to prove themselves as competitors in the sport. Many horses in the eventing world bear heavy price tags, but not everyone has those resources.
"It doesn't mean they have to become three-star horses," she said. "But they can be really happy, content, successful at whatever level their comfort zone is. And I think that's what's so important."
Some question the abilities of Mustangs to excel in disciplines other than the normally associated ones, but people like the Roths, Navot, and Cemulini are working hard to prove that Mustangs can hold their own in any arena.
"They question whether or not Mustangs have the confirmation and build and stamina to handle eventing and all three phases, especially for dressage," Peggy Roth said. "I think it's just awesome to see that many Mustangs that are here, recognizing that in the sport of eventing, they can handle all three phases with agility and also with stamina and also with the grace in the dressage field."
Instincts that serve Mustangs well in the wild can also translate to eventing, such as a heightened sense of their surroundings. And they are tough, too. Peggy said she has noticed that a Mustang's survival instinct kicks in during a tough situation and allows them to push through spots where other horses might shy away.
It's a long journey from BLM pen to show ring, but Peggy Roth said it's worth all the hard work.
"The great thing is you're rescuing a horse and allowing them to do something that they love," she said. "Just like any horse, you have to work with them and have the patience and believe in them and then be able to just celebrate when you see that kind of success."
---