New pickleball center draws big crowd for opening tourney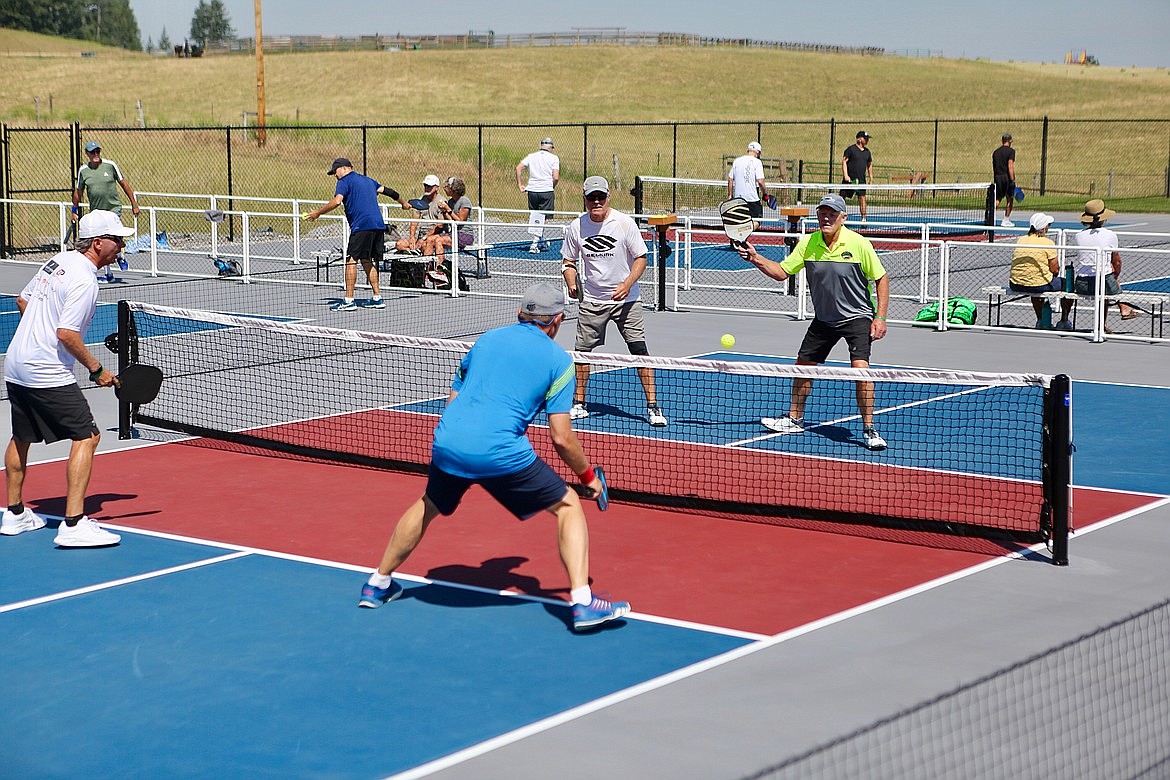 Pickleball players face off on the outdoor courts at the Jewel Basin Center in Bigfork during the recent Crown of the Continent Pickleball Tournament. (Mackenzie Reiss/Daily Inter Lake)
by
MACKENZIE REISS
Daily Inter Lake
|
July 24, 2021 12:00 AM
The newly opened Jewel Basin Center in Bigfork welcomed hundreds of pickleball players for the 2021 Crown of the Continent Tournament last weekend.
The USA Pickleball sanctioned event was exclusively for the 50-plus crowd and drew 243 players from two countries and more than a dozen states for three days of competitive action.
"This is our first big event," tournament director Diana Graham said. "We've only been open three weeks, so we're really excited."
Every single court was hopping with activity on the opening day of the tournament, Friday, July 16. Referees oversaw a medal match on the indoor courts, while pairs of players touched paddles over the net before facing off outside. While several high-skill players were present — those rated 4.0 or more on a scale up to 5.5+ — the atmosphere was decidedly social. Competitors were playing for the joy of it, with winning being the cherry on top.
Bob Romagosa, a 4.0 player from Denton, Texas, travels all over the country playing pickleball with his wife. Two years ago, before the pandemic hit, he played in 35 tournaments in 22 states.
"We've played in 150 tournaments, my wife and I, and I would put this one in my top 10," Romagosa said. "It's been great, and we'll probably be back next year."
What put the Crown of the Continent Tournament above the rest was the location, closely adjacent to Glacier National Park, and friendly people in the area, he noted.
Around midday Friday, Romagosa was preparing to battle it out against a slightly higher-level team.
"We're playing a team that has a 4.5 player, so they're much better than us, but we'll see what happens," he said. "We're going to play the backhand of the strongest player to try and keep him away from the net — when he gets to the net, he can handle everything so if we keep him back, we've got a better chance."
While some players strategized in between matches, some competitors and their family members took in the competition from an elevated patio or on chairs or blankets spread out on a grassy area alongside the courts.
"I think the highlight is bringing all these people to the Flathead Valley," Graham said. Many of the players center their travels around pickleball — whether that be tournament play or simply exploring new venues.
Tom Rea of Kalispell began playing pickleball in St. George, Utah, and continued honing his skills after relocating to Montana.
"Everywhere you go, there's lots of pickleball," Rea said.
As for his strategy?
"Just have fun — if you win, it's a bonus."
It's a sentiment that was shared among many players on the courts.
"Right now it's going well. I can't keep a smile off my face," said Patti Lafferty of Two Rivers Pickleball Club.
She said that while they hope to host the tournament annually, the event wasn't without its challenges. Finding places to stay for visiting players proved difficult, with many hotels and vacation rentals already booked due to the exceptionally busy summer season. A number of pickleball pros were paired with local host families for the duration of the tournament, Lafferty noted.
But most importantly, even with the smokey conditions, the players were enjoying the sport and all the facility had to offer. "Everybody is having fun," Lafferty said. "It's a dream come true."
Recent Headlines
---