County sees emerging crisis with addictive painkiller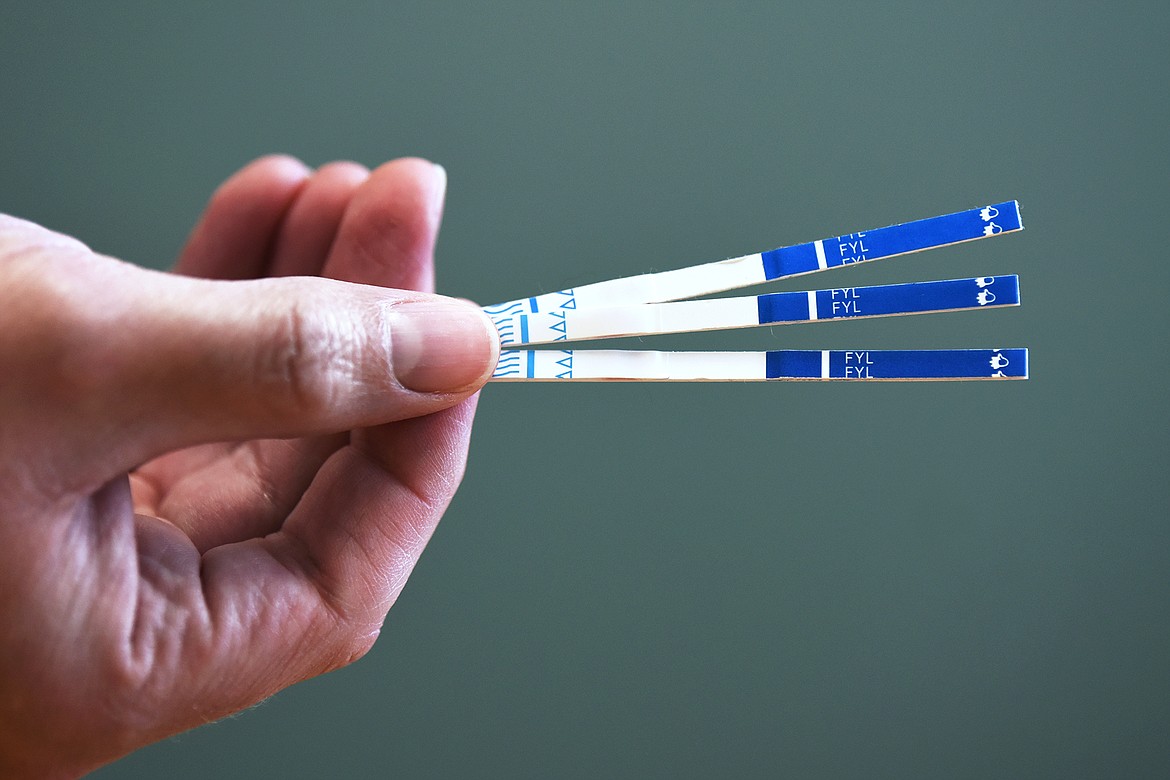 Rapid Response fentanyl test strips are shown at the Flathead City-County Health Department in Kalispell on Wednesday, July 21, 2021. (Casey Kreider/Daily Inter Lake)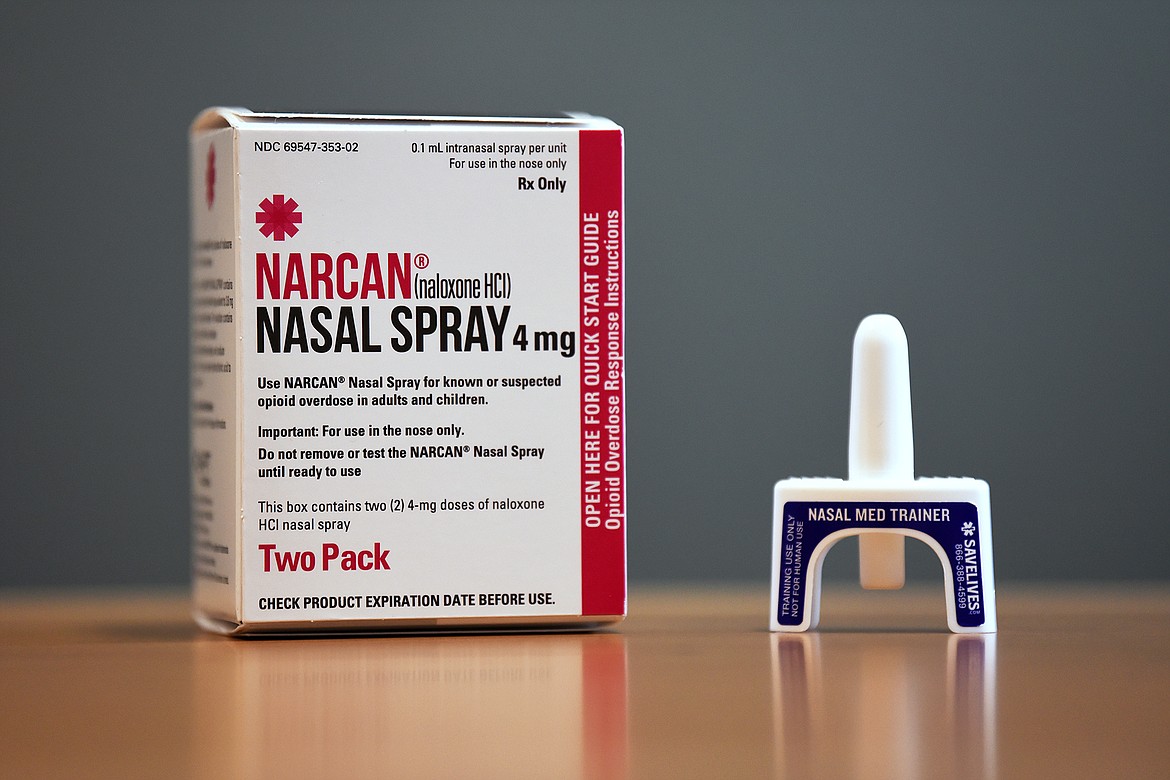 A Narcan nasal spray kit and a nasal med trainer are seen at the Flathead City-County Health Department in Kalispell on Wednesday, July 21, 2021. (Casey Kreider/Daily Inter Lake)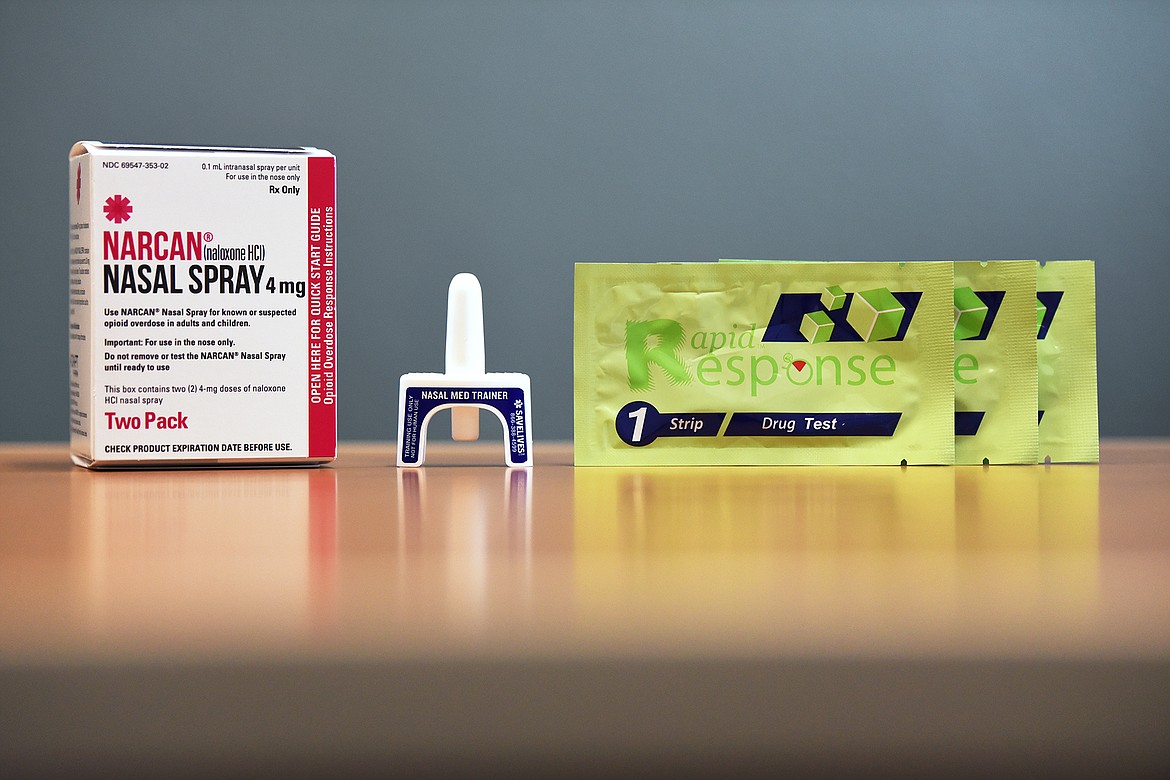 A Narcan nasal spray kit, a nasal med trainer and Rapid Response fentanyl test strips are shown at the Flathead City-County Health Department in Kalispell on Wednesday, July 21, 2021. (Casey Kreider/Daily Inter Lake)
Previous
Next
by
KIANNA GARDNER
Daily Inter Lake
|
July 25, 2021 12:00 AM
Flathead County experts say illegally manufactured fentanyl is now prevalent throughout the greater valley, and that issues associated with the highly addictive painkiller may prove to be the most challenging leg yet in Montana's battle against the ongoing opioid epidemic.
Fentanyl is a synthetic opioid that, according to the United States Drug Enforcement Administration, is up to 100 times stronger than morphine. Although pharmaceutical fentanyl has been used for decades to treat severe pain — typically advanced cancer pain — illicit forms of the opioid are being distributed through drug markets in mass quantities.
According to the Centers for Disease Control and Prevention (CDC), it is often mixed with heroin, cocaine, methamphetamine, and other drugs as a "combination product" to increase the euphoric effects of drugs. This is typically done without the user's knowledge, which increases the likelihood of an overdose given fentanyl's high degree of potency.
"Within the last few years illicit drug manufacturers have figured out that it's cheaper and easier for them to manufacture and distribute fentanyl than it is, say, heroin. So they are either combining fentanyl with the other less potent drugs, or in some cases fentanyl has replaced them all together," said Dr. Robert Sherrick, chief medical officer at Community Medical Services in Kalispell. "A very small amount of fentanyl is all that is required to get your dose and people are going over that limit more often."
Experts like Sherrick, who has worked in addiction medicine since the early 1990s, said illegal fentanyl is most likely one of the reasons the country is experiencing a significant increase in both intentional and unintentional overdoses.
Flathead City-County Health Department HIV Prevention Specialist Shawna Himsl agrees, and said clients who utilize the county's Syringe Exchange Program, which is essentially a wrap-around service for those who use injectable drugs, are reporting overdoses at alarming rates.
FROM MARCH 2020, when COVID-19 began, through December 2020, Himsl saw 324 total visitations from program participants — a figure that includes people who came in more than once. But in the first seven months of 2021 alone, her office has already seen 302 visits.
In addition, 109 individual clients have reported this year that either themselves, or someone they know, overdosed at least once within the six months leading up to their visit. There are several individuals who have overdosed at least twice this month alone.
As part of her program, Himsl provides participants with various objects free-of-charge, including clean syringes, fentanyl testing strips and an opioid emergency kit in the event they might overdose. The program aims to, among other things, prevent intravenous drug users from sharing needles and provide a clearer picture of what sort of substances might be in the drugs they are using.
So far this year, Himsl has also given out more than 1,000 fentanyl testing strips, which detect the presence of the painkiller, but are unable to quantify how much might be in any given drug or substance. Himsl said program participants, who she speaks with anonymously for data gathering and other reasons, are finding fentanyl in just about everything.

"They're discovering it in marijuana, cocaine, meth, heroin, you name it, and because it's so much stronger than other drugs they may be used to taking, they don't know how to dose accordingly," Himsl said. "This has pretty much gotten to a point where people are anticipating an overdose when they use."
FLATHEAD COUNTY'S emerging fentanyl crisis is not unique by any means, and if anything, experts say Montana is late to the game.
According to Sherrick, who also works for Logan Health Behavioral Health, the East Coast and other parts of the country already have spent years trying to quell rising rates of synthetic opioid-related overdoses — an event the CDC has said is being influenced by fentanyl.
In one report, the organization said synthetic opioid-involved death rates increased by over 15% from 2018 to 2019, and accounted for nearly 73% of all opioid-related deaths in 2019. The rate of overdose deaths involving synthetic opioids were more than 11 times higher in 2019 than in 2013.
According to the study, "...reports indicate that increases in synthetic opioid-involved deaths are being driven by increases in fentanyl-involved overdose deaths, and the source of the fentanyl is more likely to be illicitly manufactured than pharmaceutical."
In that particular report, Montana, Wyoming, the Dakotas and a handful of other states were considered by the organization to have experienced little change in synthetic-related opioid deaths from 2016 to 2019.
But according to Sherrick, Himsl and others, 2019 is the year fentanyl started really inundating the local drug market.
"Montana has a tendency to be behind the curve on some of these trends, in part because we are so rural and it takes these drugs longer to be distributed around. But it certainly has come up as a more major issue in the last few years and it will continue to become a big problem," said Sherrick who combines counseling with medication-assisted treatments, including methadone and suboxone, to help patients with their opioid addictions. "This is very serious. A fentanyl addiction is harder to treat than a heroin addiction even. It's been a major escalation from the opioid epidemic we've all known for some time now."
Flathead County Sheriff Brian Heino noted it was about one year ago when his office seized its first major collection of pills containing fentanyl. Since then, there have been several other incidents.
Heino said his office is primarily finding the opioid in meth, heroine and pressed pills, and considers fentanyl to be a more serious issue than other opioids given its addictive qualities and its ties to increasing overdose rates.
"As with any trend that has such a high risk to public safety, meaning the death of the user of course, it is the most concerning and a primary concern for our community," Heino said.
MONTANA'S CURRENT battle with drug overdoses was partially captured in a separate report from the CDC released earlier this month. The study focused on total drug overdose deaths, not just those specific to fentanyl, noting it was difficult to discern which deaths could be attributed to one specific drug since many incidents involved multiple substances.
Regardless, the report shows from December 2019 to December 2020, the nation's drug overdose deaths soared 30%. And in Montana specifically, that increase was nearly 13%, with the state reporting 139 overdose deaths in 2019 and 157 in 2020, though the CDC labeled that figure as "underreported due to incomplete data."
Flathead County's numbers are pacing with those statewide overdose trends as well.
According to data provided by Logan Health representatives, the hospital saw 49 overdose patients in 2019 and 55 in 2020 for a year-over-year increase of roughly 11%. Those numbers include unintentional and intentional overdoses, and also include all drug-related overdoses, not just fentanyl, though Sherrick said he has "complete confidence" that the painkiller contributed to the increase.
In its report, the CDC also points to the COVID-19 pandemic as a reason for the startling jump in nationwide overdoses. When health-care entities closed their doors to most in-person visitation, treatment facilities for substance-use disorders were included in that mix. Add to those shutdowns a significant increase in day-to-day stress and depression and Sherrick said the pandemic created the "perfect storm" for those battling alcohol and drug addictions.
ALTHOUGH THE crisis may have taken off during the start of the pandemic in 2020, there is evidence that fentanyl-related problems are only worsening heading into 2021.
In late June, state officials announced that the Montana Department of Justice's State Crime Lab reported 41 fentanyl-related deaths in 2020, up from 19 in 2019. And from January through May of this year, that death toll had already reached 22, including 11 statewide in April alone.
In a prepared statement, Gov. Greg Gianforte said "This trend is extremely concerning and adds to the already existing deadly and costly impact illegal drugs have in Montana communities."
The notice also said Attorney General Austin Knudsen and the Department of Justice will continue to work with local law enforcement and other states to "investigate the situation."
Agency officials' knowledge of the current situation align with that of local experts, who say fentanyl is being sold essentially as a substitute for heroin meant for injection, or in the form of counterfeit pills. In a prepared statement, Knudsen emphasized the need for tighter border security as one possible solution to the problem.
"This is an ongoing investigation, but we know that counterfeit pills laced with fentanyl are manufactured overseas and smuggled across the border before coming to Montana. The federal government must secure the border and stop the flow of drugs into our country," he said.
In terms of other possible solutions, Heino said he believes prosecution of those who sell, transport and produce the fentanyl is an important factor in addressing the issue. He also mentioned the importance of education and public awareness, as did Himsl.
Sherrick believes the biggest problem is the stigma surrounding substance-use disorders.
"A lot of people will look at someone struggling with an opioid or drug abuse problem and think 'that person just doesn't have the willpower to say no,' and unfortunately that shows a very deep misunderstanding of the concept of addiction," Sherrick said. "Those struggling with addiction need a lot of support."
Reporter Kianna Gardner may be reached at kgardner@dailyinterlake.com.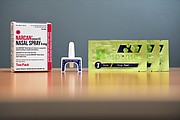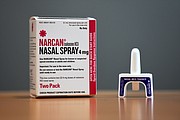 Recent Headlines
---