Extending border closure defies logic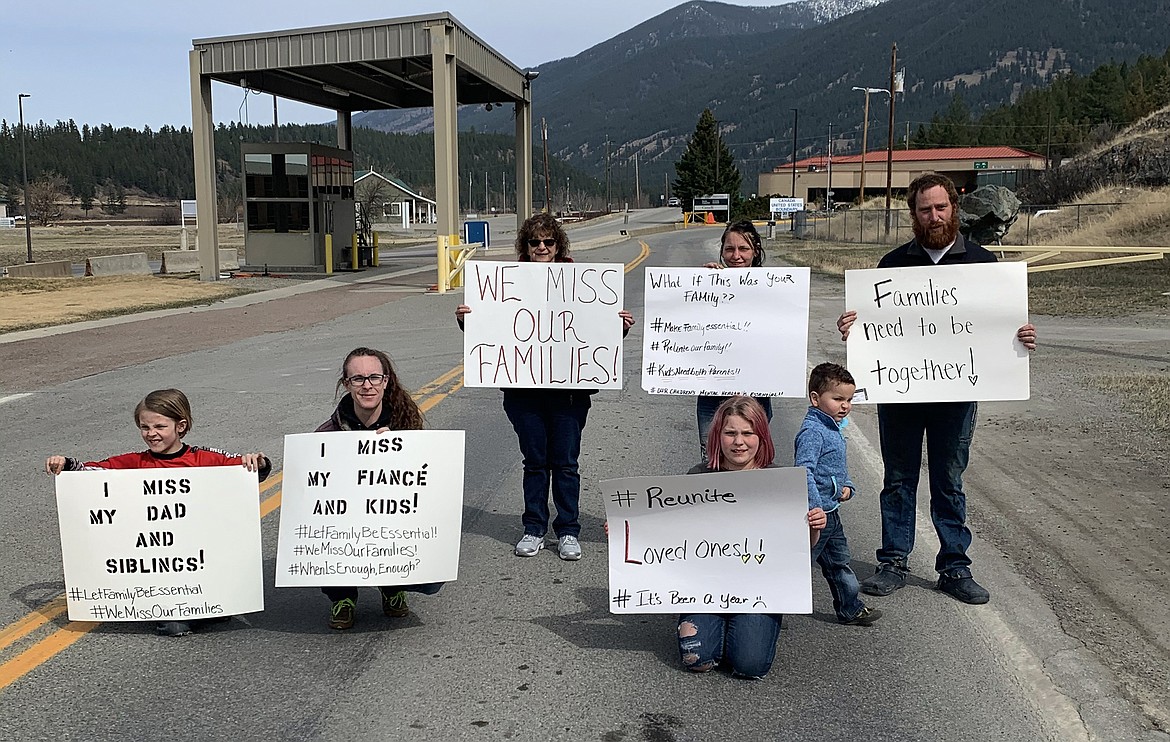 Members of families separated by the border between the U.S. and Canada due to COVID-19 restrictions gather to protest at the Port of Roosville in Montana on Saturday, April 3, 2021. (Brandy Carvey)
by
Daily Inter Lake
|
July 25, 2021 12:00 AM
When Canada announced that it would reopen its border to fully vaccinated Americans by Aug. 9, it was widely assumed the U.S. would follow suit. Vaccination rates continue to climb in both countries (70% of Canadians have received at least one dose, compared to 56% in the U.S.) and businesses and residents on each side of the border are clamoring for a return to a more normal flow of visitors and critical tourist dollars.
It would only make sense that the U.S. would work with Canada to reopen the border under similar terms — as friendly neighbors should do.
So much for that logic.
A day after Canada revealed its reopening plan, the U.S. Department of Homeland Security announced it would continue to keep its land borders with Mexico and Canada closed to nonessential travel for at least one more month.
The announcement was met with immediate jeers from both sides of the border and political aisle.
"Families are suffering," Republican Sen. Steve Daines lamented. "The President needs to stop playing games and do what's right for our country."
Democrat Sen. Jon Tester called the lack of a coordinated reopening "unfair" and warned that it could sow confusion along the northern border.
New Hampshire's Republican Gov. Chris Sununu was more blunt, slamming the decision as simply "absurd."
Across the border, the Canadian Chamber of Commerce said the U.S. move "flies in the face of both science and the most recent public health data."
"It's hard to see how allowing fully vaccinated Canadians to enter the U.S. poses a public health threat when travel within the U.S. is unrestricted," the chamber's chief executive Perrin Beatty said.
Ironically, in defending the extension, White House press secretary Jen Psaki said the administration was following science, "not on the actions of other countries."
But, again, what about logic?
The so-called "nonessential travel" restrictions from Canada do not apply to people traveling by air. So a family from Alberta can get to the Flathead Valley by taking multiple flights with layovers in multiple busy airports where the potential for COVID transmission is far greater, but not drive here in the confinement and safety of a single vehicle.
The Facebook page "Let Us Unite" documents the absurdity of these travel restrictions.
"I live in Sault Ste. Marie, Ontario, he is in Sault Ste. Marie, Michigan," one person commented. "Literally a 5 minute drive. I flew to Traverse City, Michigan last week via four airports, 11 hours and $1,100."
"I live right on the border in Emerson, Manitoba, and my husband lives in Grafton, N.D., less than an hour away," another person shared. "We used to drive back and forth on the weekends or sometimes during the week after work. To travel to see him, I dropped our six-week-old son off with him at the border and then had to turn around and fly from Winnipeg to Minneapolis to Grand Forks, spending hours in the Minneapolis airport waiting for my connecting flight and spending hundreds of dollars on a ticket."
"I am in White Rock B.C., and my wife is in Bothell, Wash., 90 minutes door to door," another shared. "I am immunocompromised and cannot fly."
The stories go on and on.
Montana's border communities reliant on Canadian visitation have suffered long enough, as have the families and loved ones torn apart by the closure. Long-lasting damage to the local economy and community is a real concern for people in Eureka, who have gone some 16 months without Canadian visitation.
"We're hurting hard," Larry Stewart, owner of Abayance Bay Marina in Rexford, told Montana Free Press.
Enough is enough with these monthly extensions. It's time for the Department of Homeland Security to reopen the northern border to fully vaccinated visitors in concert with Canada on Aug. 9. It's the just, and logical, thing to do.
Recent Headlines
---