Outfitter opens downtown Whitefish store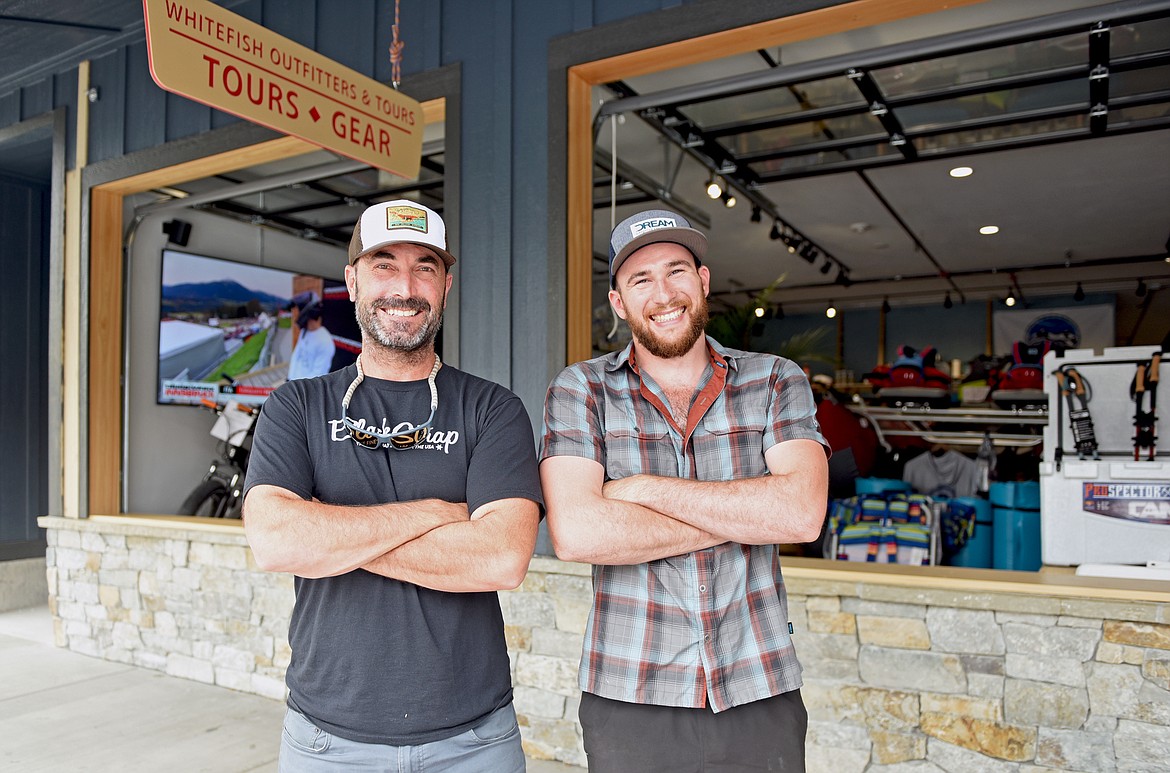 Owner Kurt Schram and Operations Manager Ryan Merkley pose in front of the garage doors leading to Whitefish Outfitter's new Central Avenue store. (Whitney England/Whitefish Pilot)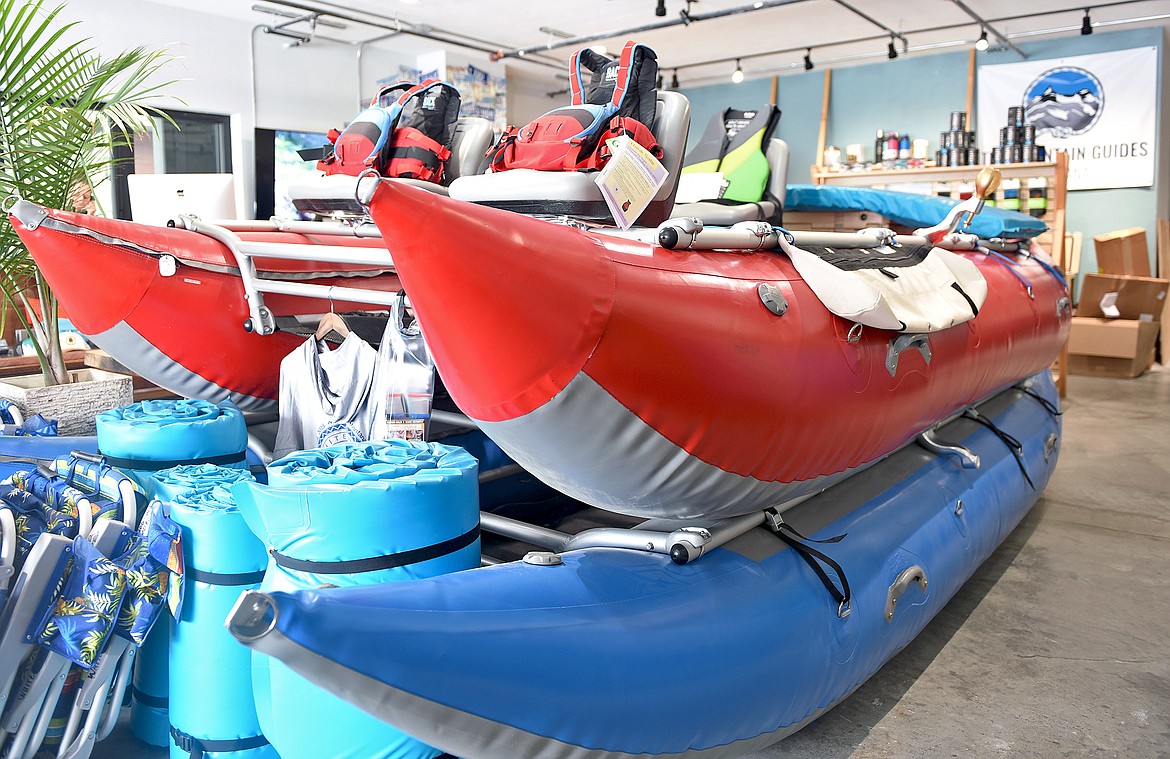 Rafts are on sale inside Whitefish Outfitter's new Central Avenue store. (Whitney England/Whitefish Pilot)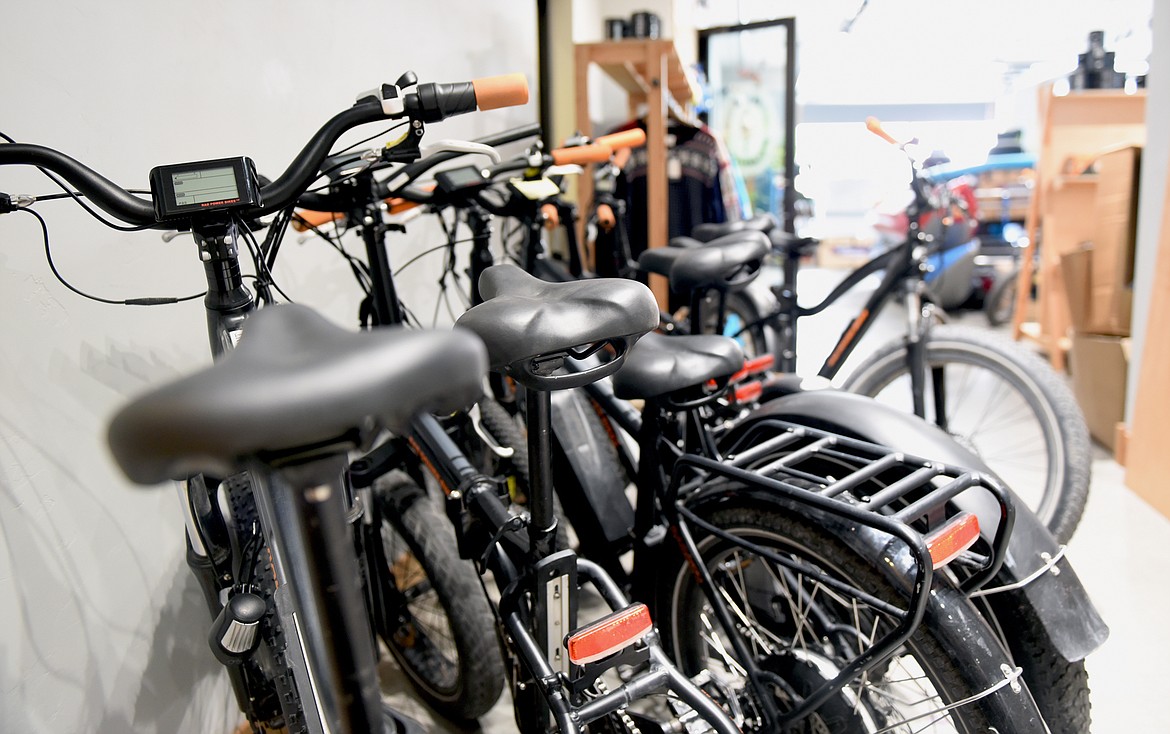 Electric bikes are available for rent inside Whitefish Outfitter's new Central Avenue store. (Whitney England/Whitefish Pilot)
Previous
Next
by
BRET ANNE SERBIN
Daily Inter Lake
|
July 25, 2021 12:00 AM
Kurt Schram's vision for Whitefish Outfitters is as vast as the territory his business serves.
The one-stop shop offers tours throughout the region and outdoor gear galore. At the new Central Avenue store in downtown Whitefish, outdoor enthusiasts can buy a raft, secure a personalized Glacier National Park itinerary, or even rent baby backpacking gear.
"You name it, we probably do it," said Ryan Merkley, operations manager at the new Whitefish location.
Whitefish Outfitters got its start on Spokane Avenue three years ago, and its operations have ratcheted up since then.
At first, Schram honed in on shuttle services and guided tours. Lately, he's branched out into rentals and sales of outdoor gear. Those additions spurred Whitefish Outfitters to open a downtown storefront in May and set up a rental concession at City Beach.
"We're growing fast," Schram said.
It's an evolution that mirrors the trends transforming the area as a whole. Schram wants to make sure his enterprise grows in a way that supports the local environment, instead of putting a strain on it.
Schram takes pride in making sure the money spent with Whitefish Outfitters stays in the local economy, specifically in the up-and-coming south end of downtown. Around Schram's store, it's known as "LoDo" for "lower downtown," although the term hasn't started to spread in the vernacular just yet.
Schram is also intent on using Whitefish Outfitters to provide high-paying full-time jobs for locals. Twenty are employed so far throughout the three locations on Central Avenue, Spokane Avenue and at City Beach.
Their knowledge and experience make the outfitter's guided tours special for visitors who follow them onto the trails.
"That's why people love taking tours with us," Schram said.
Guides at Whitefish Outfitters give tours inside Glacier National Park or to lesser-known destinations outside the park. They offer guided trips on foot, road bike, mountain bike and e-bike, and partner outfitter, The Mountain Guides, leads rock-climbing excursions from the Central Avenue location as well.
"We're a one-stop-shop for all your adventures in the valley," said Schram.
CONVENIENCE IS another factor that endears Whitefish Outfitters to its customers.
The Whitefish store was specially built with garage doors that make it easy to pick up bulky gear, such as bikes and rafts. Schram also offers delivery to trailheads and lodging accommodations, so out-of-town guests don't have to worry about transporting their rentals.
RightOnTrek is another partner business sharing space with Whitefish Outfitters. The rental service houses lockers inside the Central Avenue store where customers can pick up rented backpacking gear.
And at City Beach, Whitefish Outfitters also rents kayaks, stand-up paddle boards and inner tubes just steps from Whitefish Lake.
Like the valley itself, Whitefish Outfitters isn't showing any signs of slowing its growth. Schram has plans to continue expanding his collection of services and outdoor items.
This winter, Whitefish Outfitters will build out the back of the store to serve as a rental counter for downhill skis. Making sure the business runs year-round is an important piece of Schram's plan for sustaining operations. In that interest, guided trips will transition to snowshoeing and cross-country skiing during the colder months.
Schram has his sights set on more ambitious endeavors for the peak season, too. Next summer, he wants to add multi-day cycling adventures to the repertoire at Whitefish Outfitters.
"Our thing is to provide world-class opportunities to get outside and have adventures," Schram reiterated.
Reporter Bret Anne Serbin may be reached at 406-758-4459 or bserbin@dailyinterlake.com.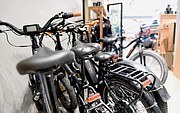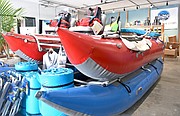 ---