My Glacier Village co-founder aims to change aging paradigm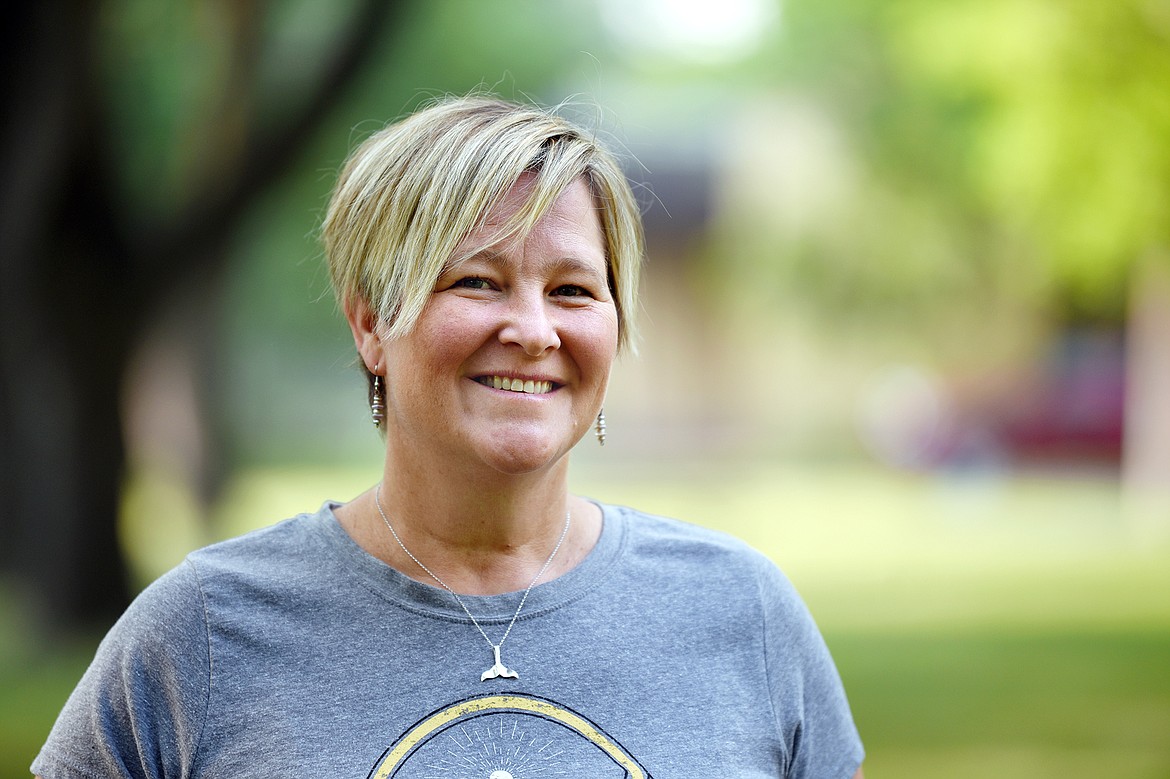 Jenn Prunty, co-founder of the My Glacier Village senior living program, is photographed in Kalispell on Wednesday, July 21, 2021. (Casey Kreider/Daily Inter Lake)
by
CAROL MARINO
Daily Inter Lake
|
July 26, 2021 12:00 AM
After going home in 2016 to care for her mother in her final days, Jenn Prunty returned to Kalispell with a new understanding of and fascination for the dying process and end-of-life experience.
It wasn't something she'd previously thought much about. Her career had been in residential construction and real estate. Yet, her mother's end-of-life experience affected her so deeply she changed the direction of her life.
"My mother shared a room with an Asian woman who spent much of her days alone," Prunty said. "I would sit with her and I learned that, although she was in 'rehab,' she really was in the process of dying. One day she opened her eyes, saw me and said, 'Thank you.'''
Prunty took a 16-week doula course to become trained as an end-of-life companion and a hospice volunteer, and then became a certified aging-in-place specialist.
She learned about Beacon Hill Village, a nonprofit founded in 2002 in Boston by a group of seniors for seniors. She began talking to industry professionals and, locally, to Cindy O'Boyle, founder of the Montana Women's Foundation, who was sharing a parallel experience with death and dying at that time and who would ultimately become the fiscal sponsor for My Glacier Village nonprofit organization, co-founded by Prunty and a small group here in the Flathead Valley. My Glacier Village joined the Village to Village Network in 2018. Founded in 2010, the Network helps communities organize villages to support its senior population and change the paradigm about aging.
My Glacier Village is funded in part by its corporate sponsors, Humana and Keller Williams Realty Northwest Montana, and now serves Kalispell, Bigfork and Whitefish with the goal of helping seniors age well in place, whether that place be their own home or other housing. The organization currently has about 25 members and offers household, single and social memberships.
"After my mother died I watched how my father navigated that journey as a widower, not wanting to be a burden," Prunty said. "I saw this sense of shame seniors feel about asking for help.
"We need to have more conversations about the end-of-life experience. We're very death-phobic and tend to turn it over to the medical community," Prunty said. "We still have a negative concept of aging. Our elders do not have the respect they deserve. We don't revere our elders like we used to."

She also points out that when Social Security was established in 1938 the eligible retirement age was 65. According to the Social Security Administration, the average life expectancy around 1930 was just 58 for men and 62 for women. Today, Prunty said, we're still retiring at 65 but we're living much longer. Today's seniors are more active and taking on encore careers.
"It's about aging well," Prunty said. In founding My Glacier Village, she says that "knowing people are connecting in real, genuine ways and supporting each other gives them a renewed sense of purpose.
"We're building something even better than we imagined," she said. "People want to take back the power at the end of their lives.
TO THAT end, Prunty has assembled a team of volunteers to serve the needs of seniors in the valley by offering a range of assistance, such as rides to appointments, help with groceries and small house projects. Volunteers also help members connect to one another through activities such as walking groups, writing and art workshops, lectures, brunches, monthly game days, and kayaking and archery excursions.
Prunty says the best volunteers are typically retired and are flexible with their skills and schedules. Whether their focus is on the handyman part of assistance or the social aspect, they're interested in trying new things, learning, growing and want to create a new social network for themselves.
One of her first calls from someone interested in volunteering was a 90-year-old woman who said she wanted to give back because she realized someday she might need to ask for help herself.
Even amid the pandemic, My Glacier Village was able to stay connected to members by doing drive-by visits and birthday celebrations, soup delivery and weekly check-in phone calls, and the organization provided COVID-19 safety kits to members, which included masks and hand sanitizer.
"We all need to have a sense of purpose," Prunty said. "We need to be needed."
For those on the fence about becoming a member, Prunty assures them that everyone is at first because it's new.
"But everyone is so welcome. It's a safe place.
"There is a stigma in our society about asking for help," Prunty said. "But we need a team. We need a tribe. We need to start changing stories."
To learn more about becoming a member or volunteering for My Glacier Village, email myglacier2019@gmail.com, call 406-250-8784 or visit www.myglaciervillage.com.
Community editor Carol Marino may be reached at 758-4440 or community@daillyinterlake.com.
Recent Headlines
---