Logan Health reopens COVID unit amid rising cases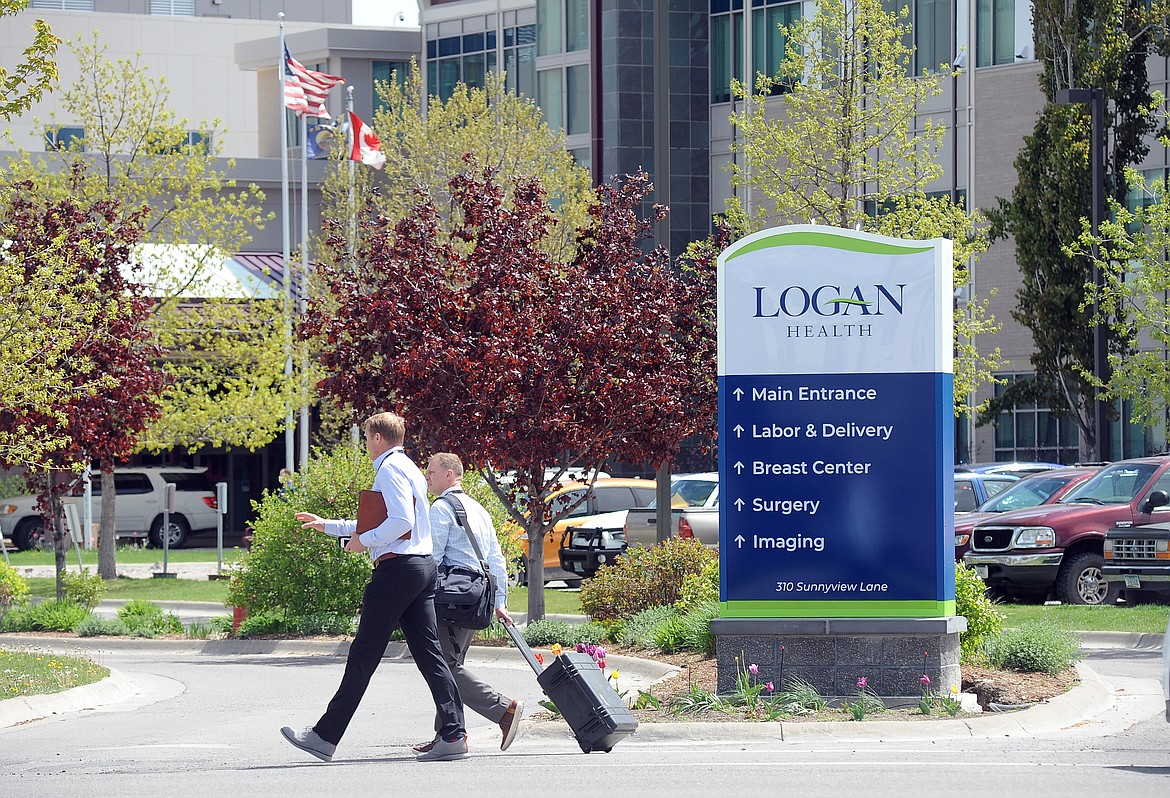 People walk past a new sign for Logan Health at the entrance to the hospital in Kalispell on Tuesday, May 19, 2021. (Matt Baldwin/Daily Inter Lake)
by
KIANNA GARDNER
Daily Inter Lake
|
July 29, 2021 2:46 PM
In preparation for what experts believe will be a large and lingering wave of COVID-19-related hospitalizations, Logan Health Medical Center in Kalispell has reopened an area of the hospital reserved for patients who test positive for the virus.
The unit, which can hold about 30 patients and includes intensive care beds, was used off and on last year when Flathead County experienced spikes in hospitalizations.
Use of the unit declined at the start of 2021 when cases in the valley began to stabilize. But now, with cases and associated hospitalizations on the rise again, Logan Health's Dr. Cory Short said the hospital has reopened the special ward as a precautionary measure.
Experts say the reason for that increase can be primarily attributed to three factors: Flathead County's low vaccination rate, the circulation of a more contagious strain of the virus known as the delta variant, and large events including concerts, rodeos and weddings.
According to Short, the lead physician for Logan Health's acute-care service line, daily hospitalizations have exceeded 20 patients several times in the past few weeks, and are inching toward the 30-patient mark.
Last year, the COVID-19 unit was used as an isolation space for the majority of patients who tested positive, regardless of how severe their symptoms were. Now the hospital is taking a slightly different approach.
Short said a portion of COVID-19 patients are being held and treated in various areas of the hospital, depending on where they are admitted and for what.
For example, if a patient arrives at Logan Health for a planned surgery and then tests positive for the virus, they may remain within that surgical department, depending on multiple factors including the severity of their symptoms. Short said a patient is more likely to end up in the more isolated area of the hospital if they are admitted specifically for COVID-19-related complications, and especially if they require intensive care.
THE PRIMARY reason for the change is so Logan Health can make better use of its available beds and staff.
"To have a complete COVID unit required a lot of resources from staffing and supplies standpoint," Short said. "So now we are really assessing and looking at how many positive patients are in a given area, how many do we need in isolation, how aggressive are their symptoms and can they stay elsewhere, and we adjust accordingly."
Last year, even COVID-positive patients who exhibited more mild symptoms were held in dedicated isolation areas, which required more beds and staff. Now, if those patients can be treated in different areas of the hospital depending on the purpose of their visit, doctors, nurses and supplies aren't spread as thin.
Short added the need to conserve resources is crucial during the summer months in Flathead County, which, according to state data, is home to roughly 24% of Montana's 1,216 active COVID-19 cases.
Short said Logan Health is seeing a "record-breaking summer" in terms of emergency room and trauma-related visits, a large portion of which have been out-of-county residents. Although tourist season is always a busy time for the hospital, the valley's normal Glacier National Park crowds have been compounded by thousands of others visiting for events such as the Under the Big Sky Festival — an event that drew more than 20,000 to the Whitefish area July 16 through July 18.
"We haven't seen a tourist season like this before," Short said. "We are seeing more trauma and emergency visits than ever before and they all require a lot of energy and resources that last year we would have dedicated more solely to COVID."
Finally, in addition to a hectic summer, the hospital is seeing a steady stream of patients who, for the first time, are being diagnosed with serious, even chronic, diseases. Short said that's most likely because the pandemic delayed routine checkups for most patients, either because hospitals temporarily halted nonessential services, or because people were too hesitant to follow through when those services resumed.
"We're seeing patients who come in who haven't been diagnosed with advanced kidney disease, coronary disease, diabetes, a lot of different ailments," Short said. "Those routine checkups could prevent a lot of advanced disease, so if you need to be seen, there's no need to fear going to the hospital. We have a lot of people in place who are still running tests and performing questionnaires to make sure it's safe for everyone."
SHORT DOESN'T anticipate activity at the hospital to calm down anytime soon. In order to slow the rate of COVID-19 hospitalizations, he added, the importance of getting vaccinated cannot be overstated.
"Right now I'm anticipating these numbers to get higher going into August, and the vast majority of patients that need medical attention because of COVID are unvaccinated," said Short, noting some of those patients are not Flathead County residents.
As of Thursday, he said, at least 90% of recently hospitalized COVID-19 patients have been unvaccinated and have tested positive for the delta variant. And although there have been a handful of "breakthrough" cases among vaccinated people in the county, they are mostly experiencing mild symptoms, if any.
As of Friday morning, nearly 40% of Flathead County's vaccine-eligible population was fully immunized. Statewide, more than 440,000 Montanans are fully vaccinated, or about 48% of the eligible population.
Those interested in getting vaccinated free of charge schedule an appointment at flatheadhealth.org.
---