Big music festival strained Whitefish city services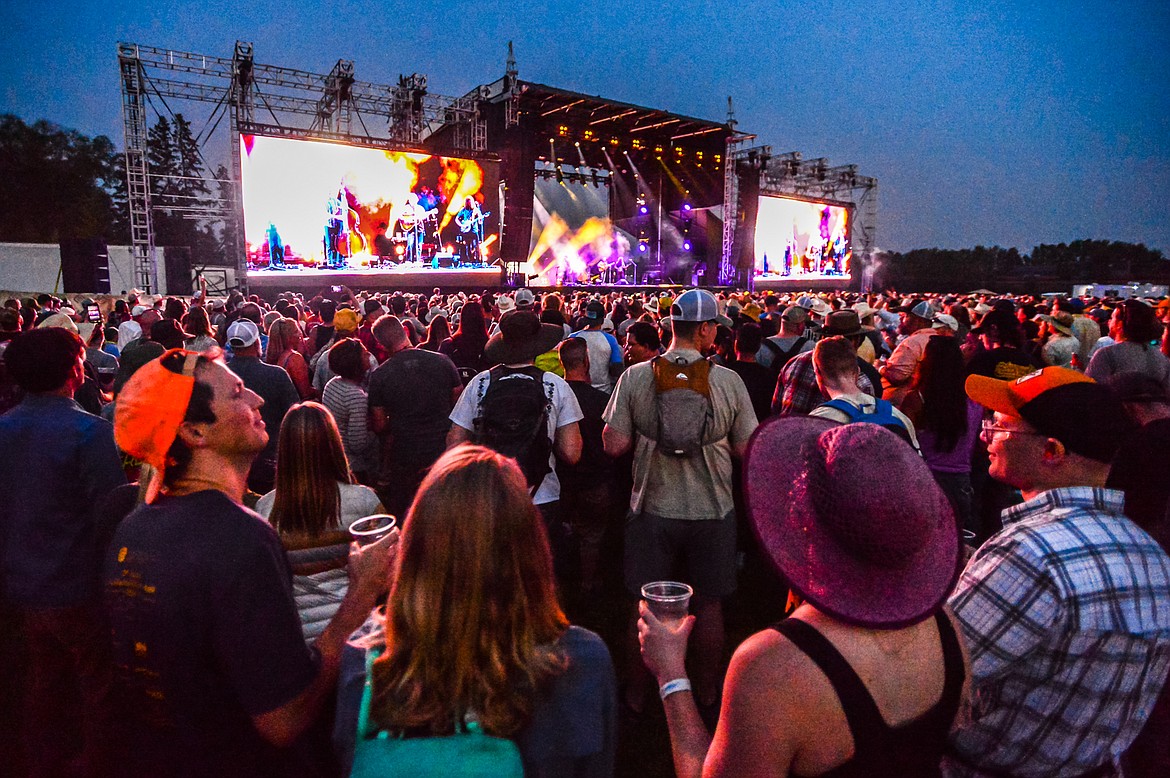 Billy Strings performs at Under the Big Sky Festival in Whitefish on Friday, July 16, 2021. (Casey Kreider/Daily Inter Lake)
by
HEIDI DESCH
Daily Inter Lake
|
July 29, 2021 2:00 PM
Whitefish felt the impacts of the Under the Big Sky music festival that recently drew thousands of people to the Flathead Valley.
After-party events at downtown bars kept the Whitefish Police Department busy with crowd control, while garbage cans filled almost as quickly as they were emptied and emergency responders struggled with communication as a result of the strain placed on cell service. Officials discussed those problems and more at a recent City Council meeting.
The music festival reportedly drew more than 20,000 people to the Big Mountain Ranch outside Whitefish from July 16 through July 18.
City Manager Dana Smith said she hopes festival organizers and the Flathead County commissioners will work with the city in the future to mitigate problems that resulted from the event. She noted the festival brought traffic congestion and strained cell service.
"We expect to write a letter to county commissioners letting them know the issues we faced, and that if they do have a special event permit that they are issuing that they should consider the impacts on our community," Smith said. "We need to work with the event organizers."
Asked to address the city's concerns, Under the Big Sky organizers provided the Whitefish Pilot with a statement from Steve Evans, the festival director.
"One of the things that make a more remote place like Whitefish so special to work in is also what makes it a challenge. Though our second year was not perfect, it was evident by the demand for tickets that our guests were excited to celebrate a return to being together," the statement said.
"Like most industries, though, we were faced with the struggle of finding enough supplies, staff and equipment. In close collaboration with our partners, city officials and guests we were able to bring a live experience back during even the most challenging of times. We are always trying to improve, and are already planning on how we can make next year even better."
DURING LAST week's council meeting, council member Andy Feury said while the festival created some challenges, it and similar events are an economic solution that allows the Big Mountain Ranch property to remain an open space rather than be developed for housing.
"I hope we, as a community, can provide positive suggestions for how problems can be solved," Feury said. "Because it is a great event for the community."
"Sometimes we have to put up with some inconvenience," he added. "We do that on every powder day."
Whitefish Police Chief Bill Dial said the crowd was largely well-behaved, but his department wasn't prepared for the large number of people that ventured downtown for after-party events at bars.
"We were dealing with traffic coming into town, and by the time we got downtown probably 75% of the people had open containers," he said. "At that point, we felt it was best to monitor it rather than wade into the crowd. Then on Saturday, we were more prepared."
The police department made one arrest on Saturday of a man who was charged with assaulting a police officer.
"This does strain our resources," Dial said of the event.
Whitefish Fire Chief Joe Page said his department had personnel ready to respond at the festival, as the Big Mountain Ranch is within the Whitefish rural fire service area.
"Friday wasn't too bad," Page said. "Saturday and Sunday, it was amazing how thick the crowd was down there."
Page said three people were taken by ambulance to the hospital on Sunday.
"We're reimbursed for the cost of having our forces on the site at a rate that is set by the state," he noted.
Recent Headlines
---