New fire forces evacuations along Montana 35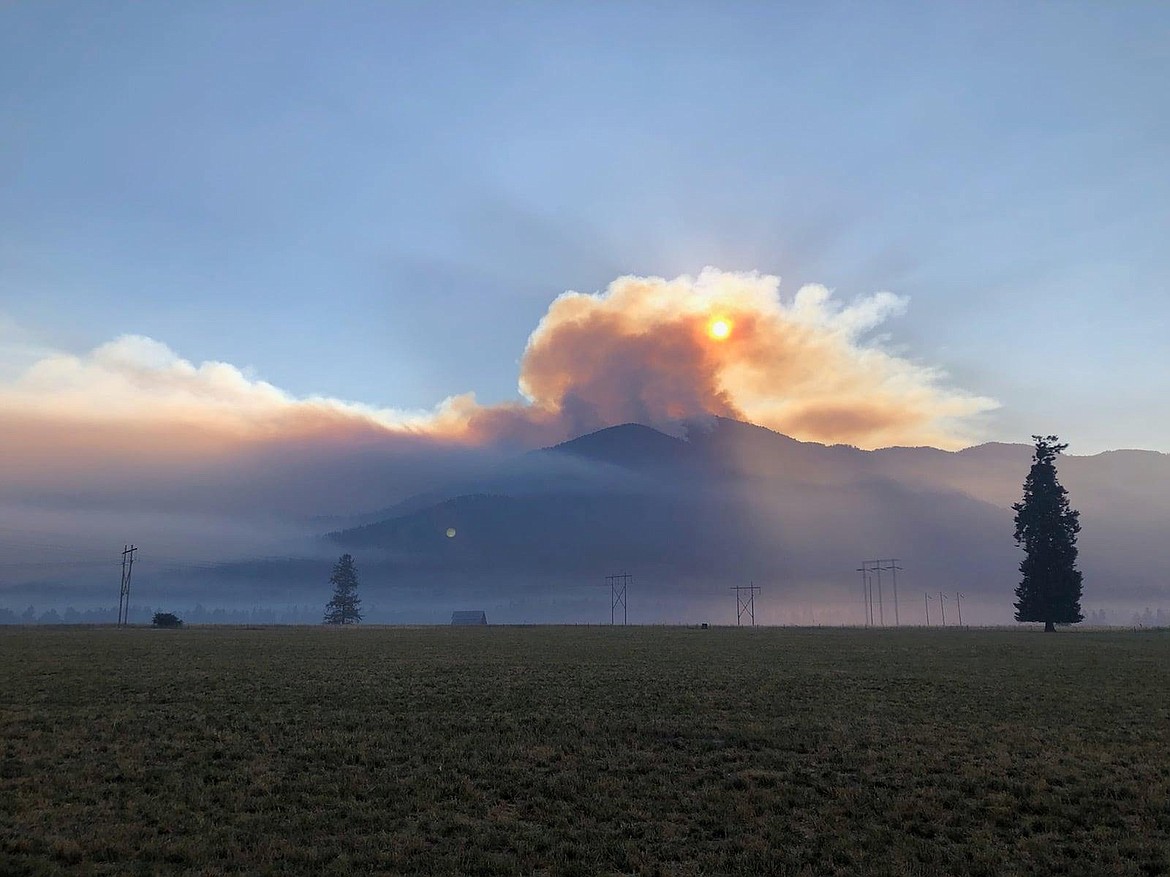 The Thorne Creek Fire burns near Thompson Falls on Tuesday, July 27, 2021. (Courtesy photo)
by
Daily Inter Lake
|
July 31, 2021 11:55 AM
Residents were ordered to evacuate Saturday morning as a new wildfire cropped up in the Mission Mountains east of Polson.
Fire officials with the Confederated Salish and Kootenai Tribes initially estimated the Boulder 2700 Fire at 150 acres. It was burning in steep terrain with heavy downed fuels east of Flathead Lake and about 8 miles east of Polson.
The fire is believed to be human-caused and is under investigation, according to the CSKT's Division of Fire.
Evacuations were ordered for homes below the fire along Montana 35. The evacuations were being carried out by the Lake County Sheriff's Office and local fire departments.
The B-2700 Road off of Montana 35 is closed due to public safety concerns.
Fire activity was expected to increase throughout the day.
FIRE ACTIVITY picked up Saturday on the Hay Creek Fire west of Polebridge.
The southwest flank of the fire was most active, according to a morning report that estimated the blaze at 2,265 acres and 0% contained. Helicopters dropped buckets of water in the area to assist firefighters on the ground.
The hot and dry conditions were expected to result in noticeable fire activity overnight into Sunday, fire managers warned.
All previously established evacuation warnings and road closures remained in place.
ON THE Kootenai National Forest, firefighters lost ground on the South Yaak Fire as containment estimations dropped from 20% on Friday to 10% on Saturday. The nearly 7,000 acre fire north of Troy was moving east, with spotting up to a half mile away.
Mandatory evacuation orders remained in place for all residents on East Side Road and Kilbrennan Lake Road.
The Burnt Peak Fire south of Troy was estimated at 3,191 acres, with 46% containment.
Homes on North Fork Keeler Creek remain on pre-evacuation notice.
ON THE Lolo National Forest, the Thorne Creek Fire northeast of Thompson Falls was estimated at 15,860 acres on Saturday. Air and ground crews were working to tie a fire break into the 2017 Deep Creek burn scar. Among other heavy equipment, crews were using a masticator to help clear vegetation.
Previously established evacuation orders and warnings remain in place along Cougar Creek.
MUCH-NEEDED precipitation is possible across western Montana beginning Sunday into Monday.
The heavy rain-producing thunderstorms will track from south to north, the National Weather Service said in its Saturday forecast. Flash flooding is a concern for Clearwater, Ravalli, Granite, Missoula, Mineral, Sanders and Lake counties.
Gusty winds up to 50 mph could develop ahead of the thunderstorms in Northwest Montana.
---