Grizzlies euthanized after attack on llamas, wallaroos near Whitefish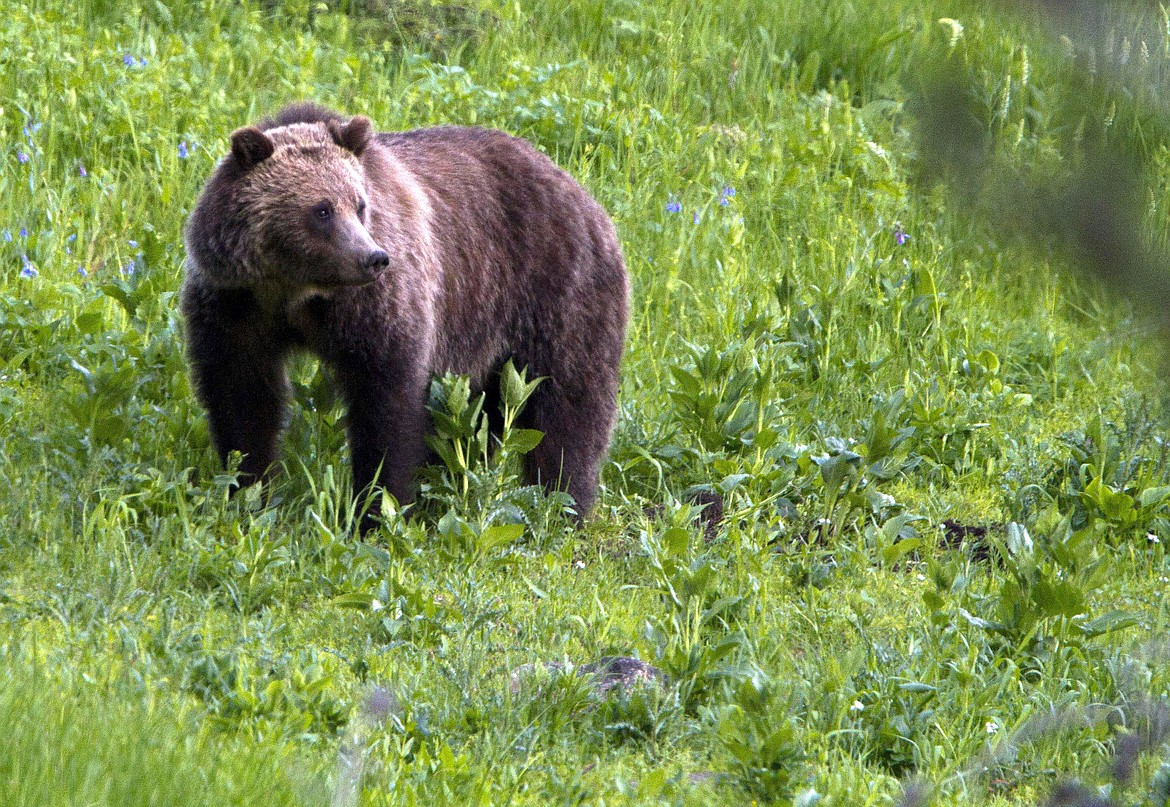 A grizzly bear roams near Beaver Lake in Yellowstone National Park in Wyoming in this 2019 file photo. (Jim Urquhart/Associated Press)
by
CHAD SOKOL
Daily Inter Lake
|
June 1, 2021 2:05 PM
Montana wildlife officials have euthanized two grizzly bears — an adult female and her cub — believed to have attacked numerous chickens and livestock animals near Whitefish.
The most recent incident occurred last week, when the bears broke into an enclosure in the Haskill Basin area north of Whitefish, killing a llama and unleashing six wallaroos.
Montana Fish, Wildlife and Parks said the mother bear was captured Monday and the yearling was captured Tuesday in the Haskill Basin area.
"The decision was made to kill both bears due to their history of livestock depredations and in consultation with the U.S. Fish and Wildlife Service," the department said in a news release.
Last Thursday night, the bears reportedly pushed through a gate to enter an enclosure on private property off Northwoods Drive. One of multiple llamas held in the pen was killed, while six wallaroos escaped during the attack.
Five of the wallaroos were quickly recaptured, and wildlife officials attempted to help the property owner find the last one. Dillon Tabish, a spokesman for Montana Fish, Wildlife and Parks, said Tuesday he believed the animal was still at large.
NBC Montana last week shared a video taken by a neighbor showing one wallaroo — a marsupial native to Australia that's typically bigger than a wallaby but smaller than a kangaroo — hopping along a road in the Haskill Basin area.
The mother bear previously was captured and fitted with a GPS radio collar, but the collar malfunctioned and came off in summer 2019, officials said. Data collected from the collar identified the bear at several sites where sheep and chickens were killed around Whitefish. Attempts to recapture the bear last year were unsuccessful.
Early this spring, Montana Fish, Wildlife and Parks received reports of sheep killed off East Edgewood Drive near Whitefish. Staff from the U.S. Department of Agriculture's Wildlife Services set a trap in the area to capture the bear but were unsuccessful.
Cameras set up at the site recently identified the mother and her yearling. Several days later, the bears killed goats on private property in the Haskill Basin. The agency also received multiple reports of chickens being killed on private property in the area.
Grizzly bears are protected as a threatened species under federal law and may not be hunted for sport. But as their populations have rebounded in Montana, grizzlies have run into frequent conflicts with humans and can be killed by government wildlife agents following livestock attacks.
Assistant editor Chad Sokol may be reached at 406-758-4439 or csokol@dailyinterlake.com. The Associated Press contributed to this report.
Recent Headlines
---