Logan Health nurses begin three-day strike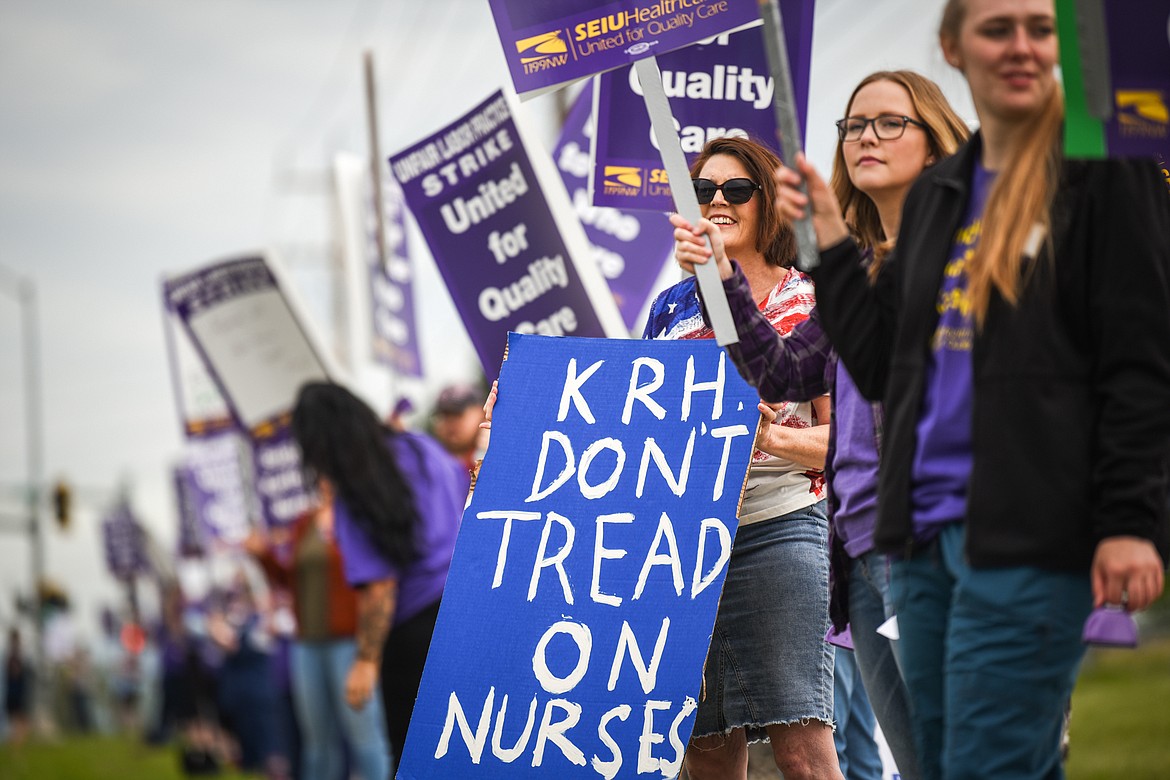 Nurses affiliated with SEIU Healthcare 1199NW and supporters hold signs during a strike outside Logan Health in Kalispell on Tuesday, June 1, 2021. (Casey Kreider/Daily Inter Lake)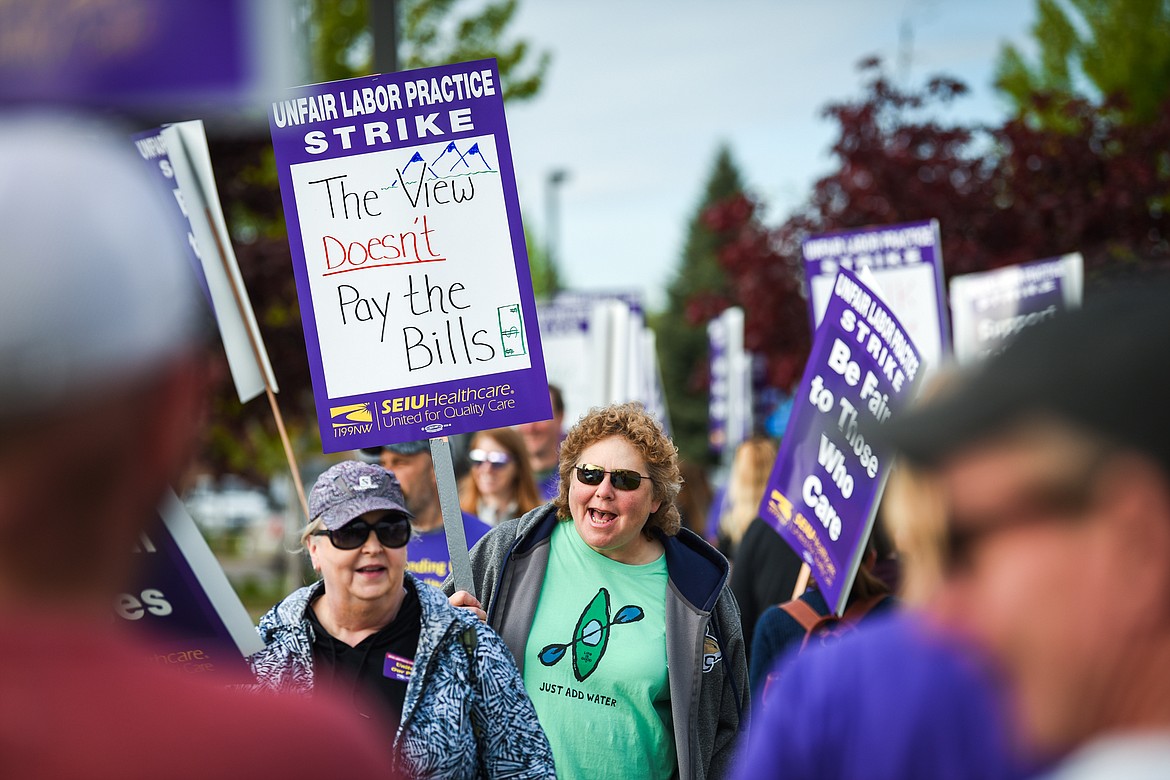 Nurses affiliated with SEIU Healthcare 1199NW and supporters march and hold signs during a strike outside Logan Health in Kalispell on Tuesday, June 1, 2021. (Casey Kreider/Daily Inter Lake)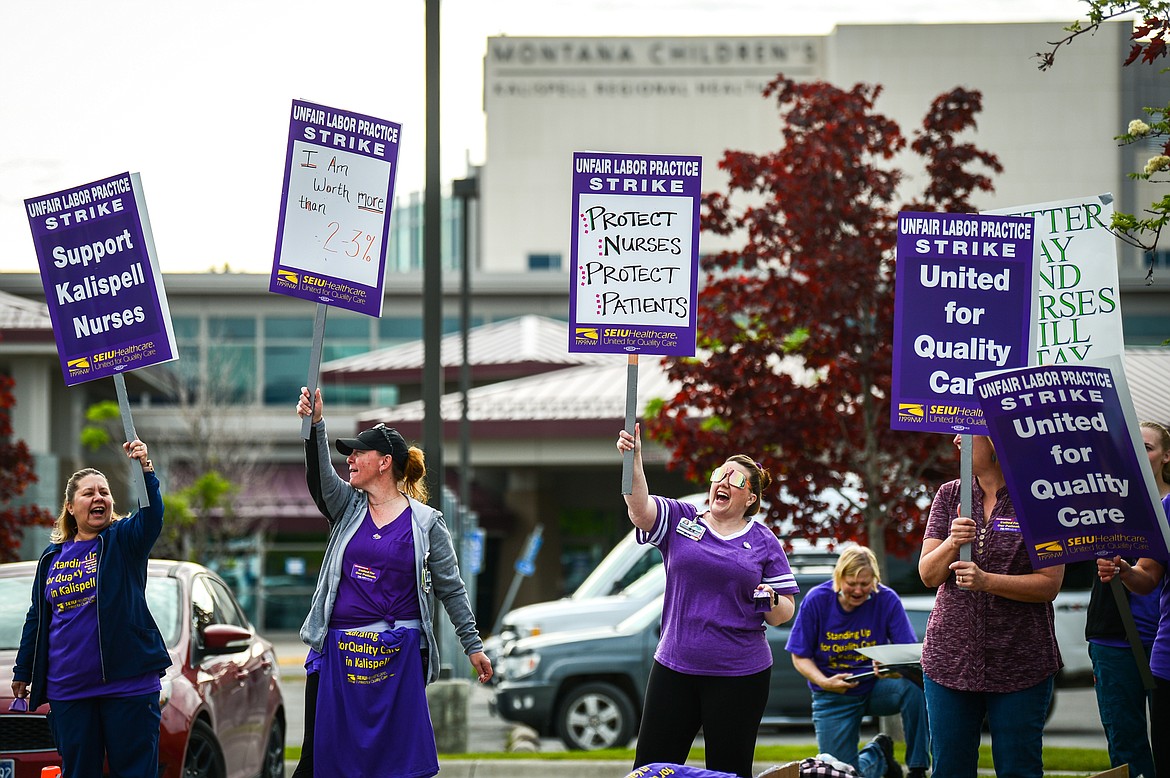 Nurses affiliated with SEIU Healthcare 1199NW and supporters march and hold signs during a strike outside Logan Health in Kalispell on Tuesday, June 1, 2021. (Casey Kreider/Daily Inter Lake)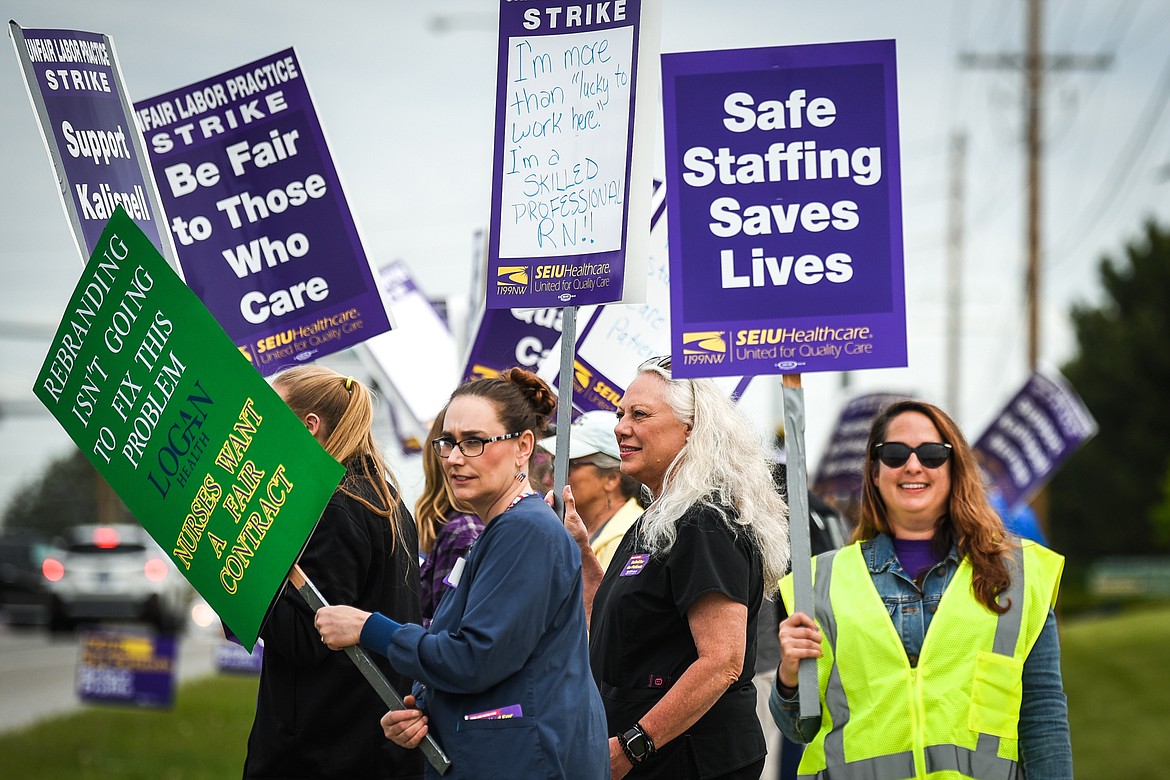 Nurses affiliated with SEIU Healthcare 1199NW and supporters march and hold signs during a strike outside Logan Health in Kalispell on Tuesday, June 1, 2021. (Casey Kreider/Daily Inter Lake)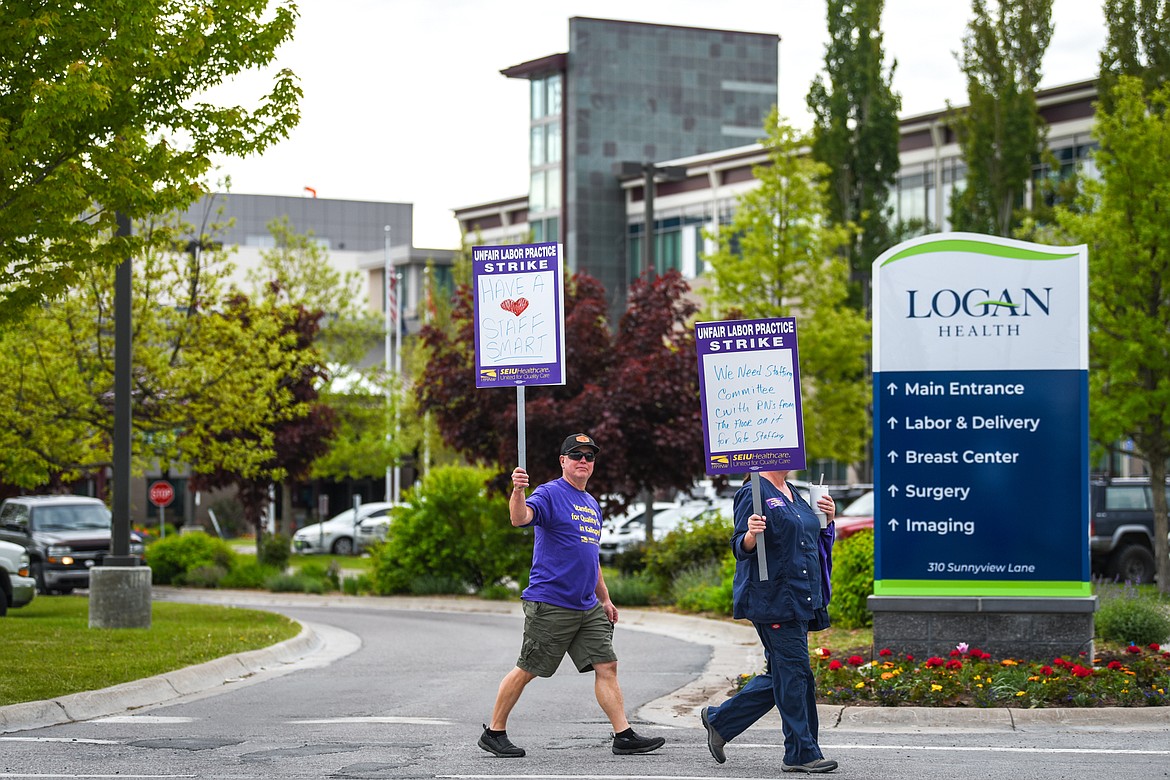 Nurses affiliated with SEIU Healthcare 1199NW and supporters march and hold signs during a strike outside Logan Health in Kalispell on Tuesday, June 1, 2021. (Casey Kreider/Daily Inter Lake)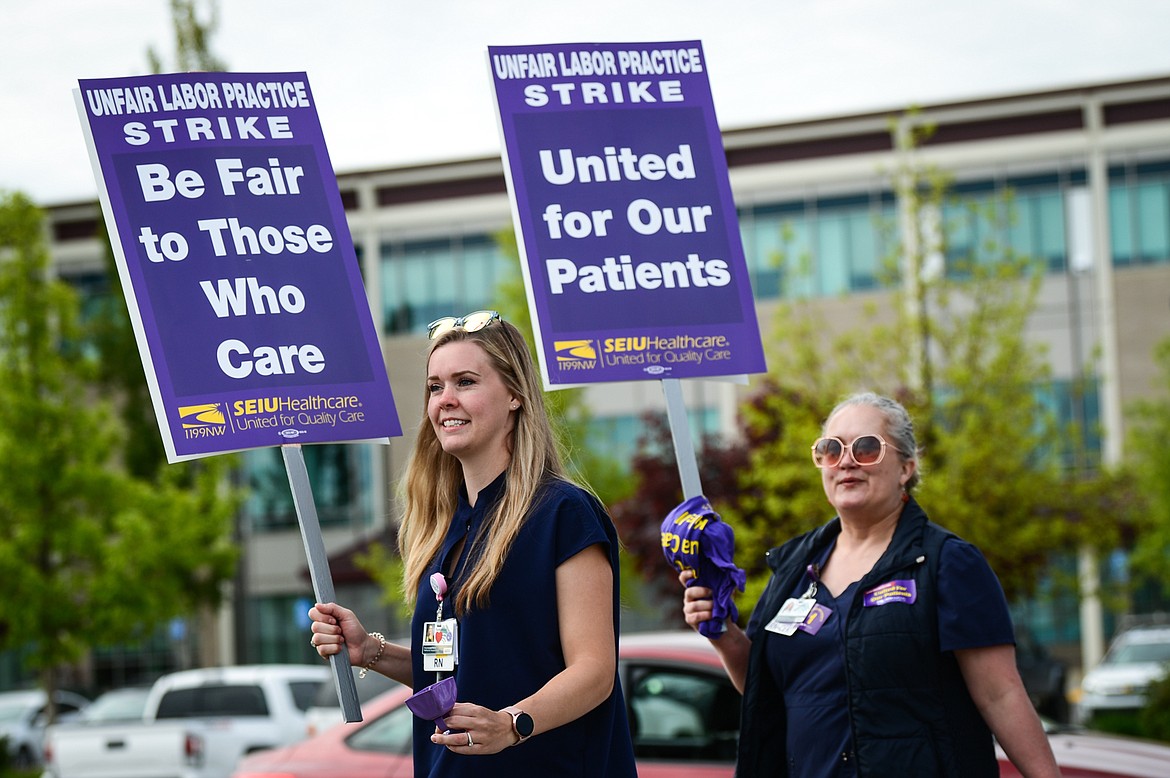 Nurses affiliated with SEIU Healthcare 1199NW and supporters march and hold signs during a strike outside Logan Health in Kalispell on Tuesday, June 1, 2021. (Casey Kreider/Daily Inter Lake)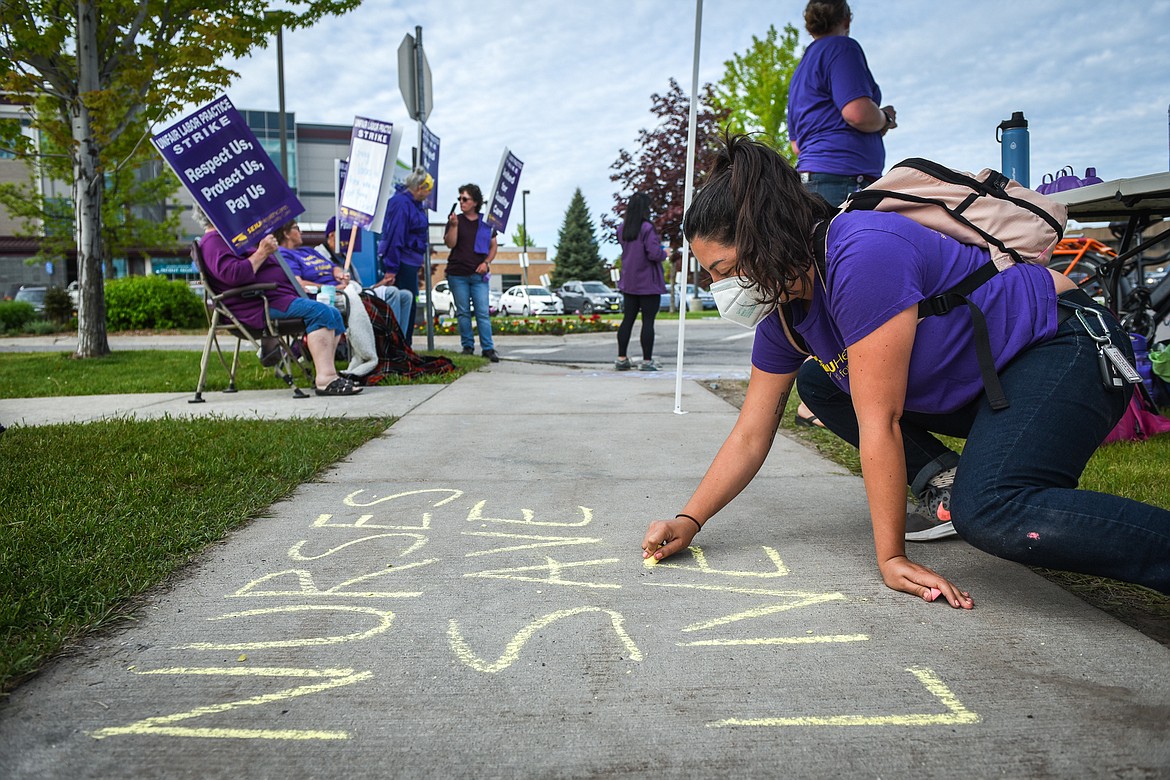 A nurses union supporter who wished to remain anonymous writes a message in chalk on the sidewalk during a strike outside Logan Health in Kalispell on Tuesday, June 1, 2021. (Casey Kreider/Daily Inter Lake)
Previous
Next
by
CHAD SOKOL
Daily Inter Lake
|
June 1, 2021 2:40 PM
Hundreds of Logan Health nurses walked off the job Tuesday morning, marking the start of a three-day strike to protest what they view as the hospital system's unwillingness to budge on union demands for better wages and working conditions.
The strike began with the nurses' shift change at 7 a.m. Many of the striking nurses spent the morning and afternoon carrying signs and waving at traffic on U.S. 93 just outside Kalispell Regional Medical Center. A rally was planned for Thursday evening in Kalispell's Depot Park.
The nurses have been negotiating for a contract since they unionized as SEIU Healthcare 1199NW, calling for increased staffing, reinstating a charge nurse on every unit, a nurse staffing committee, and improvements to wages and benefits.
"We want to settle this," said Maureen Rush, a registered nurse and member of the union's bargaining team who has worked at the hospital for 11 years. "And we're not asking for the moon."
Rush said nurses need more of a voice in the hospital's staffing decisions. Many, she said, receive little notice when their schedules are changed and they are expected to show up for work the next day. She said the union is demanding that nurses get their monthly schedules at least two weeks in advance, and that the hospital consult with the nurses to fill unexpected staffing needs.
Rush, who has worked at three other hospitals during her 36-year nursing career, added Logan Health does not operate transparently or provide budget information to its frontline medical workers. She said her previous employers valued "shared governance" and did a better job of retaining nurses.
"I know how good it can be," Rush said. "And that's why there was no turnover, because you were well supported, and we had true shared governance. We actually could go in and say, 'Look, this is an issue. We need to solve this,' and they would listen and we would work it out."
MITCH YODER, a registered nurse who has worked at the hospital for seven years in the intermediate care unit and the catheterization lab, said nurses were forced to strike because Logan Health management "hasn't been bargaining in good faith.
"We've really given them every opportunity to give us fair wages, give us a living wage scale and pay us fairly across the board," Yoder said. "And basically they haven't budged."
Yoder said he is primarily concerned about the hospital's nurse-to-patient staffing ratios and frequent turnover among registered nurses — which Logan Health management contends is lower than the national average.
"When I was working on the floor in intermediate care, we just had this constant revolving door of people getting trained, starting here as new nurses and then moving on to other areas because they get paid better there," Yoder said.
"Nurse retention is a huge issue for patient safety," he added. "Every time a nurse turns over, that means training new staff. And ultimately it's safer to have nurses who have experience, seniority and who've been here and understand the process, rather than constantly training new people."
After the union vowed to strike last week, Logan Health issued a statement seeking to assure patients it would have nurses available to work. Hospital officials said more than 150 nurses have offered to work during the strike, with former employees offering to pitch in as needed. Physicians and nurse practitioners also have volunteered to assist with nursing duties.
Additionally, more than 100 nurses who were scheduled to work on the days of the strike have committed to fulfilling their shifts, and others who were not scheduled have volunteered to work, according to Logan Health.
IN THE leadup to the strike, SEIU had accused Logan Health of union-busting efforts while hospital management had accused the union of coercive and inappropriate pressure tactics.
In an email to employees Tuesday morning, Logan Health President and CEO Dr. Craig Lambrecht leveled vague accusations of "threatening texts and comments" coming from union members.
"Over the last few weeks as SEIU led our nurses to strike, we have heard reports of bullying and intimidation toward nurses who have chosen to cross the picket line and who do not share the same view as SEIU," Lambrecht wrote. "We have also heard from patients that negative nursing union discussions were had while they were in our hospital receiving their treatment. I could not be more disappointed.
"Threatening texts and comments should never be part of a caregiver family nor should negative commentary be said during a patient's treatment or be part of a patient's experience," he continued. "As such, I am calling on SEIU to cease fostering this type of behavior in any setting at KRH."
Hospital officials would not elaborate on the specific nature of the alleged threats.
"We've heard reports of bullying and threats aimed towards nurses not willing to strike," Logan Health spokesman Chris Leopold said in an email. "At this time, we can't disclose any details of these reports."
Assistant editor Chad Sokol may be reached at 406-758-4439 or csokol@dailyinterlake.com. Reporter Bret Anne Serbin contributed to this report.
Recent Headlines
---